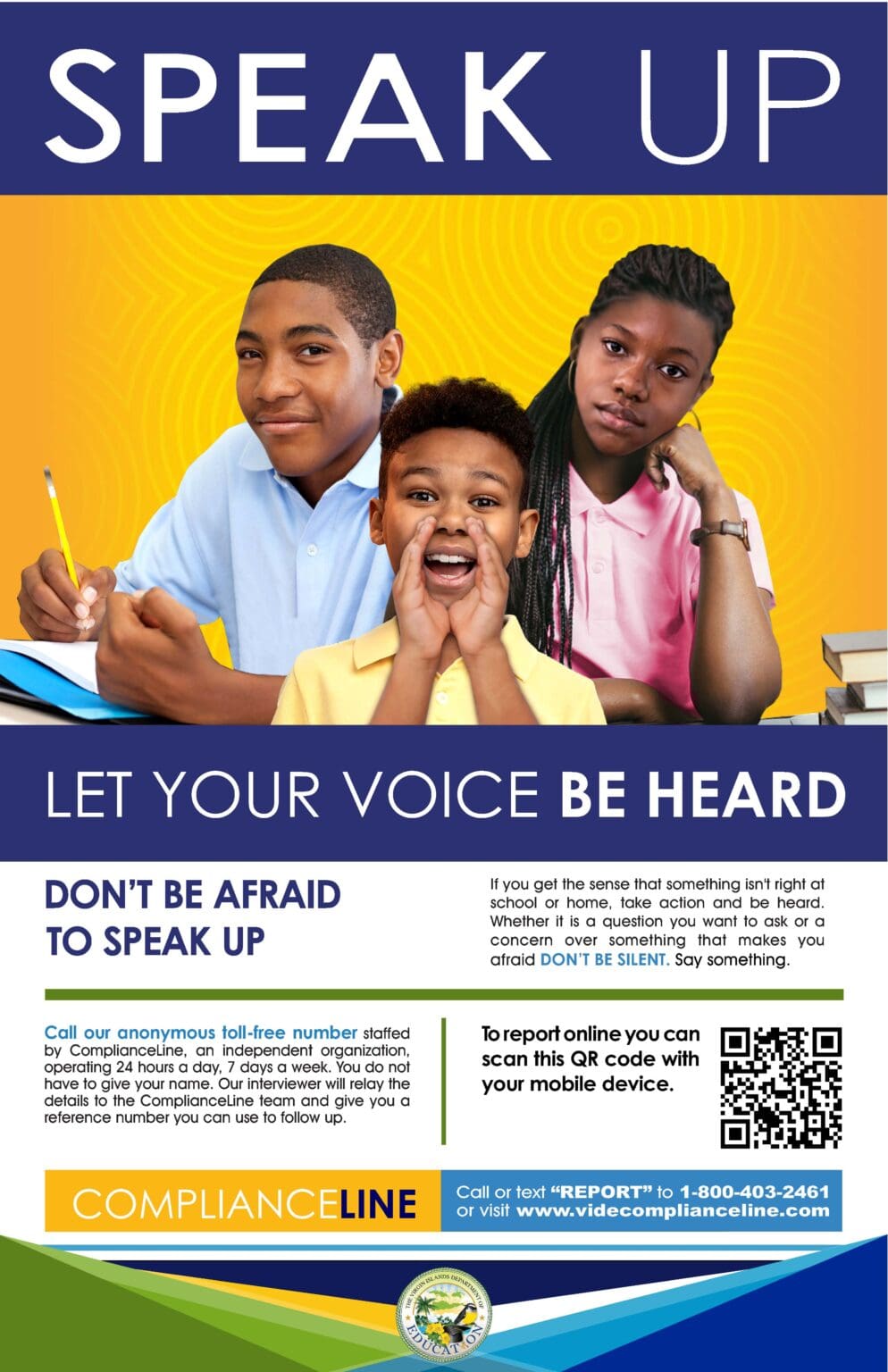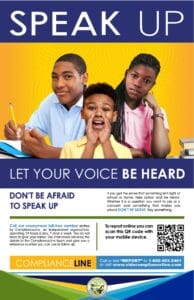 The V.I. Education Department announced Wednesday that it has launched an anonymous helpline where students, employees, and the public can report concerns about student safety or department misconduct securely and confidentially.
The 24-hour service, provided through ComplianceLine, an independent company, is available seven days a week and is staffed by trained professionals who receive reports by phone, text or online, according to a press release announcing the new initiative. The reports are then sent to the appropriate agencies for further investigation.
Users can register complaints in more than 35 categories in English, Spanish and Haitian Creole.
Education Commissioner Nominee Dionne Wells-Hedrington praised the effort as a way to ensure greater accountability at the department, which has had to deal with recent outbreaks of violence at at least two schools that have led to lockdowns, weapons confiscations and a brief return last month to virtual school for St. Croix Educational Complex.
Additionally, the department has faced allegations that administrators at Charlotte Amalie High School did not take appropriate action when notified that a coach at the school was abusing boys under his charge. According to court documents, a witness, fed up with the inaction, finally contacted Department of Homeland Security agents, who launched an investigation and arrested Alfredo Bruce Smith in September 2021.
Smith, 52, now faces charges in District Court on St. Thomas that include coercing children between the ages of 13 and 18 into sex acts, aggravated second-degree rape, and creating and spreading child pornography in a case that prosecutors have said spans 13 years. Smith has pleaded not guilty and is being held in federal detention in Puerto Rico as he awaits trial.
"It is a new day at the VIDE, where we are holding ourselves to a higher standard of accountability and transparency than ever before," Wells-Hedrington said in Wednesday's release.
"We want students, employees, and our community to feel confident to report concerns, such as child abuse, bullying, sexual harassment, campus safety threats, fraud or other wrongdoing without the fear of retribution. A key priority for the department is to ensure safe and welcoming school environments for students to learn, and the establishment of ComplianceLine is an important part of that commitment," said Wells-Hedrington.
Reports submitted through ComplianceLine will be sent to the appropriate local agencies for further investigation, the release stated. Users may choose to remain anonymous and are not required to provide any self-identifying information, it said.
"We ask that you only use this important service if there are real concerns of wrongdoing at the department," Wells-Hedrington said. "It should not be used as a tool for spiteful actions or retaliation against others for personal reasons. We want to ensure its integrity and our ability to investigate and address legitimate concerns quickly."
Reports can be filed through ComplianceLine by calling or texting "REPORT" to 1-800-403- 2461 or visiting www.videcomplianceline.com.
Based in Charlotte, North Carolina, ComplianceLine is a 24/7 worldwide reporting service that offers a number of services, including incident reporting, according to its website. It is not an emergency service and should not be used for events presenting an immediate threat to life or property, the release stated. Users requiring emergency assistance should call 911.