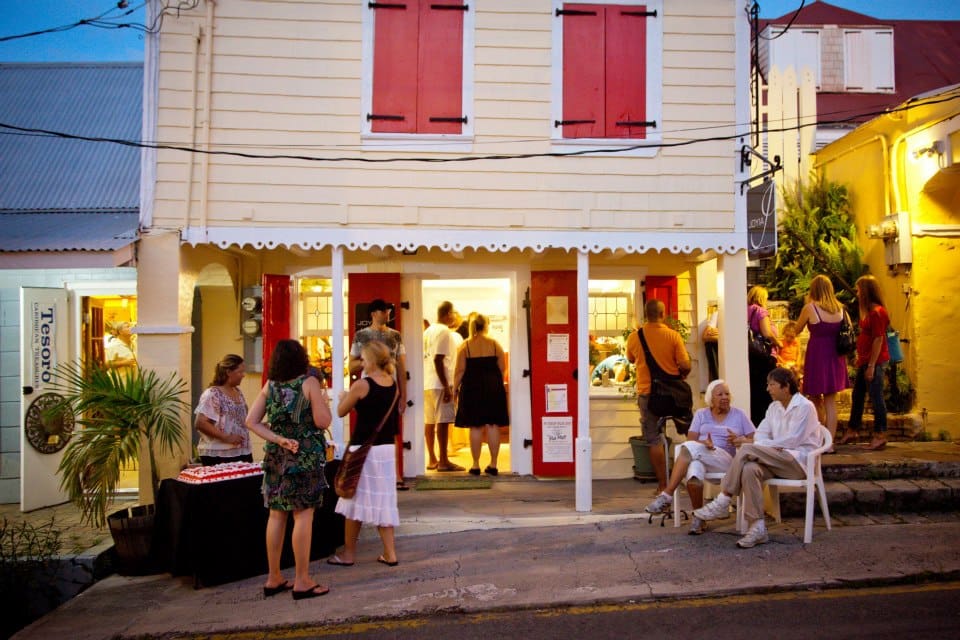 Art lovers! Art Thursday or Art Walk, returns to Christiansted the third Thursday of every month from November to May, beginning Nov. 17, with galleries and related retailers displaying the best St. Croix artwork.
Art Thursday was started in 1997 by artist Maria Henle and other downtown merchants. Over the years, it has become a popular social event with locals meeting their friends and visitors discovering art and restaurants in town. In December, attendees become serious about holiday gift shopping.
This year, the event returns to its pre-COVID format – wine, appetizers and music at curbside and original art and jewelry inside the galleries from 5-8 p.m. Many other retailers will be open and restaurants are eager to serve art lovers dinner and drinks after the event.
During the height of the COVID pandemic, the event was held during the daytime without snacks and beverages, and everyone wearing masks. Much of the ambiance was missing.
Joyia Jones, whose shop Joyia Inspirational Jewelry is celebrating 10 years in business this month during Art Thursday, is one of the event's organizers. She is excited to be serving wine, goodies and show off her new designs.
This year, there are two new participants – Southern Saint and RJS jewelry, both on Strand Street.
"We're excited about the new businesses joining us. We'll all be open and rocking art and music," Jones said.
The galleries participating this year are Barbara Art Studio displaying pieces by owner Barbara Gelardi, The Mermaids Purse featuring art by Isabelle Picard and Sara Lee Hayes ceramics and Cane Roots Art Gallery, with an exhibit by the late Anselm Richards.
Maufe Gallery shares space with Crucian Gold, where original gold and silver jewelry and art can be enjoyed simultaneously.
Two art forms in one space also works well for FantaSea Jewelry in the former Henle Gallery. The jewelry showcases are highlighted by the late Maria Henle's paintings and photography by her sister and father – Tina and the late Fritz Henle.
"It makes for a nice evening in Christiansted. People come to enjoy the art, have dinner out and socialize with people," Nicole Gariepy, owner/artist of FantaSea said.
Jan R.Mitchell Studio has a wide array of original glass platters and plates in various sizes and features art photos by Steffan Larsen.
Eden South has a variety of vibrant wall and wearable art, and Cheney Chicks and Island Gifts features sea glass jewelry and other art forms.
IB Design is a small shop with a big reputation for original gold and silver jewelry, and Levels is an event spot with walls covered with art.
Christa's Gallery shows artwork in many forms, all created by Christa-Ann Davis Molloy. She has key chains, paintings, and coasters with her original work. The focal point of the shop is a life-size parade masquerader with an elaborate costume. Molloy said she will have a jazz musician playing in her store on Thursday.
"Art lovers really mean a lot to us. We're really excited to have it back," she said.
Levels is also an Art Thursday sponsor, along with From the Gecko Boutique, Sion Farm Distillery, Abby's Lingerie Salon, ReMax, Five Corners Plaza, The Shoe Bar, Mutiny Island Vodka and Luncheria Mexican Food.