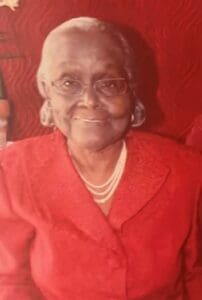 Elvira Rosita Thomas Dennery, affectionately known as "Aunty V," died on Dec. 27. 2022.
Elvira Rosita Thomas Dennery was preceded in death by her parents: James A Thomas and Gwendolyn Sprauve Thomas; brothers: George R. Thomas and Charles H. Thomas; sisters: Florecia Andrews, Maybell Thomas and Izora Leerdam; and husband, Ernest Valdemar Dennery.
She is survived by her sons: Ernest V Dennery Jr., Celestino Dennery, Sinclair Dennery, Vernon Dennery Sr. (deceased) and Sedric Fahie Dennery; daughters: Valencia C. Dennery David, Julia L. Garfield Harrigian (deceased) and Shiela Fahie Dennery; daughters-in-law: Marjorie Dennery, Margarita Dennery, Cecilia Dennery and Mona Dennery (deceased); and sister-in-law, Dr. Joyce M. Thomas.
She is also survived by grandchildren: Valencia, Ernest, Mesha, Celeste, Delva, Kenneth Teshia, Cherea, Sinclair Jr, Deshurn, Shurnel, Kimo, Glen, Vernon, Vernan, Hitoshi, Jerome, Janaai, Sheena and Shenelle; as well as great-grandchildren, nephews, nieces and cousins too numerous to mention.
Relatives and friends are respectfully invited to attend the funeral service on Friday, Jan. 27, at the Cathedral Church of All Saints. The viewing will begin at 9 a.m., with services to follow at 10 a.m. Interment will be at Western Cemetery No. 2.
Funeral arrangements are by Turnbull's Funeral Home and Crematory Services.