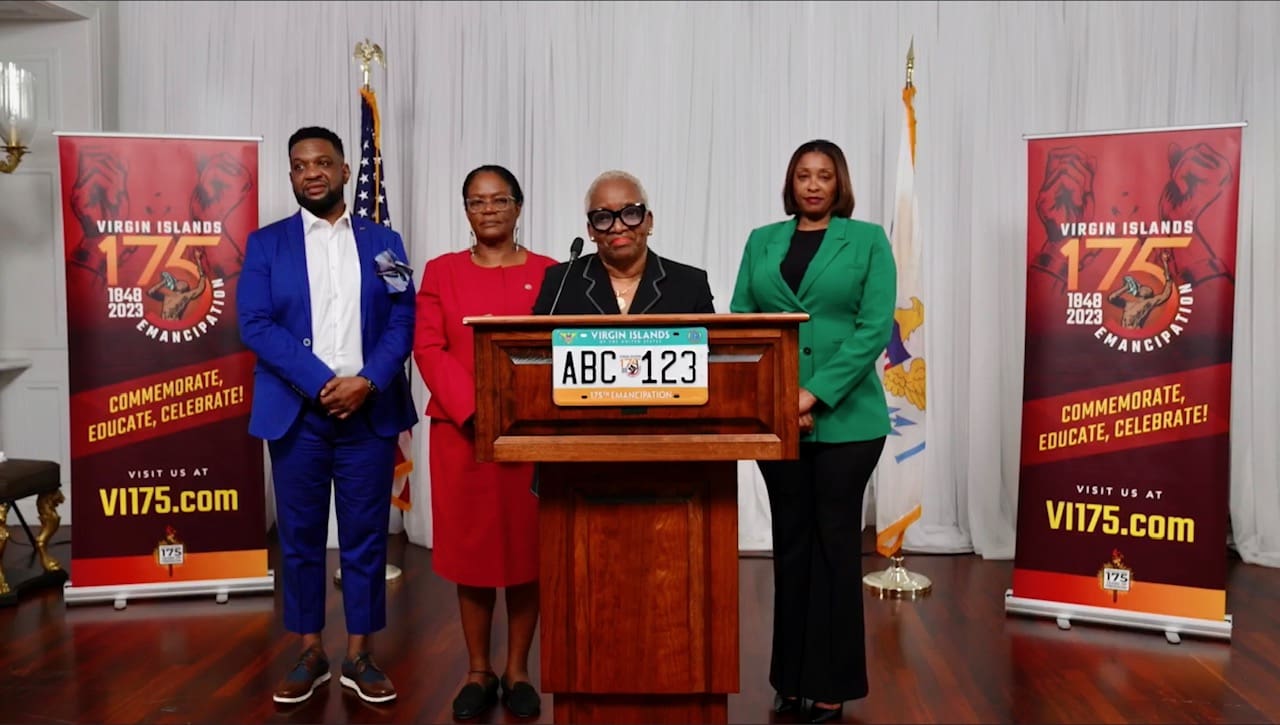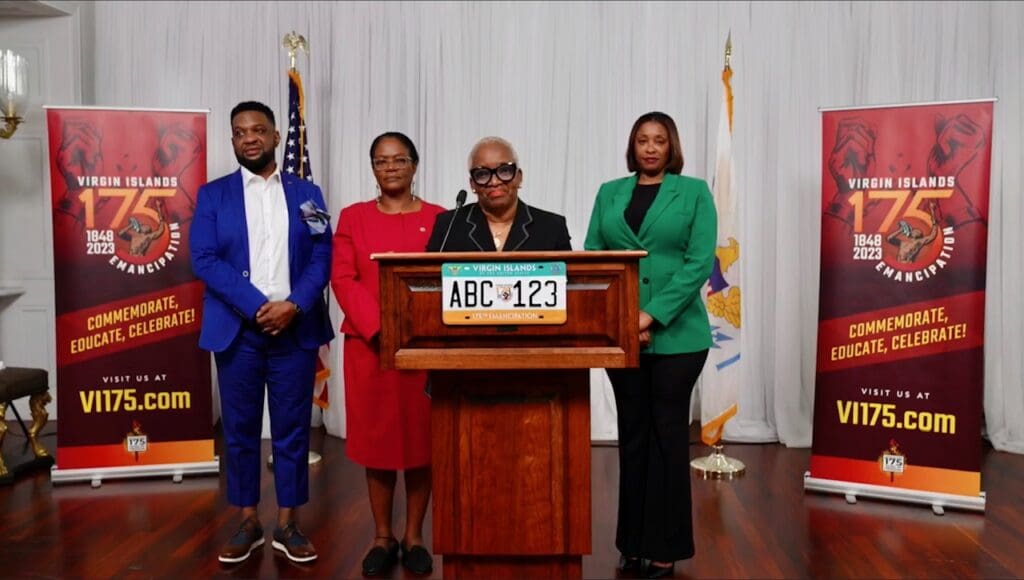 A new commemorative license plate, donor portal, website and tributes to 175 Virgin Islanders who contributed to the official emancipation of slavery within the territory were some of the initiatives announced Tuesday as members of the 175th Emancipation Commemoration Committee revealed their framework for the next few months.
"On the morning of July 3, 1948, the low bellow of the conch shell rang out over Frederiksted, signaling the birth of hope and the call to freedom — a call we still hear today," Committee secretary — and corporate sponsorship chair — Teri Helenese said during a press conference held at Government House.
"This July 3, 2023, the United States Virgin Islands will celebrate that freedom and lift up the hope we have in future generations and we encourage every Virgin Islander and those who love us to join us as we remember our past, celebrate our advancements and dedicate ourselves to a promising future," she said.
Helenese said representatives of the seven countries that have had ownership of the territory — Spain, England, Holland, France, the Knights of Malta, Denmark and, finally, the United States — have been invited to participate in and even sponsor upcoming events, given the shared history. Funds received will be put toward sponsoring grants and scholarships, educational training, research, data, cultural affairs, capital projects and the design and build of public displays that will commemorate the anniversary of emancipation, she explained.
"We believe that by highlighting the progress, struggles, sacrifices and collected stories from our rich past we can forge a path forward that will be a blueprint for future generations to come," Helenese added.
The launch of the Committee's website is anticipated for later this week, where residents can learn more about what's upcoming and ways to get involved. The website will include tributes to 175 notable Virgin Islanders, called "Keepers of the Flame," who played a pivotal role in the emancipation, according to chair Carol Burke — all of whom are being honored posthumously by the committee and Gov. Albert Bryan Jr. A search engine for research and educational awareness will also be housed on the site, she said.
Meanwhile March, the launch of the commemorative license plate — the design and production of which is covered through the Virgin Islands Historical Commemorative Fund — will roll out, according to Committee member of Bureau of Motor Vehicles Director Barbara McIntosh.
"We believe that this license plate truly captures the essence of our history and vibrance of the islands," McIntosh said, highlighting the design. Effective March 1, those with temporary plates or whose registration is expiring will be required to trade them in for the commemorative one, and the BMV offices on St. Croix and St. Thomas will be open every Saturday in March from 8 a.m. through 2 p.m. to get them all distributed.
Seniors 65 years and older will receive their plates for free. McIntosh encouraged residents to make an appointment at bmv.vi.gov to get the process started.