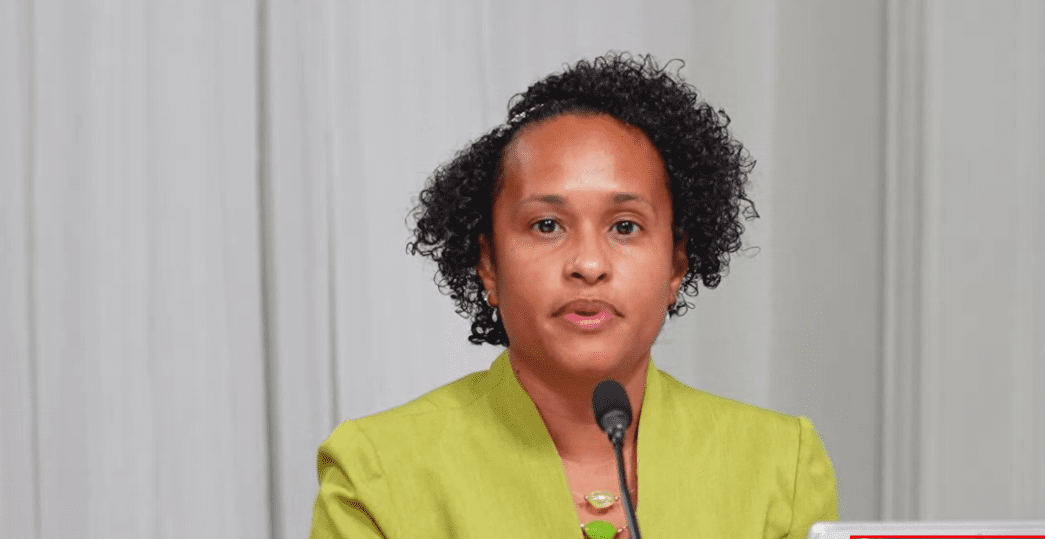 During the weekly Government House briefing, Dr. Tai Hunte-Ceasar from the V.I. Health Department said symptoms of what is commonly called long COVID can show up weeks after the infection and affect every organ in the body.
In 2021, researchers began studying long COVID, which can last weeks, months and longer, and they found symptoms can affect every part of the body and even mental health, Hunte-Ceasar said.
"Today, long COVID is described as a complex disease that can affect nearly every organ in your body and is not one condition but instead possibly several overlapping conditions with different causes and different symptoms," she said, adding that at least 200 symptoms have been reported affecting every part of the body.
Statistics from U.S. Health and Human Services indicate one in every five persons between the ages of 18-65 who have contracted the virus suffers from long COVID, and one in every four people over the age of 65 have post-infection symptoms.
Additionally, 44 percent of long COVID victims cannot work at all and 51 percent can only work part-time, at the cost of approximately $50 billion in lost wages annually and health care expenses, according to Hunte-Ceasar.
VIDOH also will begin studying long COVID in V.I. residents with a federal grant.
"The takeaway from all this research is that long COVID is a real condition. It is having a significant impact on a large part of the U.S. population and most likely will occur as new infections happen. This is a major public health concern," she said
Hunte-Ceasar reported there are currently 31 cases of COVID in the territory — 19 on St. Croix, 11 on St. Thomas, and one on St. John. There are two people with the virus hospitalized on St. Thomas. Most of the infections in the territory are the XBB and BQ1 variants.
The best prevention against COVID and long COVID is vaccination, Hunte-Ceasar, said.
Kimberley Causey-Gomez, V.I. Human Services commissioner, also addressed the public to make announcements concerning Medicaid and Supplemental Nutrition Assistance Program benefits.
During the COVID pandemic, between 6,000 and 8,000 people were added to the Medicaid system, and with the public health emergency ending, everyone currently covered needs to update their information with DHS to maintain eligibility and receive updates.
The commissioner said a text message and a letter will be sent to all Medicaid members with a link to update their address, phone number and email address. Beneficiaries also can update their statistics online or on their phone by connecting to www.DHS.vi.gov.
"You don't have to come into our office. You don't have to stand in any lines. You can do it all from your phone," Causey-Gomez said.
Families using SNAP don't need to do anything, but be aware the final emergency allotments were issued on Feb. 18. As of March 1, monthly payments will be reduced to the normal pre-pandemic amount. Thereafter, benefits will be based on household size, income and deductions and will only change if those criteria have changed.
"At this time, households should prepare for this reduction of benefits when the temporary emergency allotment ends at the end of this month, which is tomorrow," the commissioner said. "As a reminder, this change to your benefit amount is due to the 2023 Consolidated Appropriation Act — due to Congress — and the department doesn't have any control at this time over that federal change."
Richard Motta, communications director for Government House, announced town hall meetings sponsored by the V.I. Department of Planning and Natural Resources about the comprehensive land use plan for the territory. There will be two sessions on each island. Visit www.planusvi.com for more information.
St. Thomas
DPNR Offices/Viya Building in Tutu Park Mall
Tuesday, Feb. 28, 5:30-7:30 p.m.
Wednesday, March 1, noon to 2 p.m.
St. John
Thursday, March 2, 5:30-7:30 p.m. — Legislature Chambers
Friday, March 3, noon to 2 p.m. — Legislature Garage
St. Croix
University of the Virgin Islands Great Hall
Tuesday, March 7, 5:30-7:30 p.m.
Wednesday, March 8, noon to 2 p.m.