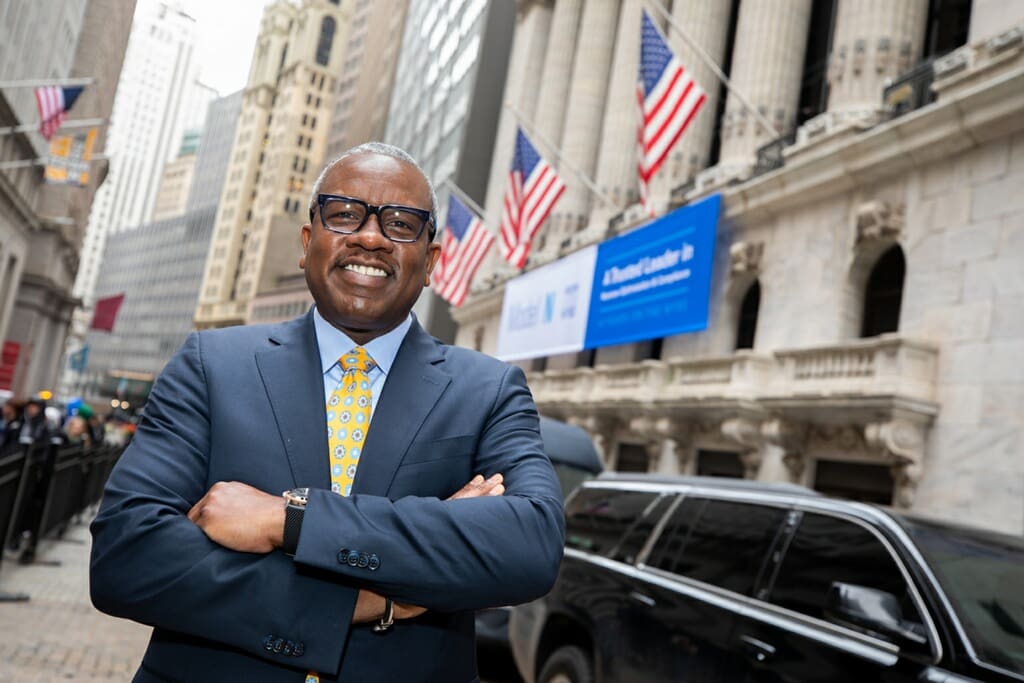 A rush-hour police escort brought Gov. Albert Bryan Jr. and company into lower Manhattan early Friday to meet with the vice chairman and president of the New York Stock Exchange. They watched the opening trading bell and, after a chat with New York Mayor Eric Adams, were shuttled back to Brooklyn to sign a memorandum of understanding with the borough's Chamber of Commerce. By mid-afternoon, Bryan was back in Manhattan, signing a similar agreement with the Greater New York Chamber of Commerce.
With a tour of Brooklyn's Industry City, networking and awards events, the schedule was, at times, minute-by-minute. Bryan joked the night before at a hotel-lounge welcome reception that he didn't bother to study itineraries much anymore. But there was good reason to make the most of the New York trip, said advocates for a plan to radically reshape commerce and development in St. Croix. The end goal was to eventually change how business was done throughout the entire Caribbean.
The Virgin Islands delegation — government employees like Bryan and Wayne Biggs Jr., CEO of the Economic Development Authority, and private-sector experts in cargo logistics, shipyards, and investment firms — were in New York to pitch ideas for new economic bridges of international trade, commerce, banking, finance, and investment based on the state's and the territory's shared history, aligned infrastructures, and available opportunities.
It's all under the St. Croix Economic Development Initiative's Caribbean-American Single Economy umbrella.
They're thinking big. Could international air cargo routed through New York land in St. Croix instead? What if the long-troubled oil refinery were transformed into a container port with a ship-repair facility? How can St. Croix best capitalize on being a fiber-optic cable hub? Would a U.S. Virgin Islands-based arm of the New York Stock Exchange help all of the Caribbean banks better?
It's some of the ideas Anthony Weeks, the Virgin Islands' economic envoy to Taiwan and owner of Kalallo Media Network, started exploring during the administration of Gov. Charles Turnbull.
"It's an initiative started in 2006 and actually we're now seeing the manifestation of the work that was started back then," Weeks said during the tour of Brooklyn's Industry City. "The Bryan-Roach administration literally picked up where Dr. Charles Turnbull left off but on steroids."
Weeks envisions a Caribbean-centric investment and trading platform with all the U.S. mainland's Securities and Exchange Commission's safeguards against needlessly risky or illegal activity.
"It would be a strategic partnership between the New York Stock Exchange and the U.S. Virgin Islands to literally create the first financial center hub with all the SEC rules, banking laws, and rules and regulations to help mitigate the challenges that the region has with risk and other problematic transactions in the region," he said.
The interest isn't one-sided, Weeks said. Representatives from the New York Stock Exchange will plan a trip to the territory before the end of 2023, he said.
Weeks said people in the Virgin Islands tend to believe in action more than big ideas and tall talk. He's fine with that.
"All we can do at this point is lay out what's in front of us, tell people what it is, and just execute, man. That's all it is," he said. "The transformation of the U.S. Virgin Islands — but particularly St. Croix — economy has begun."
He acknowledged there was still work to do. High-tech and industrial infrastructure depends on a robust and resilient electrical grid, something the Virgin Islands has historically found difficult to offer.
Whereas many Caribbean initiatives are driven by a political talking point, the re-invention of the St. Croix economy would come from a series of public-private partnerships, where government agencies and for-profit companies seek common ground.
Bryan's delegation to New York presented seven.
International trade and commerce, as well as foreign direct investments, could help ease reliance on China as an integral part of the supply chain — bolstering USVI manufacturing, assembling, warehousing and storage branded Made In The USA, Bryan said.
A partnership with the New York Stock Exchange could position the territory as the gateway for companies throughout the Americas, Caribbean and globally looking to do business with the United States and gaining better access to the US capital markets.
A more robust Virgin Islands transportation and maritime industry could capitalize on the territory's Jones Act exemption, creating a free trade zone bolstered by St. Croix shipyards and the existent large oil and fuel terminal, the governor said.
The 10,000-foot runway at St. Croix's Henry E. Rohlsen International Airport and the 15,000-foot runway at Stewart International Airport in Newburgh, NY, could relieve international freight congestion at LaGuardia, John F. Kennedy, and New Jersey's Newark Airport. Upgrading the territory's airports and implementing high-tech supply chain monitoring could better link New York and the Virgin Islands.
The Virgin Islands is a through point for fiber optic telecommunications cables, making it attractive to tech and finance companies, as well as the University of the Virgin Islands Research and Technology Park. CenturyLink operates the fiber-optic submarine cable network that provides high-speed internet to Europe, South America, North America, and the Caribbean. Two of CenturyLink's largest networks are in Brookhaven, NY and Frederiksted, St. Croix, the governor said.
Bryan talked about a workforce development collaboration with Brooklyn-based Medgar Evers College, the University of the Virgin Islands, and other regional schools in the area of research and development, workforce development, and training of ethnic minorities and women.
And finally, the mainstay: travel and tourism. The U.S. mainland's northeast is the territory's largest travel market. Shared culture and history go back centuries.
Johann Clendenin, chairman and CEO of cargo logistics optimizers ICGroup, said the entire day Friday was validation of 15 years of work. Clendenin's company, which got Economic Development Commission benefits starting Jan. 1, links international air, sea, and land shippers with regulators and port officials. He said they'd been working with Stewart Airport for three years. The next mission is creating World Trade Center Frederiksted.
"We were able to see the coming together with our investors, who were at the meeting with the New York Chamber of Commerce," he said.
Clendenin spoke from Kennedy Airport Friday afternoon where he and others from the delegation were awaiting a flight to Taiwan, where Weeks had orchestrated the opening of a Virgin Islands trade office.
"The Virgin Islands will now have a p3 — public-private partnership — Invest in the Virgin Islands trade and investment office in Taiwan," he said. "International trade, commerce, and investment: In this particular area we have benefited from foreign direct investment like the rest of the Caribbean."