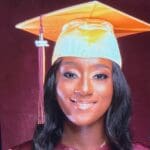 Cooks, volunteers, supporters and fun seekers who numbered in the thousands turned out at the University of the Virgin Islands (UVI) Afternoon on the Green fundraiser on Sunday, March 19, on St. Thomas, to raise money for college scholarships. The 31st annual event drew crowds of people who partied with a purpose, danced to live music, played interactive games in the Kid Zone, explored UVI programs, and sampled a variety of dishes donated by local cooks and chefs.
On Sunday, two St. Thomas high school students were awarded scholarships to attend UVI and more than a dozen cooks were recognized for their popular food entries. Jadynn Sibilly, a senior at Charlotte Amalie High School, and J'Kyla Bastian, a senior at Ivanna Eudora Kean High School, were awarded the Edward E. Thomas Volunteer Scholarship and will attend UVI in the fall. Sibilly plans to major in English and journalism; Bastian plans to study marine biology and English.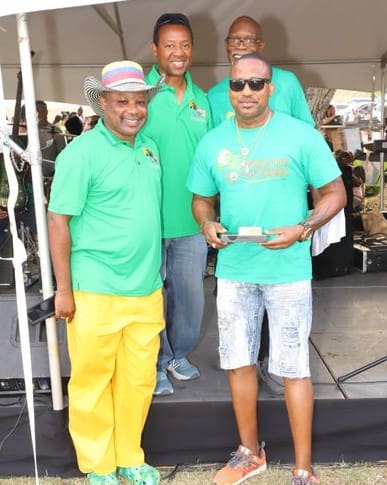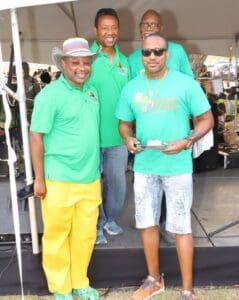 Arthur Raymo III was the top vote-getting cook, winning the overall prize for his dish, "Brigo's Firehouse Salmon."  Raymo, a long-time Afternoon on the Green participant, won a free cellular phone and one year of service compliments of Viya. First, second and third-place winners were announced in the following food categories. Winners received various prizes which included a stylish Afternoon on the Green shopping tote.
Main Dishes
1st Place:        
Mills Smokehouse BBQ – Smoked Brisket
2nd Place:        
Phyllis Pickering – Chicken and Rice
3rd Place:        
Arian's Restaurant – Barbeque Chicken
Seafood
1st Place:        
Arthur Raymo III – Brigo's Firehouse Salmon
2nd Place:        
Philyencia Boney – Fish in Butter Sauce
Vegetarian Dishes
1st Place:        
St. Clair Potter – Lentil Balls
Soups
1st Place:        
Josie's Special Events – Ital Soup
2nd Place:        
Alfred Cannonier- Seafood Kallaloo
3rd Place:        
Victor A. Edwards – Kallaloo
Honorable Mention:  
Neville Gonsalves – Ital Soup in a Yabba Pot
Side Dishes
1st Place:
Philyencia Boney – Fungi
2nd Place:        
Philyencia Boney – Mashed Potato
3rd Place:        
Philyencia Boney – Spinach Rice
Bread
1st Place:        
Josie's Special Events – Josie's Banana Bread
Desserts and Sweets
1st Place:        
Hannah Carty – Salted Toffee Chocolate Chunk Cookies
2nd Place:        
Hannah Carty – Chocolate Cookie Butter Cake Jar
3rd Place:        
Cora Thomas – Assorted Tarts (guava, coconut, pineapple)
Native Drinks
1st Place:        
Mary Joe Williams – Anegada Iced Tea
2nd Place:        
Chef Nibbs – Lemongrass Iced Tea
3rd Place:        
Charlene Adams – Maubi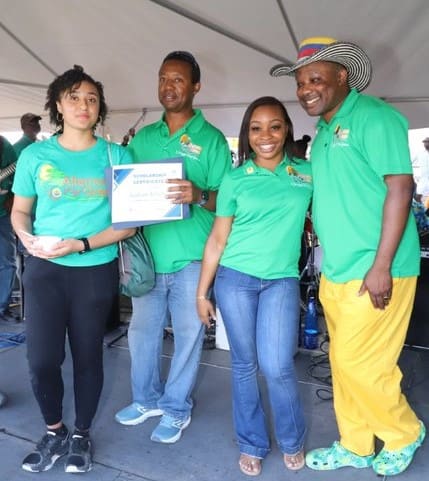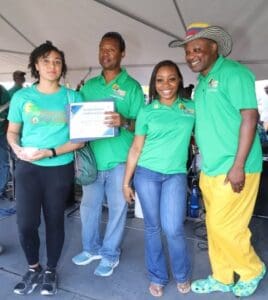 "This year's event broke the record in terms of turnout, and I am extremely impressed by the diversity of activities we were able to offer our patrons and the level of excitement I witnessed by the crowds," said Mitchell Neaves, vice president for institutional advancement at UVI. "I wish to thank everyone involved for their support and extend special congratulations to Ms. Sibilly and Ms. Bastian whose dedication to community service has earned them prestigious scholarships to attend UVI. We look forward to welcoming them both as freshmen."
Kyza A. Callwood, Ph.D., chairman of the planning committee, said, "We are ecstatic to have had a successful event and are indebted to all of the cooks, volunteers, sponsors and community members who participated with such enthusiasm. I thank everyone for their overwhelming support and generosity on behalf of the Afternoon on the Green Committee.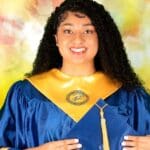 "In addition, the planning committee merits special praise for their self-motivation, diligence and dedication to completing all mandates far beyond what was required. They truly represent the wings of love in real time, spreading happiness throughout the community," he said. "I also want to acknowledge and thank the UVI Physical Plant, UVI Security, Omega Psi Phi Fraternity (VI Chapter), Civil Air Patrol, and the Virgin Islands Fire and Emergency Medical Services."
The Edward Thomas Volunteer Scholarship fund was created in honor of Edward Thomas, a local businessman and chairman of the UVI Research and Technology Park Board, to aid students who have demonstrated a commitment to community service. Each year, two St. Thomas high school seniors are awarded scholarships to attend UVI to study in the field of their choice.
Event sponsors include
Custom Builders, USVI Department of Tourism, VI Council on the Arts, Viya, First Bank, VI Lottery, Office of Gun Violence Prevention, VI National Guard, Economic Development Authority, Community Foundation of the VI, Southland Gaming, Paradise Chiropractic, BVI Tourist Board, Cost U Less, RTPark, MSI Building Supplies, Department of Health Maternal and Child Health, Department of Health Communicable Diseases Division, A-9 Enterprises, Lew Henley's Sewage Disposal, Tropical Shipping, Merchant's Market, Fabien's Trucking, V.I. Waste Management Authority, V.I. Energy Office, Serafina Wellness and ProSolar.
For more information about Afternoon on the Green, visit www.aog.uvi.edu