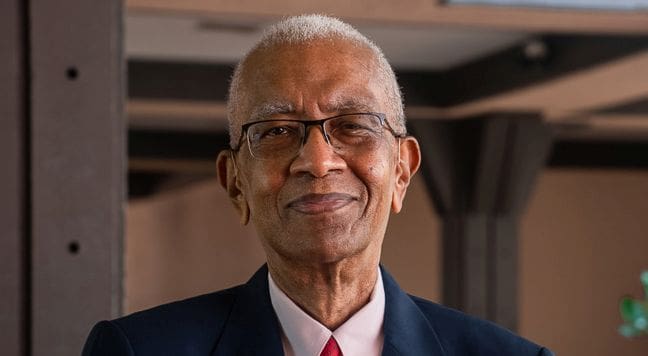 Former Sen. Alex Moorhead was someone to look up to — both literally, as he stood over six feet tall, but also, according to those who remembered him after his passing this weekend, because of his elegance, grace, professionalism and service.
According to family members, Moorhead died at the age of 77, peacefully in his sleep at home. The loss was deeply felt across the St. Croix community almost instantaneously, with mentions made on radio programs, newspapers and social media, then by family, friends and dignitaries who honored his work in both the public and private sectors as a former senator, Hovensa executive and spokesman and, most recently, a University of the Virgin Islands Board of Trustees chair and member emeritus.
"Alex was iconic in stature and grace. I always looked up to him as a young Virgin Islander working in the refinery. At this age, I understand he was at the table to make pathways and represent us when few could. I will miss him, and the Virgin Islands surely will. Yolanda and I express our most heartfelt condolences to his family and all in the community mourning his passing," said Gov. Albert Bryan Jr.
His role as the refinery's Vice President of Government Affairs and Community Relations through his retirement in 2010 is perhaps best known, along with the passion he displayed for his work. Though more reserved by nature, Moorhead knew the ins and outs of the facility, right down to the different types of fuel on the market, what Hovensa manufactured and how the process worked. He was a fixture at Public Services Commission meetings, offering his expert knowledge and opinions, and was a champion for what the refinery offered the territory in terms of community investment.
"In this capacity, Mr. Moorhead regularly partnered with government and community organizations," Senate President Novelle Francis said in a statement while reflecting on Moorhead's career. "With his help, the V.I. Police Department was able to train investigators. Additionally, when the territory was having difficulty getting the FBI to do its crime scene analysis, Mr. Moorhead was instrumental in funding the VIPD's DNA labs that are still in use today."
Moorhead was also elected three times as a senator, from 1971-1976, where he served in the ninth, 10th and 11th Legislatures and as Senate minority leader during his last term.
"Moorhead was a consummate statesman and public servant who always put the Virgin Islands first before politics," Francis said. "His contributions and dedication leaves a void in our society that will be sorely missed."
Appointed and confirmed to the UVI Board of Trustees in 1996, Moorhead was reelected for five terms through May 2020, when he retired. An advisor in this role to three university presidents, Moorhead was remembered for his active participation in numerous UVI programs and initiatives.
"Many people would often refer to his height and elegant stature. However, these were not his most distinctive qualities. Alexander Moorhead was an authentic statesman when very few existed. He was the embodiment of excellence in a world were mediocracy has sometimes been the norm. He asked questions to understand and not to condemn; he explored options not to demonstrate how smart he was but to encourage those around him to develop smart ideas. He was a man of few words because fountains of wisdom are not found in gushing streams, but in reservoirs of still water," UVI President David Hall shared.
"I will miss this icon of leadership and service. He set a standard very few of us will ever meet. Virgin Islanders should be so proud of Alexander Moorhead. From this soil, he was born to pursue and embody excellence and service. During his walk on this earth, he exceeded his calling," Hall added. Moorhead received an honorary doctorate from UVI in 2021 and was a graduate of Harvard University.