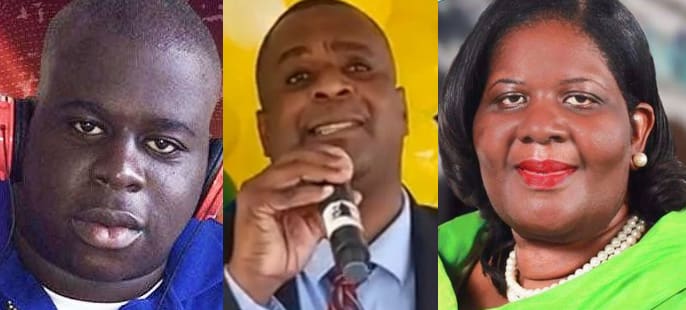 Kadeem Stephan Maynard, co-defendant with former British Virgin Islands Premier Andrew Fahie in an alleged drug running and money laundering scheme, told a Florida court Monday he planned to change his plea to guilty.
Maynard, also known as Blacka, plans to formally change his plea from not guilty on June 12. Federal prosecutors have until June 10 to notify the Miami court of their sentencing recommendations, according to court documents. Maynard's trial by jury has been canceled.
Maynard, 31, his mother, former Port Authority Director Oleanvine Pickering Maynard, 60, and Fahie, 51, were charged with a brazen plan to use Tortola as a through point for drugs and potentially guns to the U.S. mainland.
The trio were arrested April 28, 2022. While Fahie made bail, largely confined to his daughters' apartment, the Maynards were held in jail.
Maynard was charged with conspiracy to import a controlled substance (cocaine), conspiracy to engage in money laundering, and attempted money laundering.
Fahie and Pickering Maynard were charged with conspiracy to import a controlled substance (cocaine), conspiracy to engage in money laundering, attempted money laundering, and foreign travel in aid of racketeering.
If found guilty, all three could spend the rest of their lives in jail.
Prosecutors have said Fahie was eager to work with drug cartels and terrorist organizations and had allegedly bragged on secretly-recorded audio tape about years of criminal activity, including partnerships with notorious smugglers. At one point, Fahie allegedly offered to help illegally import firearms through the British overseas territory.
While helping construct a scheme with Fahie to use Tortola as a through point for thousands of kilograms of cocaine bound for the U.S. mainland, Maynard allegedly made a side deal to receive 60 kilograms for himself weekly, U.S. prosecutors said. This meant he had the experience and contacts to distribute large quantities of narcotics — more than 132 pounds a week — with ease, a Florida magistrate judge said.
Prosecutors said Maynard lived a life of privilege, with a boat and access to private aircraft. Listed on BVI voter forms as self-employed, Maynard allegedly told an informant he had been trafficking drugs for 20 years. Maynard even allegedly told an informant that he had incriminating evidence against Fahie.
He was arrested on St. Thomas on a trip to arrange for his first shipment of cocaine, as well as pick up a satellite phone and $30,000 in bribe money, prosecutors said.
That same day, Fahie and Pickering-Maynard were arrested in Miami — where they were attending a cruise ship industry conference and allegedly inspecting drug money.
Along with the audio recordings, prosecutors handed defense attorneys phone records, WhatsApp data, law enforcement reports from Puerto Rico, and bank records. Prosecutors also extracted "voluminous" video and other data from the defendants' phones, according to court documents.
Prosecutors said Fahie and Pickering-Maynard allegedly boasted of a well-oiled smuggling and money laundering machine at their disposal, bribing island authorities and forming shell companies to hide illegal activities.
Fahie was frustrated, according to prosecutors, at not being paid well enough for his illicit acts. At one point he allegedly offered to use his connections to supply firearms as well.
Prosecutors have not yet released details about whom Fahie spoke of on the tapes. On the bribe list, according to court documents, were police, port authority personnel, and at least one senior BVI government official.
Fahie has repeatedly attempted to get the identity of the person who made the allegedly damning recordings.
The United Kingdom's Commission of Inquiry report, issued shortly after the arrests, alleges potential widespread corruption within the British overseas territory — so much so that auditors recommended suspending the constitution and sacking elected officials.
But the published report did not name wrongdoers, only saying further investigation was needed.
Fahie had repeatedly asked the court to reveal the identity of the confidential informant who made the recordings.
Fahie's arrest for allegedly offering to make Tortola a major through point for cocaine smuggling to the U.S. mainland came as he stepped off a private plane at a Miami-area airport after allegedly inspecting would-be drug money. He quickly claimed immunity from prosecution as the BVI's head of state but received none.
A long-serving employee in the premier's office was arrested in October 2022 and charged with illegally sending a letter to U.S. officials seeking Fahie's release.
A day after the arrest, the United Kingdom government released a report recommending direct control of the BVI by London, dissolving local government, and launching a full investigation of probable corruption. Local protests broke out and the House of Assembly speaker, Julian Willock, resigned. Willock was later questioned on possible human trafficking charges.