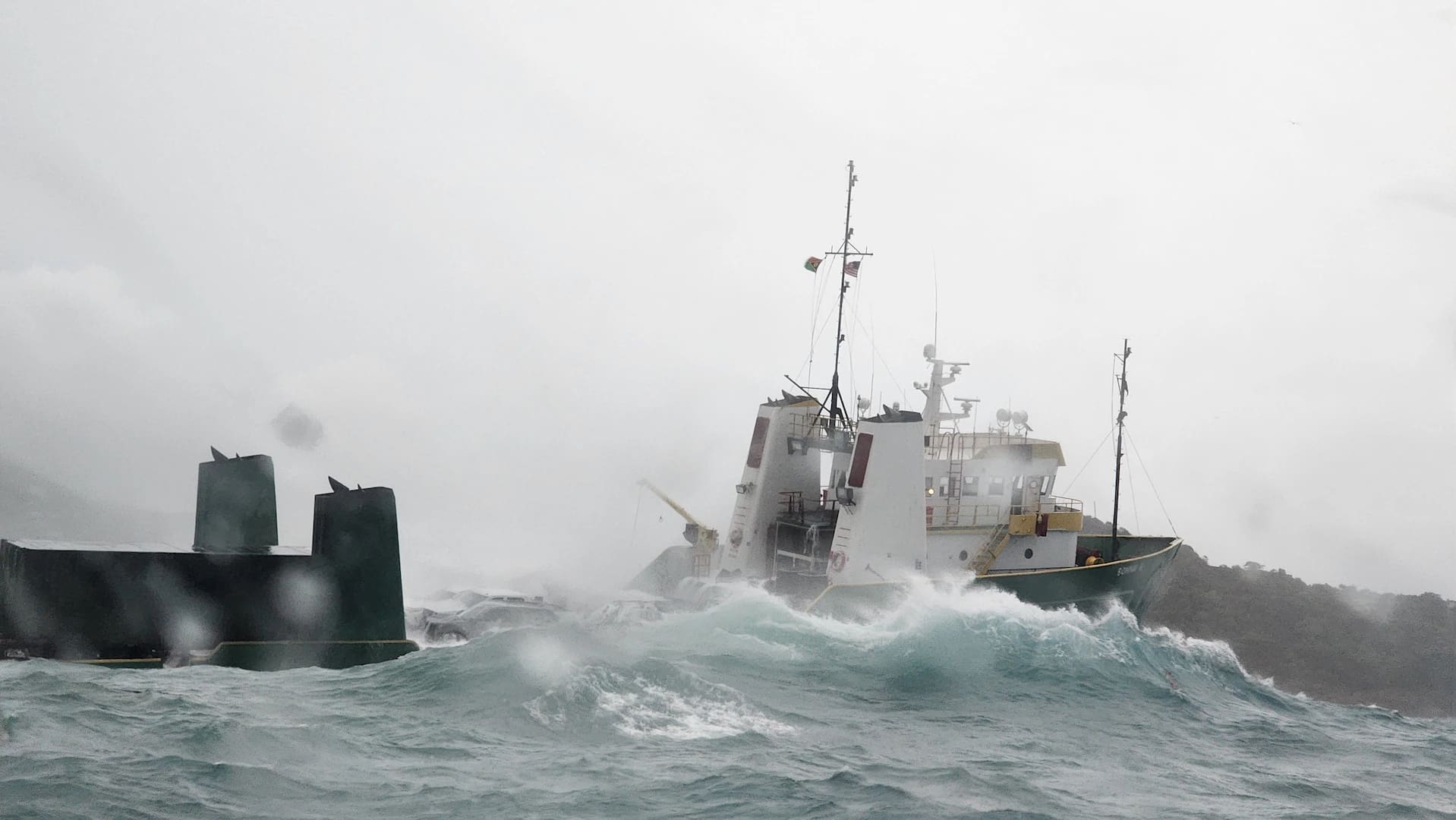 The U.S. Coast Guard rescued a dozen people from two life rafts in seven-foot storm waves more than an hour before dawn Wednesday after their cargo ship ran aground south of Cyril E. King airport in St. Thomas.
Crew aboard the 195-foot Bonnie G radioed Coast Guard officials in San Juan at 3:41 a.m., saying the Vanuatu-flagged cargo ship was taking on water in its engine room as remnants of Tropical Storm Philippe passed over the U.S. Virgin Islands. All aboard abandoned ship and were soon rescued by a 33-foot Coast Guard vessel from the St. Thomas Boat Forces Detachment, said Ricardo Castrodad, a public affairs officer.
The rescued crew was taken to Crown Bay Marina.
Coast Guard aircraft flew over the Bonnie G to assess if any of the approximately 13,000 gallons of fuel and approximately 250 gallons of lube oil onboard had leaked. No oily sheen was detected but Castrodad said the sea was still rough and further assessments were needed.
The 1981-built vessel was carrying six cars, a truck, a trailer and two pallets of cargo. The cars could be seen sliding around the deck during the flyover, Castrodad said. He declined to speculate whether an improperly balanced cargo load led to the grounding.
The ship left Christiansted at 6:41 p.m. Tuesday, bound for St. Thomas, according to the website vesselfinder.com. But the route became erratic as it approached Charlotte Amalie Harbor from the east, according to information from the website marinetraffic.com.
The Bonnie G passed between Hassel Island and Water Island shortly after 3 a.m. and back out to sea west of Honeymoon Beach. It abruptly turned about 2,000 feet southwest of the airport runway and started back toward Water Island before running aground.
The ship designed to handle rolling cargo like cars needs a minimum depth of roughly 10.8 feet to operate safely, according to Boat Watch app.
Castrodad said the ship's owners were responsible for arranging safe removal of any dangerous pollutants aboard as well as the salvage of the remaining cargo and vessel. It's a process the Coast Guard will monitor, he said.
Capt. José E. Díaz, commander of Coast Guard Sector San Juan, said the incident was a "close call."
"There is still much work ahead of us to investigate and learn the causal factors of this incident. One of our main priorities is to assess the pollution threat from this vessel and ensure risks are properly managed and potentially hazardous chemicals are removed as quickly and safely as possible to maintain and protect the pristine waters of the U.S. Virgin Islands," Díaz said.