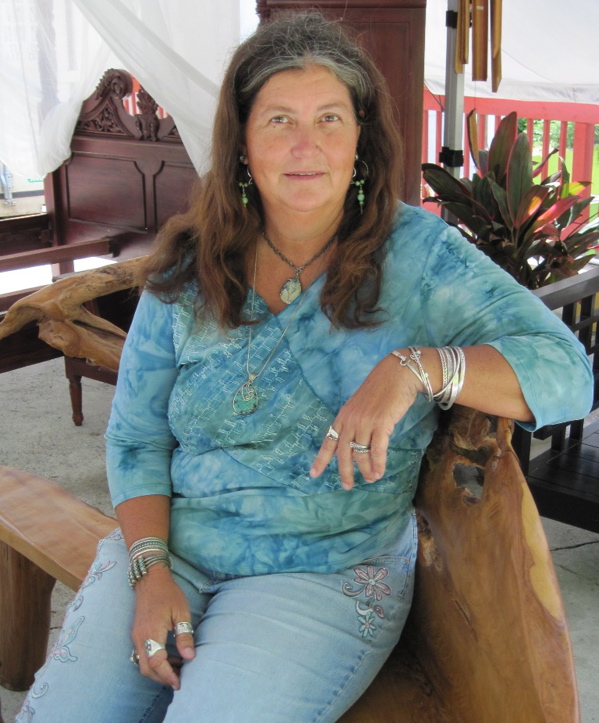 Love City Home and Garden Center is filling a big niche on St. John. Until the store opened on Centerline Road in the old St. John Concrete building, residents had few choices when it came to buying furniture.
The store also offers services like landscape design, sewing and masonry services.
"We're a cooperative of sorts," landscaper Rosalee Gage said.
Gage and the St. Thomas-based Island Empire furniture and accessories store owner Elizabeth Hall are partners in Love City Home and Garden Center, but Hall said others are welcome to join the cooperative.
In addition to Gage's Exotic Gardens and Hall's Island Empire, the store serves as the St. John outlet for a St. Thomas custom sewing business called Lagnappe. Love City Rock, owned by Gage's husband, Jose "Lico" Solorzano, rounds out the roster with masonry work.
The focus is on outdoor living, and Love City Home and Garden Center sells all-weather furniture that holds up to the elements. Gage said the store plans to sell packages of replacement furniture that includes chairs, a sofa and more so vacation villa owners can easily replace their worn furniture. She said the furniture suites will come at a discount prices.
"We can do the whole home," Hall added.
The store also carries commercial grade outdoor furniture for restaurants and hotels.
If Love City Home and Garden doesn't have what you need in stock, Gage said she'll order it.
"It comes in four to six weeks," she said.
Hall provides free design consultations for people buying furniture. She said Love City Home and Garden charges $50 to deliver furniture anywhere on St. John no matter how big the order.
Gage, 49, is an award-winning landscape designer who now provides that service to St. John homes.
Born in El Paso, Texas, she grew up on St. Croix, where her mother, Elizabeth Hays, was a teacher and her father, Ray Hays, was an engineer at the University of the Virgin Islands. She attended the Good Hope School. She graduated from high school in Indiana and went on to study at the St. Francis College for Landscape Technology and Design in Fort Wayne, Indiana.
She moved back to St. Croix for several years, where she owned a landscape business and the now-closed Blue Dolphin Divers.
Gage was living in Tuscan when the last of her four children went out on their own. With the children out of the house, she gave St. Thomas a try, but wanted a place where she felt more at home. St. John filled the bill.
Hall, 46, graduated from the University of Maine at Orono with a bachelor's degree in fine arts. She's a long-time St. Thomas resident who got her island feet wet by wholesaling knicknacks to vendors. That grew until eventually she and a partner opened Island Empire, located behind the Lieutenant Governor's office in Sugar Estate, St. Thomas. Hall is the mother of a four-year-old.
The store is open from 9 a.m. to 6 p.m. Monday through Friday and from 10 a.m. to 4 p.m. weekends.
Love City Home and Garden can be reached at 777-3503 or 642-2775.