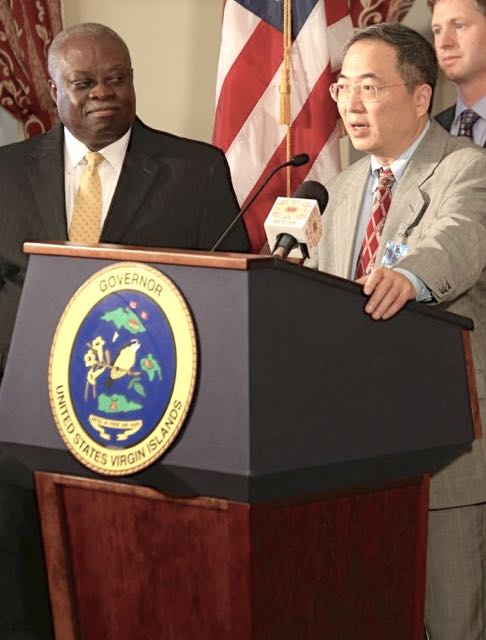 With the sale of Hovensa officially approved by a bankruptcy court judge, Gov. Kenneth Mapp announced Tuesday the details of an operating agreement between the government and ArcLight Capital Partners' Limetree Bay Holdings that he said isn't the "solution" to the territory's financial woes but would bring in $800 million to prevent borrowing for the next three to four fiscal years.
With ArcLight bringing partners Freepoint Commodities and oil giant Sinopec to the table, Mapp said the agreement also goes beyond getting what's left of Hovensa to be used as a storage hub, but instead provides for the import of material for roads, cutting gas prices, and providing land for housing, a vocational school and community center.
The deal also brings to a close a pending $1.5 billion lawsuit between the government and Hovensa for breach of contract, which Mapp said will be dropped along with Hess's $184 million suit against the government.
Mapp said he and a transaction team have been meeting the last few months with ArcLight players, along with representatives from Buckeye, another bidder in the sale process that was approved as a backup in bankruptcy court Monday if the agreement with ArcLight is turned down by the Senate, which Mapp said will be called into special session on Dec. 17 to approve or disapprove the document.
"We met with both companies, but ArcLight did business smart, did business well, because ArcLight brought real partners to the table and ArcLight isn't broke by any means," Mapp said during Tuesday's press conference.
"There's a tremendous amounts of assets in the Hovensa storage and terminal facility and ArcLight knew we had an interest in more, so they brought Sinopec – the largest oil refiner on the planet – and commodities broker Freepoint, and really put together a presentation to the government on how we will not only use the storage capacity that exists but look at the entire South Shore area and pursue other business elements and opportunities."
The 25 year agreement – with a 15 year option to renew – will give the government $220 million cash at closing and also includes a 10-year Sinopec lease for a quarter, or 10 million barrels, of Hovensa's immediately existing oil storage capacity. National news articles posted online just hours after the press conference described the lease as the "latest move by the Chinese firm to expand in the Americas as an oil trading powerhouse."
China needs storage space in the region since it is "trading growing volumes of Latin American crude oil it controls, including shipping it to U.S. markets," according to one article from Reuters. (See related links below)
"This area, the Latin America/Caribbean basin is a strategically growing area identified by Sinopec and they wanted to double their business in this region within five years, so this 10-year agreement is a start," Freepoint Commodities Vice Chairman Sheldon Pang said during Monday's press conference.
Also taking advantage of the partnership with Sinopec, a minimum three months of fuel – jet fuel, gasoline, diesel and propane – will be provided to local supplies for wholesale, which Mapp said would drop prices at the pump and cut what the territory has been paying for imported fuel.
Other highlights of the agreement include:
– the construction of a $6 million asphalt plant, which Mapp said would lower the local cost of asphalt by as much 75 percent;
– investment by ArcLight of $125 million over the first two years, much of which will go towards sub-contractors as Limetree works toward doubling the current fuel storage capacity and constructing the asphalt plant;
– a minimum of 80 full-time permanent jobs, but Mapp said that figure could increase to 200 or more as operations expand;
– annual payments to the government of 9 percent of ArcLight's revenues, increasing to 10 percent if revenue goals are met;
– a commitment to operate for 25 years in the territory and a guaranteed commission of $25.5 million or 10 percent to the V.I. government if the operation is sold;
– potentially restarting refinery operations and dismantling unused portions of the facility (the government will receive a percentage of the money from scrapped or sold equipment);
– 330 acres of land at the Hovensa site that will be turned over to the government and used for 130 houses, the vocational school and a community center;
– sale of fuel at the wholesale rack rate to local suppliers;
– submerged land use fees of $150,000 annually (Hovensa's lease was for $1 per year for 60 years);
– $500,000 annually in charitable contributions, to include $100,000 in scholarships;
– and $30 million for continued cleanup of site.