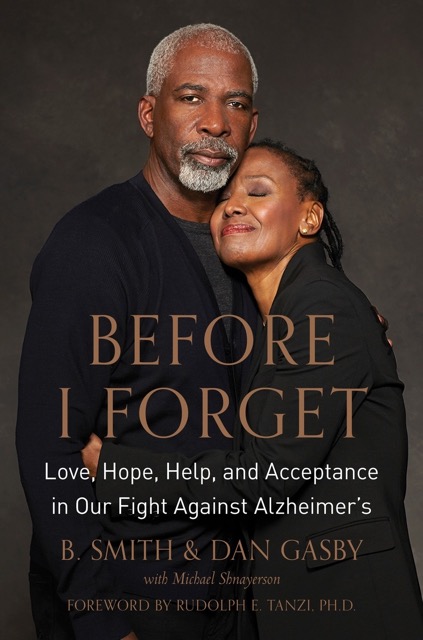 "Before I Forget" by B. Smith & Dan Gasby with Michael Shnayerson, foreword by Rudolph Tanzi, PhD
c.2016, Harmony Books $25 322 pages
You can't remember what you came into the room for.
That happens with disturbing frequency. Forgetting your glasses, losing your keys, it really bothers you because you're not sure if it's a normal part of aging or something else.
And in the new book "Before I Forget" by B. Smith & Dan Gasby with Michael Shnayerson, the worry isn't yours alone.
For most of her life, B. Smith was a whirlwind of activity. She was a model and had her own line of household goods, TV shows and restaurants she co-owned with her husband, Dan Gasby. She was known for her sense of style and her elegance.
And then, a few years ago, something uncharacteristic began to happen: the woman who was put together, inside and out, began to display emotional outbursts, use inappropriate language and her fashion sense faltered.
Her memory faded until it frightened the couple and they sought help.
Smith, as it turned out, had mild-stage Alzheimer's.
A take-charge kind of guy, Gasby did his research.
"Some 5.2 million Americans are living with Alzheimer's," he says; half a million people die of it every year. Perhaps due to higher rates of diabetes and heart disease, it hits the black community the hardest: by age 85, he says, "half of all African Americans have it."
Knowing the facts can be empowering, but they don't make dealing with the disease any easier. Smith lost things constantly; "hoarded" clothing, to Gasby's irritation; and, though she was previously fastidious, ignored sloppiness.
She shut family out physically and friends emotionally. Long-ago recollections were sharp, but her short-term memory was all but lost.
When things got worse and Smith was inadvertently put in a dangerous situation, the family found expert advice, only to learn that there was little they could do.
Alzheimer's has no cure. It can barely be "managed." They would just have to deal with the day-to-day challenges and learn to cope.
Of his wife, and their plans one day, Gasby says, "She sits…at the breakfast table, the love of my life, waiting quietly for me to tell her what to do."
Is there a sentence more heartbreaking than that? I don't think so, and you'd be likewise hard-pressed to find a book that will affect you more than "Before I Forget."
Would you blame anyone if you saw a pity-party in this book? Probably not, but there's no whining in Gasby's words, nor will you find "poor me" in what B. Smith contributes (with Michael Shnayerson).
Instead, there's resignation here; a we'll-get-through-this wrapped in a love story that gets more and more poignant as the story progresses. Gasby, who is fierce about Alzheimer's education, also offers up-to-date information and advice on what worked for him and Smith, and what didn't.
Without being a spoiler, there is no happy ending to this book, save but the sheer love that makes it soar. If you're an Alzheimer's caretaker or are facing the disease yourself, you absolutely will want this memoir. "Before I Forget" is a book you never will…
__
The Bookworm is Terri Schlichenmeyer. Terri has been reading since she was 3 years old and never goes anywhere without a book. Her self-syndicated book reviews appear in more than 260 newspapers.