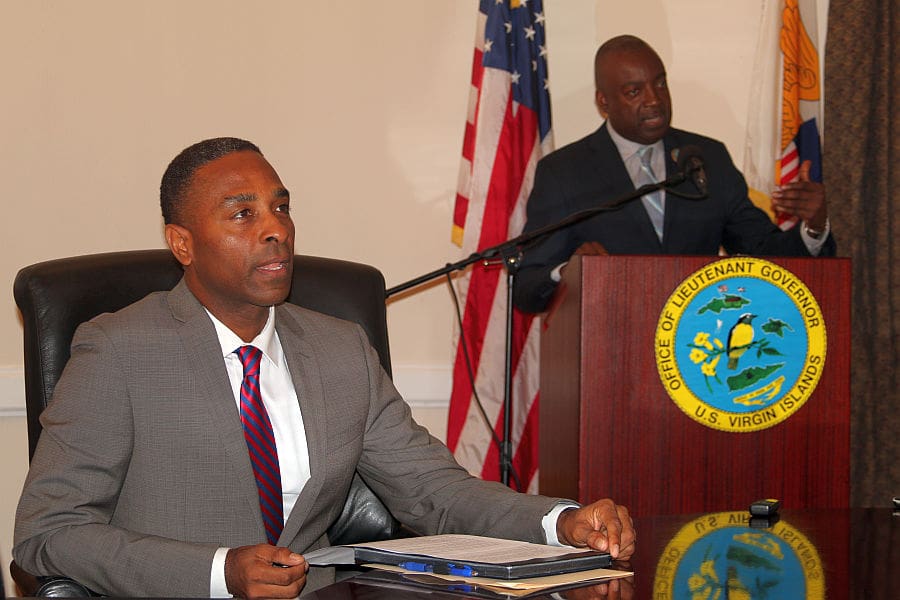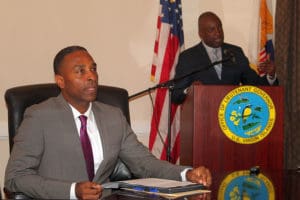 With two property auctions scheduled that will give residents a chance to "own a piece of paradise," the officials warned Friday that they will be cracking down on any bidders engaged in potential scams.
At a news conference Friday on St. Thomas, Lieutenant Governor Osbert Potter said 65 properties will be on the auction block: 23 on St. Croix, valued at $12 million (with $1.1 million owed in taxes and other fees,) 36 on St. Thomas valued at $16.7 million (along with $1.5 million owed in taxes and fees,) and six on St. John valued at $15 million (along with $970,000 owed in taxes and fees.)
The auctions will take place beginning at 10 a.m. Thursday on St. Croix at the Juan F. Luis Hospital's Benny and Martha Benjamin Conference Center. The second will begin at 10 a.m. July 6 on St. Thomas in the Caribbean A&B Conference Room at the Windward Passage Hotel.
At Friday's news conference, officials outlined plans to keep the auctions free from the same kind of fraud perpetuated at a 2012 auction that resulted in the arrest of Calford Charleswell, Sylvester Warner, Paul Sabers and Edward McKenzie, who were taken into custody in November 2015.
In February, Charleswell, who faced 14 different charges in connection with the scheme, pleaded guilty to one count of conspiracy and has been banned from participating in any future auctions. Warner faced two charges in connection with the crime, and took a deal that allowed him to plead guilty to one charge of conspiracy, for which he is serving one year of supervised probation, and is required to pay associated fees and court costs. McKenzie pleaded guilty to one charge of compounding a crime and was sentenced to a suspended jail term of 90 days, one year of supervised probation and 100 hours of community service. In a settlement with the Justice Department, he also paid $100,000 to the government.
"As a result of the recent criminal cases prosecuted by the Department of Justice concerning the real property auctions conducted in 2012, special agents have become very knowledgeable about certain illegal bidding practices that the auctioneer, in this case the Office of the Lieutenant Governor, must be aware of to prevent internal and external fraud at the auction," Attorney General Claude Walker said at Friday's news conference. "The Lieutenant Governor is providing the general public with an opportunity to own a piece of America's paradise and the Department of Justice will be there on auction day to assist in whatever way that we can to ensure absolute fairness in the bidding process."
Walker said that in previous schemes, one bidder would place a high bid then drop out of the running, leaving the second highest bidder – whose bid would be significantly lower – as the winner. For the upcoming auctions, if the highest bidder drops out, that property would go back into the pot, officials said, instead of going to the next person. As a further safeguard, professional auctioneers have been hired and the Lieutenant Governor's Office has prohibited its employees or members of their family from participating, according to Lieutenant Governor Osbert Potter.
When a property is sold at auction, the winning bidder must make a 10 percent down payment the same day and pay off the remaining 90 percent the same week. That money will be stored in an escrow account, officials said, for one year, so that the current property owner still has a chance to pay off what's owed on the land. If what's owed isn't paid off within a year, than the land goes to the winning bidder free and clear of all mortgages, liens and fees.
Anyone interested in participating must pay a $50 registration fee in advance of the auctions, or a $100 registration fee the day of. Neither fee is put toward the price of the property, officials said.
Residents can get more information by calling the Office of the Tax Assessor at 340-773-6649 on St. Croix or 340-776-8505 on St. Thomas.