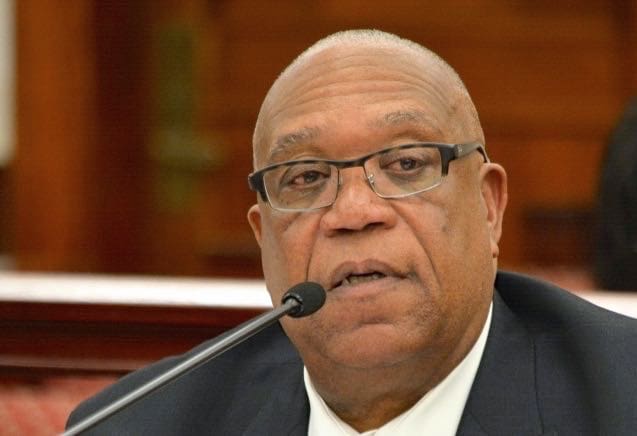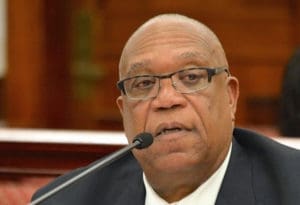 Schneider Regional Medical Center will have to consider drastic cuts in services if it does not receive a $9 million increase to its proposed FY 2018 budget, hospital CEO Bernard Wheatley told senators Wednesday.
The discontinuation of SRMC's kidney dialysis and cancer treatment services and the closure of St. John's Myrah Keating Smith clinic, are all on the table as measures the hospital may be forced to take if its financial situation does not soon become sustainable, Wheatley said at a budget hearing.
The dire financial condition of the hospital is not new. For years, SRMC has seen operational losses in the millions of dollars, due in large part to a high level of uncompensated care.
In 2016 and 2017, 12 percent of the hospital's patients were uninsured, and an additional 61 percent were covered by Medicare or Medicaid, which the federal government does not fund at the same level in U.S. territories as it does in states.
That means that for almost three quarters of the patients SRMC sees, the hospital expects reimbursements that are significantly below the cost of treatment. And the hospital's current government funding is not enough to make up for the shortfall.
At SRMC's 2016 budget hearing, Wheatley warned senators that if the hospital were to have another year in which it lost money, it would be forced to make major decisions about what services it can reasonably provide. The hospital requested an additional $7.2 million in funding for FY 2017, which it did not receive. (See Related Link: Schneider Hospital at Breaking Point.)
Since the V.I. government is facing austerity measures and cannot access bond markets for FY 2018, the arrival of tough decisions has been hastened rather than postponed.
"This day is upon us. The need is immediate," Wheatley said on Wednesday.
"We are pleading with this body to re-allocate and redirect funds to the very vital services being provided by the hospital," said Wheatley. "Although it will be tough, the people of the Virgin Islands can live without certain programs, but if they have a heart attack or cancer, they cannot live without getting their healthcare."
Wheatley said the hospital needs $33.6 million to keep all of its services running, and an additional $5 million for capital needs such as infrastructure repairs and upkeep. Gov. Kenneth Mapp's proposed budget for SRMC is $24.9 million.
SRMC received $25.4 million from the General Fund in FY 2017, slightly more than is proposed for the upcoming fiscal year, but the hospital is still projecting an operating loss of $8.2 million. The operation of the Charlotte Kimelman Cancer Institute accounts for $1.2 million in losses. The operation of the Myrah Keating Smith Community Health Center, St. John's only primary healthcare facility, accounts for another $2 million loss.
SRMC has been forced to hold payments to vendors to keep its services running, due both to underfunding and the late payment of its allotments from the V.I. Government. So far in FY 2017, money owed to vendors has risen by $8.3 million to a total of $38.7 million.
That includes $10.1 million owed to the V.I. Water and Power Authority for utilities, $1.7 million owed to the Internal Revenue Bureau, and almost $2 million in withheld employer contributions for health and retirement benefits.
Wheatley said Wednesday that some non-government vendors have threatened to end services and supplies and are initiating legal action due to lack of payment. To make matters worse, SRMC's infrastructure is also in need of significant investment and repair according to Wheatley.
"The infrastructure issues have now become so severe at both hospitals that they could impact and jeopardize the hospitals' good standing with the CMS, which would result in the loss of significant federal reimbursement to our hospitals, which would further affect our hospitals' ability to operate," Wheatley said.
In FY 2017, SRMC received $1.5 million in emergency capital funds beyond its appropriated budget to make some critical repairs, but areas still in need of attention include the hospital's roof, electrical system, fire alarms, nurse call system, and the replacement of major equipment at the cancer institute.
There were, however, a few bright spots in Wednesday's gloomy SRMC testimony. The hospital has taken steps to improve its bill collection efforts. The monthly average of collections has risen to $4.6 million from $4.1 million. Wheatley said that reforms to operations over the past three years have also brought the hospital's annual operating loss down from a high of $23 million to the current projected loss of $8.2 million.
Sen. Nereida Rivera-O'Reilly suggested during the hearing that one reason for the hospital's financial woes is that new employees have continued to be hired despite a steadily decreasing budget over the past decade.
"I did some analysis. I went back 11 years and actually the hospital continues to hire," she said. "The staffing numbers continue to grow while the reality is that the funding is lower. And I don't know how to explain that, except to say that the hospitals have become job generators."
Rivera-O'Reilly said that compared to industry standards, SRMC has an enormous staff for its number of beds.
"Do the math. A hospital with the number of beds you have, heads on the pillow, should operate with at maximum about 250 people," she said. SRMC has 636 people on its payroll. According to the Legislature's post-audit report, that amounts to an approximately 13 percent increase in personnel over FY 2017, or about 70 people.
At Wednesday's budget hearing, senators also heard from representatives from the St. Thomas East End Medical Center Corporation and the V.I. Economic Development Authority.
The EDA is looking at a recommended General Fund appropriation of $5.9 million in FY 2018. The authority is also projecting $730,000 in revenue.
STEEMCC said its initial request of $2.9 million should be considered over the governor's recommended appropriation of $2.07 million, which the medical center's executive director Moleto Smith Jr. said does not reflect the government's Medicaid local match obligation or costs associated with its own uncompensated care.
Present at Wednesday's information gathering session were Sens. Rivera-O'Reilly, Kurt Vialet, Neville James, Brian Smith, Tregenza Roach, Janelle Sarauw, and Dwayne DeGraff. Sen. Marvin Blyden was excused.