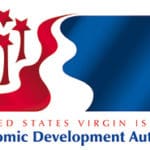 As a result of concentrated efforts on the restructuring, modification and reclassification of business loans at the EDB by its staff, there has been a significant reduction in the delinquency rate of EDB business loans. EDB also reports a nearly 40 percent increase in business loan payments by EDB clients.
In fiscal year 2017, collection activity on delinquent business loans at the EDB has reduced the delinquency rate to 47 percent, a 30 percent decrease in this rate compared to a delinquency rate of 77 percent in fiscal year 2016.
Additionally, a total of $1.3 million was collected in business loan payments by the EDB compared to $975,816.31 in fiscal year 2016.  EDB is an entity of the U.S. Virgin Islands Economic Development Authority that provides loan and loan guarantees to small-to -medium sized businesses in the territory.
According to USVIEDA Acting CEO Wayne Biggs Jr., the EDB staff continues to collect on delinquent loans with the support of external legal counsel and collection agencies that have contractual agreements with the USVIEDA.
To assist EDB clients with business success and growth, efforts will be made to increase the level of technical and managerial assistance as well as business counseling to help businesses retain jobs and increase tax revenues for the territory.
For more information, contact Monique Samuel at the Economic Development Bank at 773-6499.