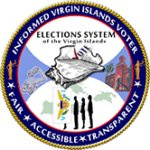 Supervisor of Elections Caroline F. Fawkes regrets to inform the voting public that the 2018 Primary Election Early Voting dates have been postponed due to the late receipt of funding to purchase the election ballots.
The new early voting dates are now scheduled for Wednesday, July 18 to Wednesday, July 25. Early voting will be conducted at the respective Election System Offices in all districts from 9 a.m. to 7 p.m.
Office locations are as follows:
St. Croix Elections Office — Sunny Isles Annex, Unit 4 (Adjacent to Kmart Appliance Store)
St. Thomas Elections Office — Lockhart Gardens (Upstairs Banco Popular)
St. John Elections Office — Market Place Suite II
Fawkes reminds the public that if they are traveling prior to July 18, one can vote by an absentee ballot in the St. Croix and St. Thomas Elections Offices.
If there are any questions, contact St. Croix Elections Office at 773-1021 or St. Thomas Elections Office at 774-3107.