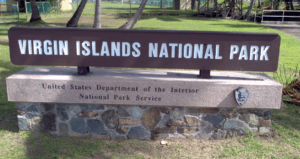 District Court Judge Curtis V. Gomez on Thursday sentenced Adrian L. Foster, 50, of Florida, to 22 months in prison as a result of her conviction for making a false statement to a federal agency, U.S. Attorney Gretchen C.F. Shappert announced.
Gomez also sentenced Foster to three years supervised release, a $100 special assessment, and $133,002 in restitution, payable to a  U.S. Virgin Islands construction company.
According to court documents, Foster was the president and chief executive officer of Foster Construction of South Florida, Inc., located in Miami. In 2013, Foster entered into contracts to facilitate the completion of two projects in the Virgin Islands National Park in Cruz Bay, St. John. Between 2013 and 2016, Foster falsified multiple certifications to the National Park Service and misappropriated federal funds from NPS that were designated to a U.S. Virgin Islands construction company, which was not named by the U.S. Attorney's Office.
The case was investigated by the U.S. Department of the Interior – Office of the Inspector General. It was prosecuted by Assistant U.S. Attorney Mervin A. Bourne Jr.