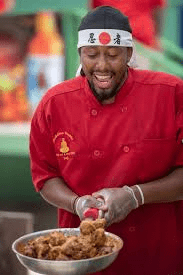 The Restaurant Division winner of the 2019 King of the Wing (KOW) at the annual competition at Magens Bay, Chef Taj Siwatu, owner of Buddha Sushi Sake Bar & Grill, will be competing at the 18th Annual National Buffalo Wing Festival taking place in Buffalo, N.Y., on Aug. 31 and Sept. 1. Chef Taj, accompanied by the U.S. Virgin Islands Department of Tourism, will represent the best of U.S. Virgin Islands at one of the country's most beloved food festivals. The festival attracted more than 50,000 attendees from all 50 states and 36 different countries last year.
The most unique restaurant this year is Buddha Sushi Bar from St. Thomas," said Drew Cerza, the founder of the Buffalo Wing Festival. Dubbed the "Wing King," Drew was invited to judge at the KOW this past June. "I was so impressed how Chef Taj Siwatu took his delicious sushi sauces and started using them in his chicken wing recipes, I felt that Taj had earned the privilege to show 'Wing Fanatics' how creativity combined with the love of wings can produce a very special version of the wing experience."
Featured as one of the ten new competitors coming in from as far as Surprise, Arizona and London, England, VI's own Chef Taj will be showcasing his award winning "Fireworks Wing," among 25 food booths including 19 wing eateries that will serve over 100 different styles of wings as well as additional "Buffalo style" favorite foods. The wing restaurants will compete in the annual National Sauce-Off Competition for bragging rights to the best wing sauces in America. The competition includes eight different categories of wing styles including traditional medium, hot, extra-hot, creative, traditional BBQ, creative BBQ, creative sweet and creative spicy.
A graduate of Charlotte Amalie High with an award of excellence in Hotel Training at Johnson and Wales University, Siwatu started cooking at the age of 12 and started making sushi at 14. He started Buddha Sushi Sake Bar & Grill in 2009 and has won various food competitions in addition to the 2019 King of the Wing Competition. His restaurant was voted VI Daily News "Best of the VI" in the categories of Best Sushi, Most Creative Cuisine and Best Seafood Dining.
Chef Taj will be joined by a delegation from the U.S. Virgin Islands Department of Tourism, which will be promoting the landscapes of the three islands.
"We look forward to participating in this year's National Wing Festival in Buffalo, N.Y.," said Joseph Boschulte, commissioner of the V.I. Department of Tourism. "We have a wide variety of culinary talent in the U.S. Virgin Islands, and events like these allow us to showcase our local chefs and restaurants, as well as spread our wings across the mainland's national food scene."