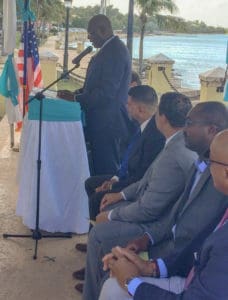 Speakers at the ground-breaking ceremony Friday for the second phase of the Frederiksted Waterline Rehabilitation project called it "a good day for Frederiksted."
The residents of the town will agree with them this fall when the project is done, and they are no longer plagued with discolored water and low water pressure.
Lawrence Kupfer, executive director of the V.I. Water and Power Authority, said "every last inch of old cast iron will be replaced" in the town.
After Friday's waterfront ceremony at Verne Richards Memorial Park, Kupfer told the source much of the water line being replaced is 100 years old.
St. Croix Administrator Sammuel Sanes, representing the governor at the event, said projects such as this one shows the "resilience" of Virgin Islanders.
"We have had to overcome many obstacles such as hurricanes and aging infrastructure," he said.
Sanes said the governor was unable to attend because he is preparing for Monday's State of the Territory speech.
The $4 million Waterline Rehabilitation project will see the replacement of approximately 13,000 feet of six-inch water lines and approximately 2,900 feet of ten-inch water lines in the town. Leumas Engineering is to begin work on Feb. 10 and completion is expected by October.
Kupfer said the project was part of a plan to replace pipes throughout the island. He said the focus was now on Frederiksted because it had the oldest pipes.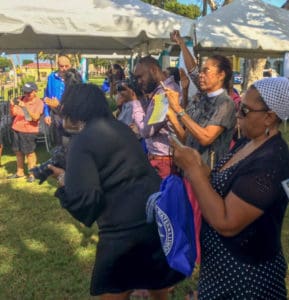 Jean Greaux Jr., director of corporate communications for WAPA, said the project was addressing both water quality and water pressure issues. Last April, Frederiksted residents had little or no pressure for multiple days. One business had to close its doors for a day because of the lack of water pressure.
The first phase of the project replaced water lines on Strand Street, King Cross Street, Fisher Street and a portion of New Street.
The project is federally funded. Kupfer said federal funds will also be tapped for waterline rehabilitation and improvement projects in Hannah's Rest, Campo Rico and Clifton Hill. These projects are scheduled for the middle of this year and 2021.
According to a WAPA news release, "The ongoing upgrades of the water distribution system in Frederiksted fills a need that has existed since the 1970s when it was determined that most of the existing lines were beyond their service life."