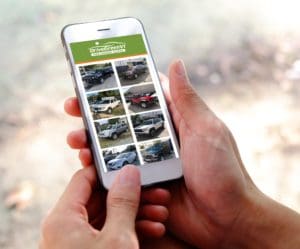 If you are like 54 percent of Americans shopping for a new car, you would "love" being able to buy from home without ever visiting the dealership. Drive Green VI is providing you with an easy and affordable way to get a great deal on a vehicle from the safety of your own home.
Step 1: Find the car you love without leaving home. Drive Green VI regularly posts cars for sale on their Facebook page complete with make, model, year, and discounted prices. Currently on sale at Drive VI are a fleet of 2017, 2018 and 2019 used Nissan, Toyota, Kia, Jeep and other vehicles as well as the new 2020 Nissans. A quick phone call with the dealer can update you on any newly added cars, trucks and SUVs.
Step 2: Find out more about the vehicle. Justin Workman with Drive Green VI says that people can check out the retail value of a vehicle by checking sites like Kelley Blue Book and know that you are getting a good price. "Drive Green has vehicles that are up to $7,000 below Kelley Blue Book with lower mileage than comparable stateside cars" said Workman. "It's why our cars sell so quickly."
Workman also advises that you take a good physical look at the vehicle using technology from your phone, laptop or desktop computer. "Nothing is impossible these days," he says. "When you find a car you like, we can do a Facetime or video call tour that includes a full walk-around of the vehicle inside and out, showing you the interior features, take a look under the hood, even start the car so you can listen to the motor and take a virtual test drive." Like other stateside dealers, you also have the option of renting the vehicle for a few days to "try it on".
Step 3: To make your transaction go smoothly once you find the right car, take a tip from pro sites like the U.S. News & World Report and contact your bank to get pre-approved for an auto loan. According to this source "Smart consumers know never to approach a local dealership, whether in person or online, without having a preapproved financing deal in hand." Having this step done helps you know what to shop for within a reasonable price range.
Step 4: Trust your dealer. With so many vehicles being purchased online at sites like Vroom, TruCar and CarMax, why buy from a local company like Drive Green VI? Workman says "With a used car from a local company, you are buying a vehicle that we've taken care of since it was new in most cases. And for both new and used cars, we are available to continue with regular maintenance and service, and expert repairs should you need it. We are invested in our vehicles which makes good sense for new owners."
Step 5: Buy your vehicle. The final step in a virtual purchase is make your payment and take possession. Payment can be made remotely by certified check or wire transfer. The Bill of Sale and Title Transfer forms can be sent via email. Drive Green will deliver the car to you at work or home and complete the paperwork at the same time. Or you can choose to do this final step at the dealership and drive your new vehicle away.
Even during normal times, many cars are purchased entirely online, avoiding trips to the dealerships to shop, haggle with the salespeople until you feel pressured to make the buy. Drive Green VI virtual services allows you to shop at your convenience, save time, stay safe and purchase the dependable car you need from the comfort of your home.