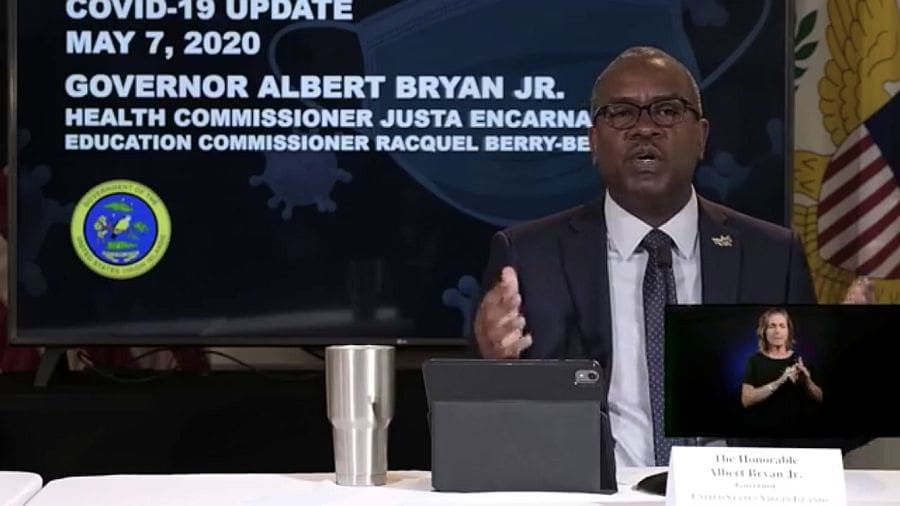 Residents looking for a "staycation" or who have been displaced from their homes because of COVID-19 restrictions can book a hotel room or day sail, according to Gov. Albert Bryan Jr., who spoke Thursday of the need to alleviate stress while maintaining safe social distancing.
Concern over the mental health of local residents affected by the change of routine or fear of COVID-19, pushed the government to explore safe options for relaxation, the governor said Thursday. A partnership with the V.I. Hotel Association allows bookings for on-island guests only, along with interisland travel and the operation of day charters, dive shops and other excursions as long as business owners and residents adhere to the guidelines still in place, he explained.
In previous press conferences, Bryan has spoken about slowly opening up the territory to off-island visitors on June 1, but nothing final has been announced.
As restrictions start to lift, however, the next two weeks are critical as the government continues to monitor the impact, Bryan added. At this point, 1,112 people have been tested and of that amount 1,006 tests have come back negative, 66 positive and 40 are pending. Of those confirmed cases, 55 have recovered and seven are being tracked, including two patients at the Gov. Juan F. Luis Hospital on St. Croix, one of which is on a ventilator. Four deaths have been recorded.
"It seems like behavior has definitely changed in the Virgin Islands," Bryan said, applauding the efforts made by residents and businesses to wear and enforce the use of masks, avoid large public gatherings and stay apart. Bryan reminded residents that wearing ski masks is prohibited and asked business owners to use their best judgement when serving customers who are not wearing masks because of respiratory conditions, such as asthma. Common sense is the best approach but, if possible, residents who can't wear a mask should try to find someone to help, he said.
Meanwhile, the government is also continuing its push for economic relief. Bryan announced Thursday that funds from the U.S. Treasury have been received and economic stimulus checks will be going out next week for residents who filed a 2018 tax return. Not all checks will go out at once to avoid a rush at the banks, and Bryan cautioned that with reduced hours and staff, banks can benefit from having customers use mobile deposit or other options, such as ATMs or drop windows set up to prevent customers from going inside.
Residents can also take advantage of a $1.5 million federal grant recently awarded to the V.I. Labor Department to fund online training courses for residents who have been laid off or furloughed. This meets an increased "demand for employment and training" caused by the closing of businesses or reduced hours and Bryan encouraged residents to call the department to find out more about taking a course or tapping into Labor's "cadre of training resources" that can be accessed from home.