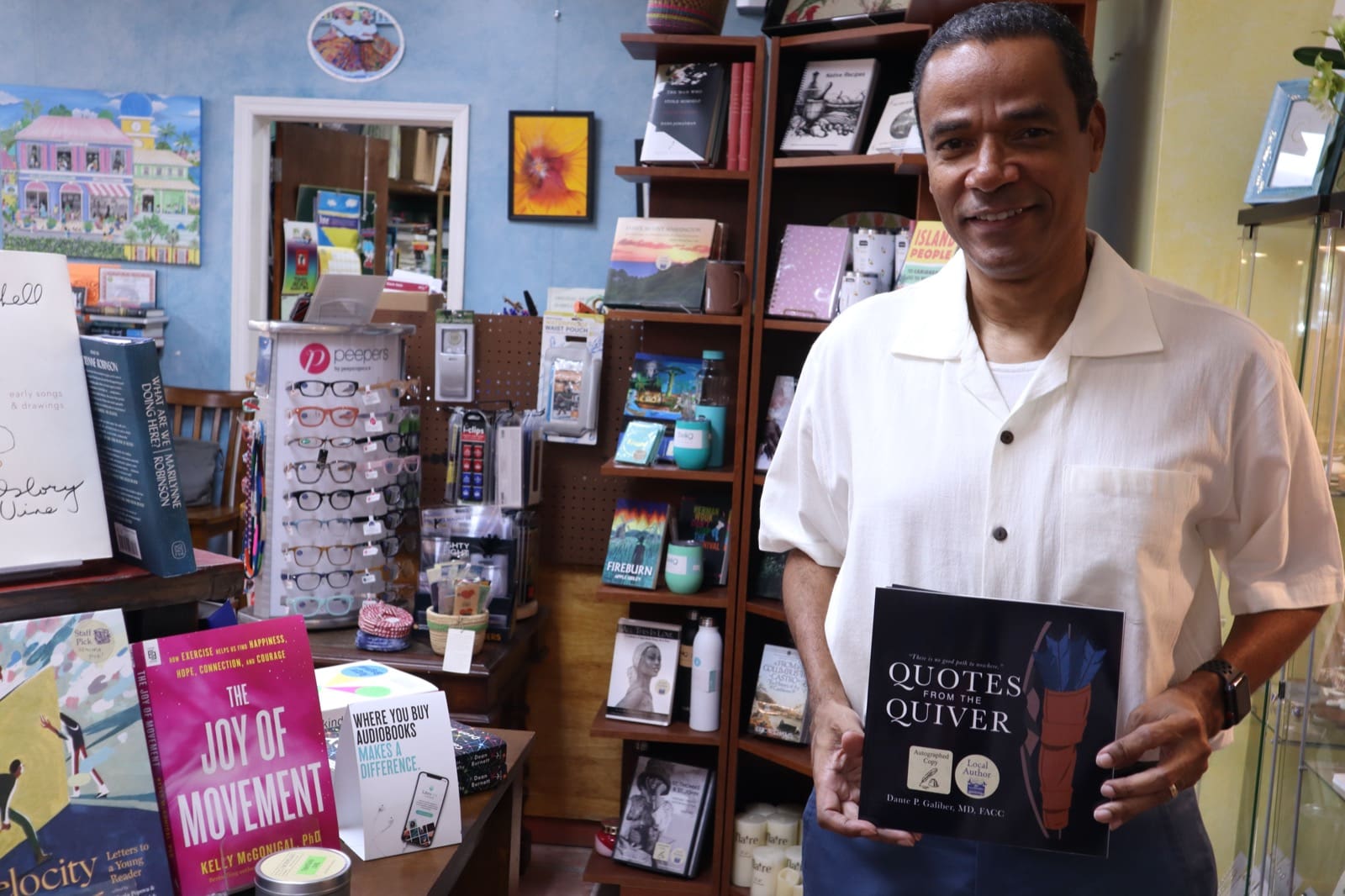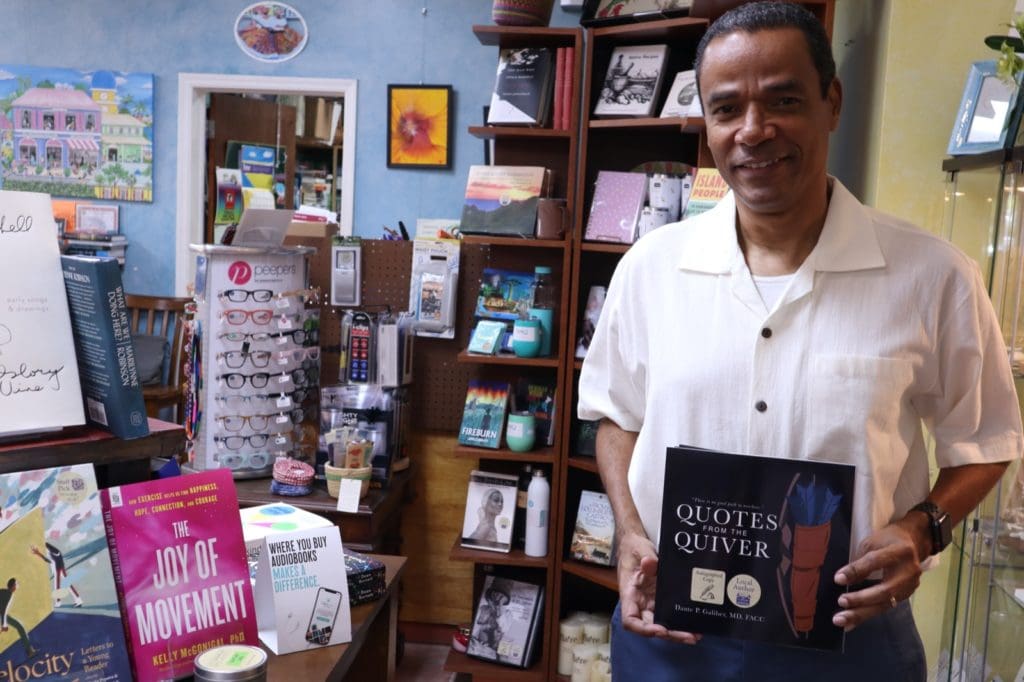 In between tennis matches or discussions with his wife, Dante Galiber is known for pausing to write something down. It's his modus operandi after a profound thought, and he's managed to pen 458 of them in his recently published book, "Quotes from the Quiver."
The book is a culmination of more than a decade of writing down quotes that came to mind after personal experiences or observations. Sometimes, Galiber said, inspiration struck at unpredictable moments, and fear that he would forget pushed him to quickly write down his thoughts.
"And that's why he cuts you off during mid-sentence to make sure he jots down his quote," Galiber's wife Yvonne Ashley said with a smile during an interview at the Gallows Bay Shopping Center. "But I'm getting used to it. After 27 years, it starts to grow on you."
The product of Galiber's distinctive process is a book organized into 26 chapters that cover topics related to knowledge, reality and existence.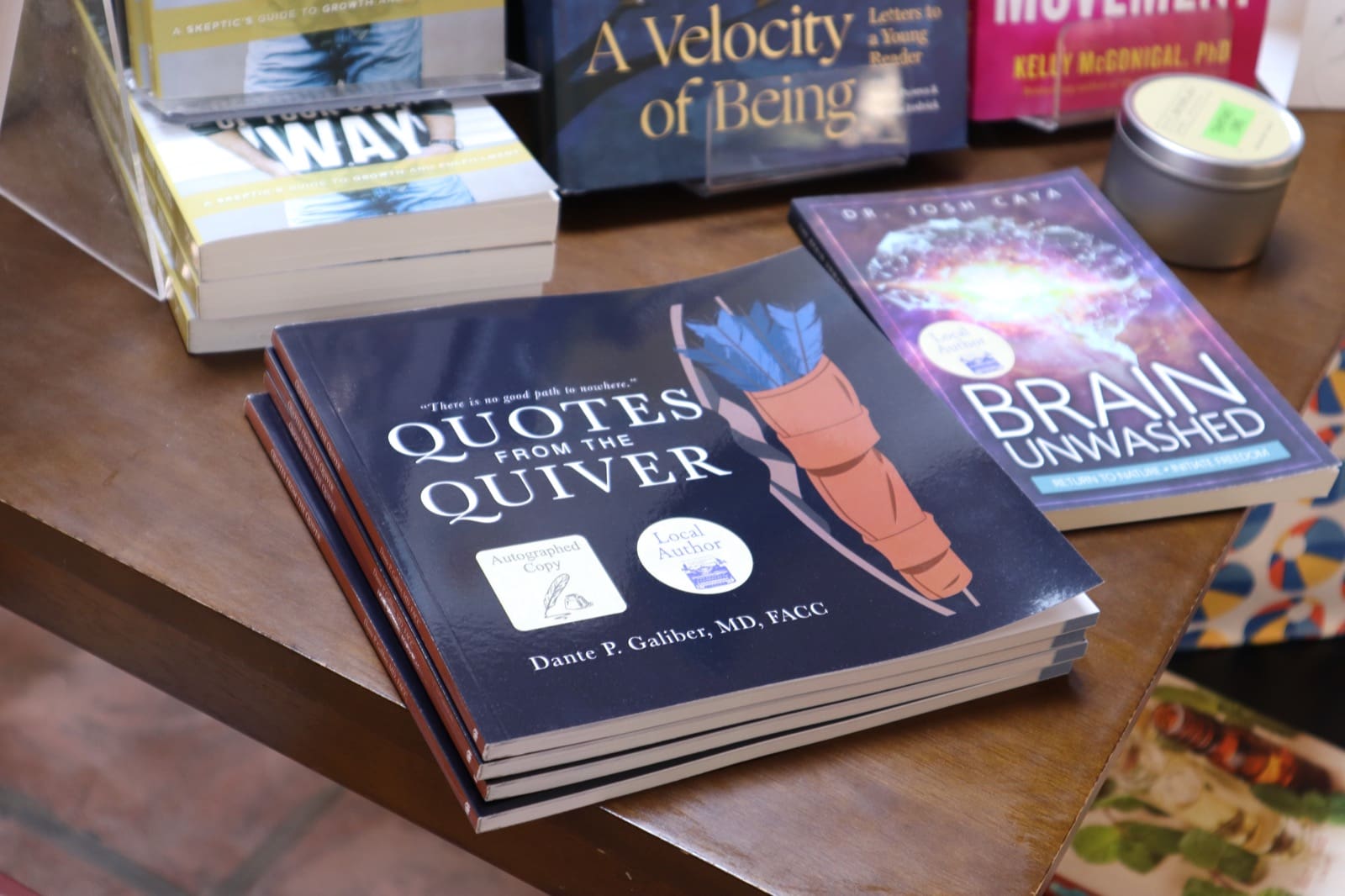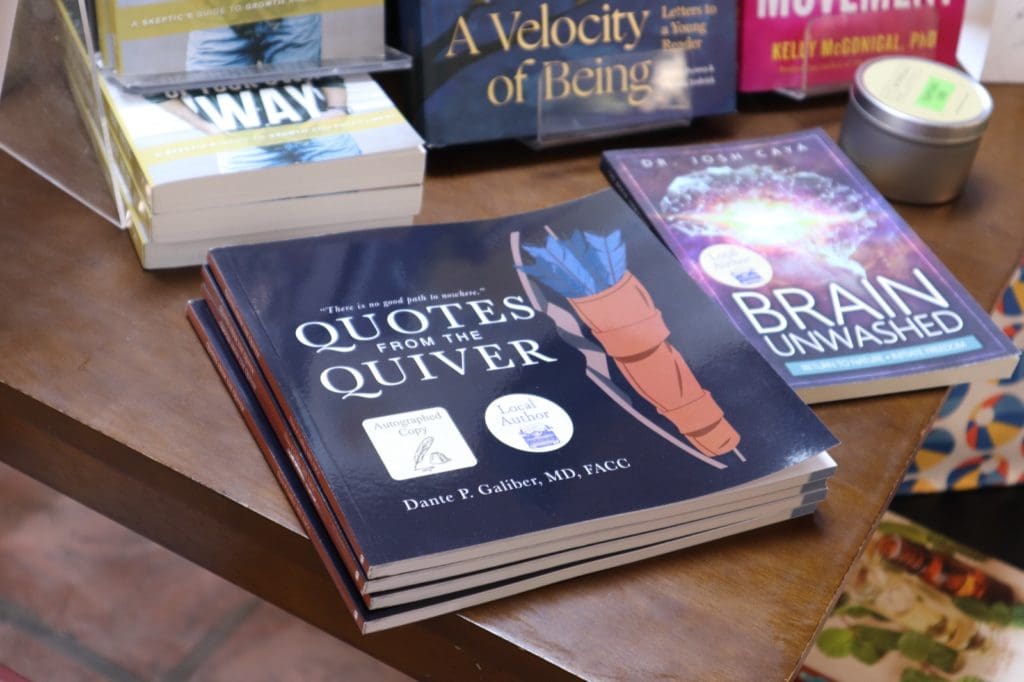 A common theme to many of the quotes is parity for all humanity.
"Humanity is coordinated compassion among all variations that humans represent," one quote reads.
"Poverty and privilege rarely come as a pair," reads another.
Many quotes specifically touch on the disparities that minorities face, and how that impacts society. For example, there's one that reads, "Racially motivated economic injustice is economic injustice for all."
Asked where his compassion for people comes from, Galiber said growing up as the second youngest of six children might have something to do with it. He described himself as one of the "glue kids."
"I'm one of the middle children so I try to keep things together, keep people," he said.
Galiber, director of cardiology at the Gov. Juan F. Luis Hospital and Medical Center, said his experience as a physician also feeds his compassion. In fact, one of the largest chapters of "Quotes from the Quiver" is dedicated to medicine, health and science.
The cardiologist said he knew he wanted to be a doctor starting in the sixth grade, and the patients he has seen throughout his career have inspired him.
"You have to be compassionate with them, and it comes easy. And it's necessary, and it's not difficult to do because you can see how they feel, and you sort of put yourself in their position as well too," Galiber said.
His quotes on medicine focus on the role of a good doctor, tips for healthy living and the significance of a health care system that serves everyone.
"If the poorest person in the world is actually rich with education, health and home then we are all for the better," Galiber said during the interview. "It could be that poor person who has tuberculosis or some infectious disease who passes it on to you because he could not get adequate treatment, so we are really only as strong as our weakest link. And you never know, it may be that poor child who grows up to eventually become a doctor or a cardiologist or a cardiovascular surgeon or a neurosurgeon."
Another "Quotes from the Quiver" theme is that of success and failure. One quote reads, "Failure is a perfect opportunity to learn how not to fail." It's a lesson the doctor learned early in life.
Many of Galiber's childhood anecdotes center on lessons he learned from his late father Andre A. Galiber Sr., a radiologist. Some of his most highlighted memories are of times when he disappointed his father.
"One of my most memorable days with him – this might sound sort of paradoxical – I actually got in trouble because I didn't shine his shoes one day," Galiber said. "He was very upset; he didn't spank me or anything like that … and he was like, 'You know I don't work this hard for you to not shine my shoes,' and I remember that. And so, of all the days, that was one of my most important days, because I realized how hard he worked just so I could go to school, and I could do this and that and play tennis."
Galiber also recalled a time when his father scolded him for doing poorly on a standardized test. He said the experience pushed him to do better the next time he took the test.
"I improved my score significantly, and it's because I had somebody prodding me, making sure that I did well, that I didn't rest on my laurels either," he said of his father.
Galiber believes that those moments of failure were pivotal parts of his journey to his present success and happiness.
His wife Yvonne Ashley and daughter Dominique Ashley have also been significant contributors to "Quotes from the Quiver." One quote – "Live a Little! Only dead people should be dead" – reminded Galiber of all the experiences he would have missed out on had he not married his teenage sweetheart or become a father. He fondly remembers a family trip to Italy that only became a reality because of his wife's initiative.
"I probably wouldn't have gone if I were a single person, and because I'm pretty much a homebody," he said. "But I'm glad I did."
In all, "Quotes from the Quiver" is a collection of perspectives and conclusions drawn from the experiences of a father, husband, son, brother, doctor, Virgin Islander and a member of the United States National Guard.
Galiber hopes that readers will garner "wisdom" and "food for thought" from his book.
"I think that it'd be great for this to be some reading material for high school students, and then they can do essays based on some of the quotes and explain the quotes as well," he said.
Galiber also hopes that readers will be inspired to think critically and draw their own perspectives from the ideas shared in the book.
"One of the reasons I didn't want to have an explanation for each one of these quotes is because one – most people don't do that – and then two – I wanted to see what other people think," he said. "I don't want to bias them as well."
Autographed softcover copies of "Quotes from the Quiver" can be found at Undercover Books and Gifts in Christiansted and Galiber's office at The Heart Center, PC in Sunny Isle Shopping Center. Hardcover copies are sold online via Amazon and Barnes & Noble stores.