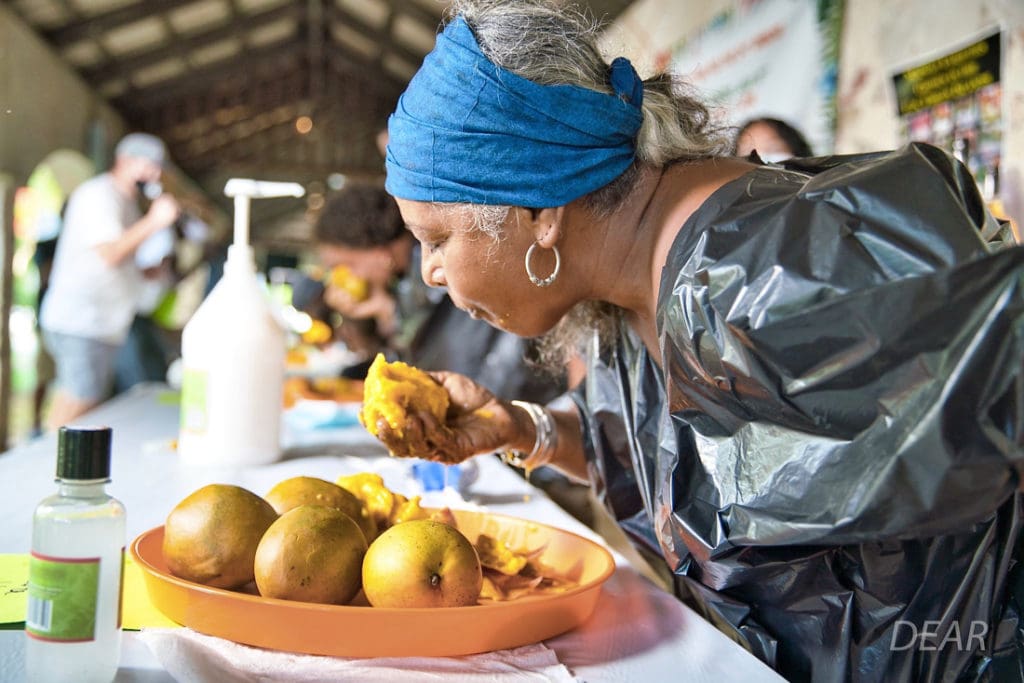 For 23 years crowds flocked to St. George Village Botanical Gardens to celebrate Mango Melee with family, friends and, of course, the celebrated guest of honor – the mango.
This year the COVID-19 pandemic has made gathering a mass of mango fanciers in the gardens impossible, so the 24th annual Mango Melee went virtual, with portions of the event broadcast live on Facebook.
Attendees from across the U.S. Virgin Islands and abroad tuned in for the virtual event and can still find it on the social media site. There they were teased with images of sweet ripe mangos dripping off the faces of participants.
One viewer commented online, "Wish I could've switched places eating those mangoes."
The event began with a countdown and then a kickoff ceremony that included Delegate Stacey Plaskett, Department of Agriculture Commissioner Positive Nelson, St. Croix Administrator Sammuel Sanes and "Rocky," host of the Mongoose 104.9.
This year's Mango Melee was dedicated to Ralph De Chabert.
Although Mango Melee looked very different from what people have been accustomed to, the tone was set high, and everyone was visibly in good spirits.
"Wonderful event!" a viewer commented. "Thanks to all who made it happen."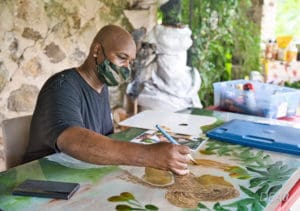 The small group of attendees on the livestream could be seen wearing masks and practicing social distancing as they conducted the event.
Amy Parker, director of events and rentals at St. George Village Botanical Gardens, spearheaded the event.
As the steel pan players played and the conch shell blew, the youth mango eating contest got underway. This year, the competition was much different from years past. Instead of a crowd of kids lining up elbow-to-elbow at a long table, this year's contest featured only two constants facing off, and they were socially distanced, each with their own table.
The adult's contest, which usually has at least a dozen participants, was cut to half that number. One thing that remained the same was the competitive spirit and sloppy aftermath of eating mangos in a matter of minutes.
One of the event sponsors, Cultured Naturals, provided sanitizer to keep participants hygienic and helped with the cleanup in between segments.
Other activities were a first for Mango Melee, such as the pony mango-eating competition. Ponies were judged based on their style of eating mangos. This portion was filmed before the event from the Pony Club at Sprat Hall in Frederiksted.
Chef Ralph Motta performed a mouthwatering presentation on how to make mango-flavored crepes.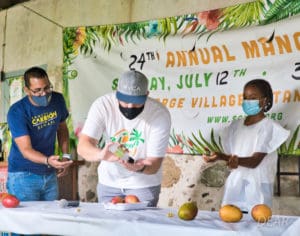 Another informative presentation that was prerecorded was a mango presentation that discussed some of the 300 different types of mangos that can be found in the Virgin Islands.
The St. George Village Botanical Gardens of St. Croix is dedicated to the conservation and preservation of the education on the ethnobotanical heritage of the U.S. Virgin Islands. Those interested can find more information or make donations at the garden's website.
Sponsors of Mango Melee included the Virgin Islands Department of Tourism, Virgin Islands Consortium, Seaside Market & Deli, Plaza Extra East, KDM, Leslie Stillwagon, Mall of St. Croix, Viya, JKC Communications, Isle 95, WJKC and Mongoose 104.9 and Cultured Naturals Body Care.