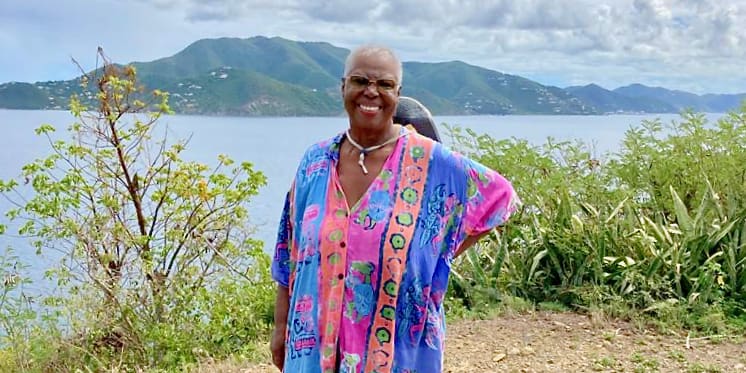 Former Clinic Administrator Aldria Wade is being remembered for her devotion to the community and the nursing profession. She built a career caring for the sick, overseeing the institutions that cared for them and training students seeking careers in health care.
Wade died on Feb. 16 at her home on St. John. She was 79 years old.
A relative and childhood friend said Wade's death came at the end of a lingering illness.
"Everybody's going to miss her," said retired educator Mary Harley, who had known her since childhood. As children, they grew up for a time on St. Thomas. Wade lived with her grandparents along Hospital Line, across the street from Roosevelt Park.
She was born on Nov. 5, 1941. By her own account, featured in a 2005 profile posted on the Source, Wade spent her early years on St. John with her grandparents. Life in those days, she said were peaceful and filled with simple pleasures like playing baseball.
"We were like sisters," Harley said. Some of the best days, back then, were times they walked home from George Washington School (later known as Evelyn Marcelli School), down the hill to the grandparent's home.
In her earlier days, Wade lived on St. John. The family move to St. Thomas came as illness set in for grandfather, Joseph Harley. Time passed, and the young girl who used to spend her days playing baseball in Coral Bay moved to New York, to join her parents.
Education and opportunity in the city opened the way to a nursing career. Wade began as a licensed practical nurse. With further education and experience, she became a registered nurse, then received bachelor's and master's degrees in nursing.
Then came a shift to hospital administration, and Wade rose to the position of director and staff administrator for the New York City Health and Hospital Corporation. The corporation is described as one of the largest health care delivery systems in the U.S.
While in New York, Wade met and married William Wade on July 4, 1964. They raised two children, Yvette and William Joseph.
Upon retirement in 1989, the family returned to St. John and made a home on Bordeaux Mountain. Life back on the island included an active role in the V.I. chapter of Chi Eta Phi sorority and teaching at the University of the Virgin Islands.
In 1995, Aldria Wade accepted an appointment as administrator of the Myrah Keating Smith Clinic on St. John, under the administration of Gov. Roy Schneider. Hurricane Marilyn came in September of that year, leaving the clinic badly damaged and Wade with the task of leading the recovery.
She stayed on the job for three years, then returned to family life. But not for long.
Then-Delegate to Congress Donna Christensen brought Wade back into public service as the St. John staff representative.
Her cousin, Mary Harley, also remembered the days of hard work and fun together with Wade at St. John festival village, where for years they teamed up in a booth serving plates and drinks. There were also days spent on festive family visits.
"And they loved to party. You had food and liquor, music and you'd stay and reminisce. And if you went to other family members' houses, you had to stay all night, the parties went that long," she said.
Her last two years were spent at home until she died on Feb. 16.
Wade is survived by her husband, William, and her children Yvonne and William Joseph, also known as Junie.
Funeral services are scheduled for Thursday, March 4, at Bethany Moravian Church, followed by burial at Emmaus Moravian Church Cemetery in Coral Bay.