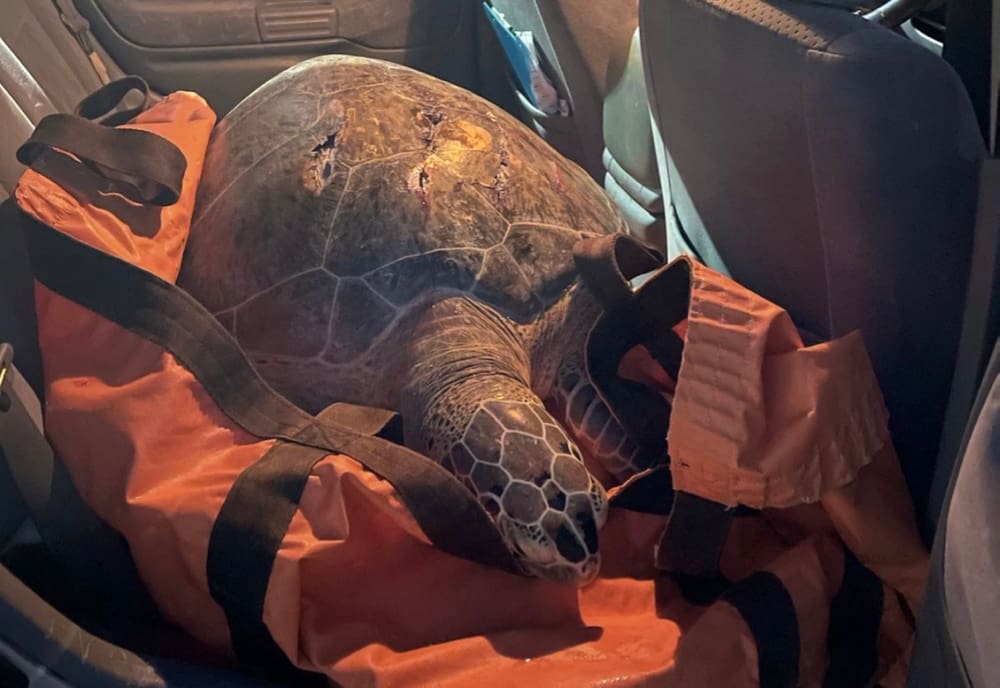 On the same day the Washington Post reported that the highest amount of atmospheric carbon dioxide ever recorded on Earth was measured at Mauna Loa Observatory on Hawaii, a much smaller ecologically distressing event took place halfway around the world near St. John's Caneel Bay.
A 200-pound female endangered green sea turtle was struck by a speeding boat, causing four lacerations to her shell that would prove fatal.
Green sea turtles, along with being endangered, are also considered "keystone species," meaning they are integral to sustaining the ecosystems in which they live.
"Every ecosystem has certain species that are critical to the survival of the other species in the system. The keystone species could be a huge predator or an unassuming plant, but without them, the ecosystem may not survive," according to National Geographic.
As hatchlings, sea turtles are prey for birds, crabs, land mammals and fish. As parents, they improve beach ecology when laying their eggs. Adult green sea turtles are often food for equally endangered sharks and other large fish.
Green turtles graze on seagrasses and algae, which maintains the seagrass beds and makes them more productive, according to the World Wildlife Fund website.
Seagrass consumed by green turtles is quickly digested and becomes available as recycled nutrients to the many species of plants and animals that live in the seagrass ecosystem, the WWF site states.
Seagrass beds also function as nurseries for several species of invertebrates and fish, many of which are of considerable value to commercial fisheries and therefore important to human food security.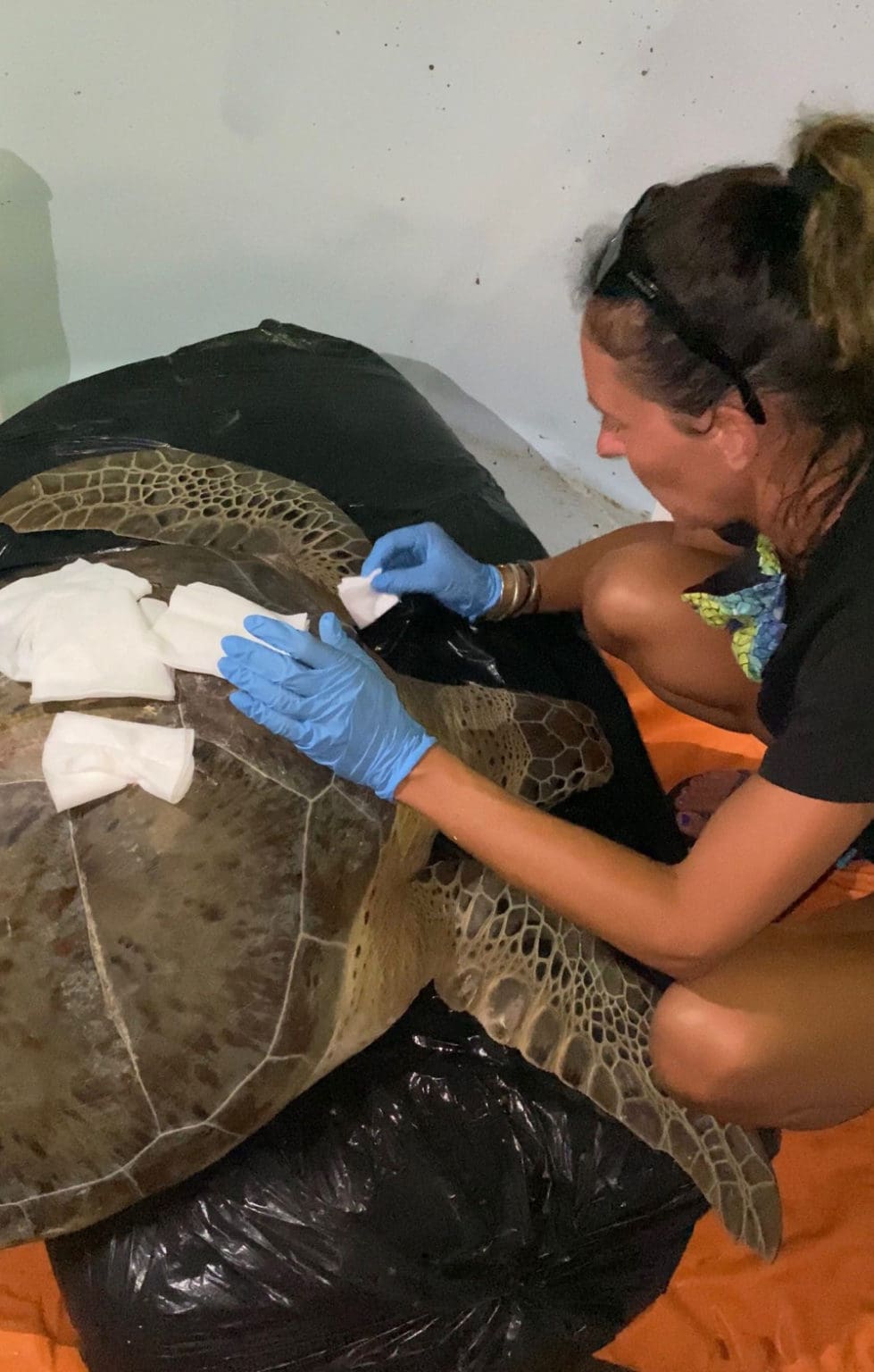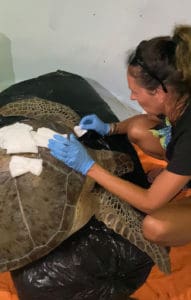 Being protected by stiff fines and jail sentences, they are no longer legally hunted and killed for food or fashionable tortoiseshell trinkets. It has been illegal to kill them for decades. Sadly, their eggs are still sought for food and as aphrodisiacs – which they are not – in some areas of the world, and there continues to be an underground market for turtle parts. In the Virgin Islands, a fine of up to $100,000 and a year in jail can result for anyone harming any turtles, including green, hawksbill and leatherback sea turtles.
With their mild temperaments, graceful locomotion, and general lack of fear of people sea turtles are adored by almost everyone who meets them face-to-face, be it underwater or at marine parks and aquariums. And no one loves them more than Erica Palmer, a veterinarian assistant with Coral World Marine Park and turtle specialist with the Sea Turtle Assistance and Rescue network.
STAR has been around for 16 or 17 years, Palmer said, but was revamped 12 years ago, a few years after she arrived on St. Thomas. The volunteer organization made up of a territorywide response team, became a nonprofit in 2019 in a move to increase its fundraising possibilities, she said.
Palmer fell in love with sea turtles very early in life, when her parents took her to Florida's Sea World. There would be many such trips to other aquariums during her childhood, which led to her career choice.
"I became obsessed and set out to become a veterinarian," she said.
But despite her best efforts on Monday night, the turtle that was sighted by boaters near Caneel Bay, who noticed she was unable to dive and contacted the National Park Service, died from three of the four wounds that entered her body cavity and penetrated her lungs.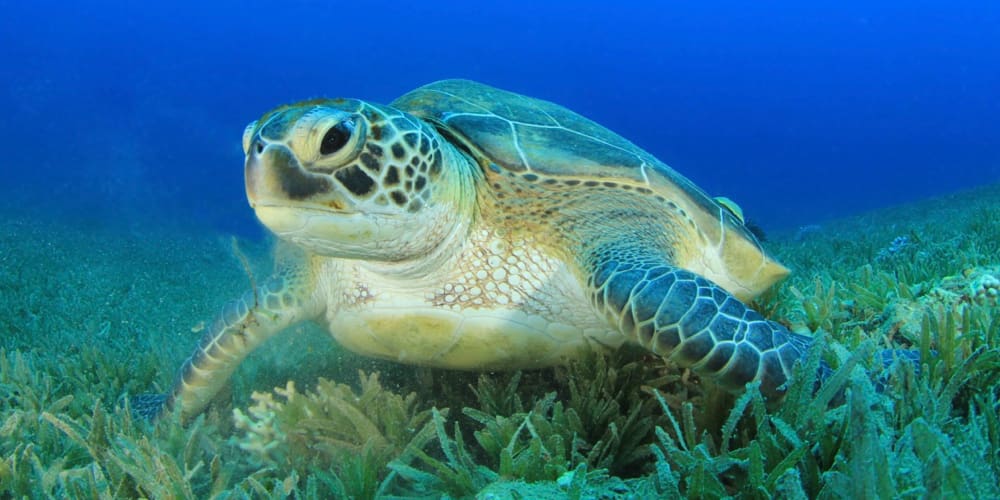 Palmer attended to the teenage turtle for four hours, from 6:30 p.m., when park service personnel delivered her to the dock in Water Bay adjacent to Coral World Marine Park, until she died around 10:30 p.m. At about 15 years old – based on her lack of mating wounds, barnacles and other signs of aging – the female turtle could have lived at least another 45 years. And since turtles are capable of reproducing based on their size, not their age, she could have gifted thousands more of her kind to the planet and the sea, both struggling to maintain their rapidly diminishing ecosystems under the assault of human-created climate change and habitat destruction.
A search of the internet for protected sea turtles finds story after story about clashes with homo sapiens that rarely ends well for the turtles.
Asked how she handles such tragic incidents, Palmer said, "You find ways to deal with it."
In 2002, in an unimaginable act of cruelty, "Corky," a 10-pound hawksbill turtle, and "Lucky," a 90-pound green turtle, were stolen from an outdoor pool at the marine park Coral World. They were never found. Three other green turtles rescued from St. Croix's Buck Island as hatchlings and sent to Coral World for rehabilitation before releasing them were stabbed.
Monday's tragic accident was likely just that – an accident rather than malice. Palmer said when go-fast boats enter off-limits areas at high speeds above seagrass beds or coral reefs – which she pointed out is illegal – such incidents are bound to occur. Green turtles that feed off the grasses surface regularly for air, as do hawksbills, are more likely to graze on the shallower areas of coral reefs.
The boaters usually don't see the turtles before they hit them, or it's too late and they are going too fast to avoid them. As for the turtles, who have come up for air, though they might see the bow heading directly for them, these ponderous, breast-stroking prehistoric reptiles simply can't get out of the way fast enough in many cases.
Despite the painful incidents Palmer has witnessed in her years working with marine animals, she remains upbeat.
"It is my pleasure to work with sea turtles," she said, adding that her passion and love arose from "meeting" them early in life thanks to the "good animal facilities" she was privileged to visit. Were it not for places like Coral World and others across the United States that combine rescue, rehabilitation, education and close-up encounters, "how else would a little kid from Pittsburgh, Pennsylvania, have imagined working with these amazing creatures?"
Anyone seeing an injured or distressed sea turtle is asked to call STAR at 340-690-0474.
Author's note: For some reason, the author thought the stricken turtle was a hawksbill and identified it as such when the story was originally posted. Erica Palmer quickly noted the error, identifying the turtle as a green sea turtle. The story was unpublished, rewritten and republished. I regret my error, but note that all sea turtles are endangered, hawkbills, critically.