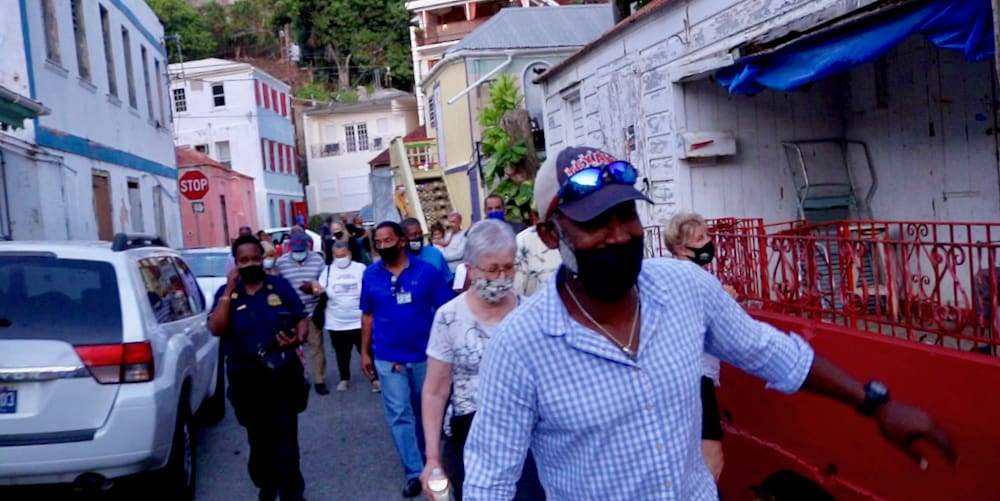 A walkthrough of Garden Street in Charlotte Amalie gave stakeholders the chance to take part in a community policing effort meant to identify and tackle top issues affecting residents across St. Thomas and empower neighborhood leaders to work effectively with law enforcement.
"Not one person can do it by themselves," V.I. Police Capt. Sandra Colbourne said Friday night, as about 20 representatives from the department, Project Safe Neighborhoods and the U.S. Attorney's Office prepared to traverse Garden Street. "It has to be a team, whose members can listen to one another, feel comfortable coming to law enforcement when there is an issue and have trust that we will do what it takes to make sure conditions improve."
Head of the department's Crime Prevention Bureau for all districts, Colbourne said it is important for residents in a close-knit neighborhood like Garden Street to see and interact with law enforcement, government and other officials working around them. Having multiple community meetings at which the same faces are present builds trust. In the past few months, residents have started to share more about the trash, lighting and safety issues that plague the neighborhood.
Colbourne said since more concerns have been brought to the forefront, 75 percent of them have been addressed, including having more garbage bins around the neighborhood. Residents also have to get to know each other better and, to help with that component, local business owner John Joseph empowered his Caribbean Collaboration team to come up with a few solutions on how to get that done. University of the Virgin Islands seniors Sirmara O'Garro and Laniesha Mayers were on hand to explain some of the team's long-term goals, which includes rolling out more security solutions, creating a system for residents to share their concerns and building an environment of trust so that residents, particularly children, can move safely back and forth.
Friday's walkthrough started on Commandant Gade and moved up Bred Gade, giving the group time to take photos of buildings and speak more to residents. In the past, walkthroughs have been conducted during the day, but Colbourne said walking the streets at night – the event started at 6:30 p.m. – could make other issues more evident. In particular, the lack of lighting in the area was evident to many, along with the need to patch up potholes along some of the narrower streets and clean up the smaller alleyways littered with trash. Finding a solution for the abandoned buildings in the area was also a part of the discussion, as many said that several were stuck in probate – the court-supervised process of authenticating a last will and testament – and could not be touched.
Colbourne said the next walkthrough will be conducted in Savan and expand outward to other neighborhoods with the goal of identifying three to five major issues from each and coming up with a plan for dealing with them.
"Understanding that every area in the territory has different issues, the plan has to be to sit down with residents and businesses to figure out how we're going to make the changes we have to make," she said. "We start with three to five major things as these meetings continue and then move onto the rest.