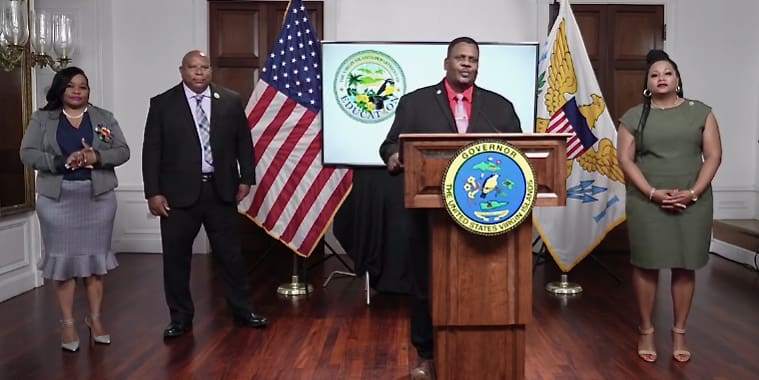 Students in grades four through 12 will return to in-person learning on Jan. 10 for the first time since the COVID-19 pandemic began in March 2020, though in a hybrid fashion for some, the Education Department announced on Monday.
"It is the right time to be moving towards a greater sense of normalcy" as more people become vaccinated, the shots are now approved for ages 5 and older, and COVID-19 cases decline across the territory, said Education Commissioner Racquel Berry-Benjamin, speaking at a news conference broadcast from Government House on St. Croix.
Under the new plan, children in kindergarten through eighth grade will attend in-person school five days a week territorywide, Education officials said.
On St. Croix, students in grades seven and eight will attend in-person classes two days and virtual classes three days a week, District Superintendent Carlos McGregor said. Ninth-graders will have four days of in-person learning, with one day virtual, and grades 10 through 12 will have two days of in-person and three days of virtual learning, he said. Positive Connections students will attend on a three-day in-person, two-day virtual schedule.
On St. Thomas-St. John, ninth-graders will return to campus four days a week, with Wednesdays reserved for virtual learning, said District Deputy Superintendent Symra Dee Brown. Those in grades 10 through 12 will attend in-person two days a week, with three days of virtual learning, she said.
The hybrid setup will allow for deep cleaning schools and help maintain social distancing at the high schools, which have on average 900 students each, said Brown and McGregor.
Department officials said the schedules for each school would be posted on its website later in the day on Tuesday.
Students in pre-K through third grade have been back in school since Sept. 7, though not without hiccups as COVID-19 outbreaks have caused some brief returns to virtual learning. Special education and career and technical education classes also have been in-person since September.
For parents who want their children to continue with virtual learning, the department is offering limited enrollment in the Virgin Islands Virtual Academy pilot program for grades six through 12. Students who applied and have been accepted into VIVA will receive information about schedules before the end of the current semester in December, said Berry-Benjamin.
All campuses have been retrofitted to be compliant with the Centers for Disease Control and V.I. Health Department COVID-19 protocols, said Berry-Benjamin. New measures include hand-washing stations, plexiglass barriers around desks, touchless sinks and toilets, temperature checks, and surveillance virus testing of 10 to 15 percent of students at every school every month for those whose parents have signed a consent form available on the Education website.
School nurses also have been trained by the V.I. Health Department to administer rapid antigen tests that produce results in 15 minutes for students who display symptoms, said Assistant Commissioner Victor Somme. The schools also now have isolation rooms to safely contain students suspected to have the virus.
The testing is funded by Infinity Empowering, said Somme, and will allow the schools to receive instant results rather than wait on parents to submit tests.
Masks and social distancing will remain mandatory, with outdoor mask breaks built into the day. School lunch will continue to be served on in-person days, with staggered feeding schedules to maintain social distancing.
Virtual orientations will be held to help students adjust to the new procedures as well as the new look of the classrooms when they return to in-person learning, McGregor said.
There is no vaccine mandate in the territory. Just 49.81 percent of St. Thomas-St. John Education staff are vaccinated, 46.86 percent on St. Croix as of October, according to Somme. Berry-Benjamin urged parents and students who have not yet done so to get vaccinated.
"We are still very much in a global pandemic. We must continue to remain vigilant and maintain the safety protocols of mask-wearing, social distancing, and regularly washing hands, along with taking the COVID-9 vaccine in order to ensure that our children can safely learn in person, which is critical to their academic, social and emotional development," Berry-Benjamin said.