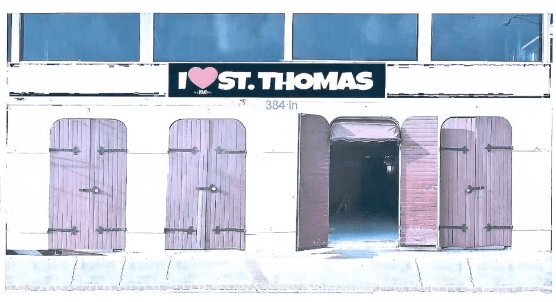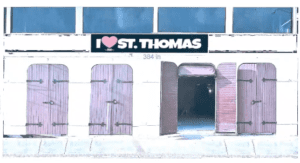 Is it OK to rename a historic district building after a new business with a heart emoji in its name to circumvent sign regulations?
That was the thorny question the St. Thomas-St. John Historic Preservation Committee tackled Tuesday during an hours-long meeting that considered multiple applications from area business owners and at times grew testy.
At the heart of the matter is how the committee fulfills its mandate to preserve the St. Thomas and St. John historic districts while still allowing businesses to function and thrive.
LeRoy Smith is seeking to change the name of his building at 2-B and C Dronningens Gade in Charlotte Amalie to that of his long-term tenant's business, "I Love St. Thomas," with the word Love represented by a heart emoji, after his initial application for a flush-mount sign was denied as being larger than the five square feet allowed under historic district rules.
To get around that requirement, Smith on Tuesday proposed changing the name of the building itself, which would allow a sign of up to 20 square feet across the façade facing the St. Thomas Harbor.
While commonly known as the Sebastian's Building, according to Smith, he said he is happy to now call it the "I Love St. Thomas Building" after the business that is renting 75 percent of the space and has a 20-year lease, with an option to renew for another 20 years.
"That space that faces the waterfront almost demands a sign that is beyond the requirements because the space that they are leasing from us is actually four doors. I think that building is approximately 40 feet wide, so trying to put a smaller sign there across that façade I don't think would look proper," Smith said. His tenant is proposing a version that is two feet tall by seven feet wide.
"It seems like it's a great way to get around the signage regulations that we have created and all we have to do is rename the building to whatever commercial enterprise is occupying the building at the time in order to circumvent the signage regulations for everybody else," said committee Chair Pamela Montegut. "The next thing we know, everybody on Main Street is going to be having a seven-foot-long by a 24-inch-tall sign on their building. That wasn't the spirit in which these regulations were created."
Member David Knight Sr. agreed. "This is trying to take advantage of a technicality that isn't in the spirit of trying to enhance and preserve the architectural legacy of the historic districts," he said. Moreover, the rules say that signs must be made of individually mounted letters, said Knight, who cited the Enid M. Baa Public Library and Archives building as elegant examples to follow.
"It also says letters. It doesn't say hearts or flowers. … That's what our guidelines allow. … That's the only way a building sign is acceptable within the historic district," Knight said while reading from the rules.
"We cannot approve this as is," said member Enrique Rodriguez, who expressed regret that the rules were not made clear to Smith and his tenant at the last meeting when the flush mount sign was rejected as too large.
When Smith's tenant pointed out that numerous businesses in the St. Thomas historic district have logos in their signage, most notably the A.H. Riise and Rolex buildings, Knight said they differ in that the actual names of the buildings are spelled out in individual letters, with the logos to the side. Incorporating a heart emoji into the name of a building violates the rules, he said.
"We can't speak as a committee for what prior committees have done," said member Kurt Marsh Jr., who admonished the applicants to stop dwelling on their neighbors' signs, find a way to incorporate the logo in their signage and return at the next meeting with a few options to present.
"So our neighbors are allowed to do this, and now you're telling me that we can't do it? I take a strong exception to that," said Smith. "At the end of the day, the name of the business is 'I Heart St. Thomas' and she should be allowed to put that on the front of the building. That's all I have to say," he said.
"If every building owner allowed somebody they lease a portion of their property to, to change the name of the building they're in to the name of their business, we would have nothing but commercial buildings throughout our historic district that are the names of the businesses that are inside them. That is not the spirit of naming buildings and that's not the spirit of recognizing the history and the heritage of our cherished, very important historic district on St. Thomas. I'm sorry, I take offense to the whole idea," said Knight.
Smith disagreed that others would follow suit, saying that most of the businesses in downtown Charlotte Amalie are one or two-door shops, not the entire building. "This particular tenant has rented 75 percent of the building. There is a big difference, Mr. Knight, a big difference, so your assumption is wrong," he said.
However, Smith agreed to go back to the drawing board and return to the committee with new sign options.
"I hear what you are saying as a commission. I will have a discussion with my tenant. In my mind, I believe that individual letters are preferable aesthetically, so I will have a discussion with her, and we will make a resubmission to the commission," said Smith.
Committee members attending Tuesday's meeting were Montegut, Knight, Marsh, Rodriguez, William Newbold, Akil Petersen, and Sean Krigger.