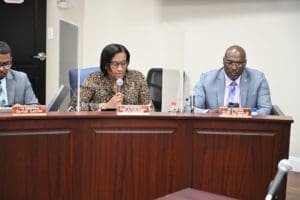 During Tuesday's Finance Committee hearing, senators approved several bills and lease agreements, including changes to the territory's economic development tax break program and the return of retirees to the government workforce. All proposed legislation was approved and forwarded to the Rules and Judiciary Committee.
Regarding U.S. Virgin Islands statutes, "Our economic development laws need amending," said Sen. Donna Frett-Gregory. "The rules and regulations that create the framework for our economic incentive programs throughout the territory have not been amended or updated for almost 20 years. If we are going to remain in the competitive market, we have to periodically examine our laws, rules, and regulations, and amend so that the territory can remain competitive."
According to Frett-Gregory, amendments to the Economic Development Authority tax program will retain beneficiaries, attract new businesses, and create jobs for U.S. Virgin Islanders.
"I think we all want a vibrant economy," said attorney Marjorie Roberts. "I think we need to constantly be assuring a couple things. One is not too many barriers to entry, clear rules, and making sure that the rules reflect the realities of technology, the realities of employment needs, and trading, and so forth."
"Right now we are not generating any payroll taxes, and payroll taxes are not exempt under the EDC program. So owners who can pay themselves hundreds of thousands of dollars are paying themselves dividends and the territory is not benefitting from that," said Frett-Gregory.
Amendments to the current laws will ensure accountability by the Economic Development Administration, she said. The proposed changes will allow business owners to become employees, require the EDA to create funds for EDC companies to deposit their contributions and direct money to the Department of Education, increase application fees to the EDC program and remove the requirement for training programs to exist as long as an employed person who is not a resident of the Virgin Islands is employed by the beneficiary, allowing for the training program to exist surpassing the employment of the non-Virgin Island resident.
Another key bill addressed by legislators amended the service retirement annuity in order to allow retirees to re-enter government service and retain their annuity while contributing to the Government Employees Retirement System.
According to GERS Administrator Austin Nibbs, there are currently 1,000 vacant positions in the government. Current law requires an 18-month break in service for retirees before they are able to be rehired, but a change was proposed by GERS and the Division of Personnel to shorten the break time. In addition, agencies are required, for a minimum of six months, to seek to fill positions before resorting to hiring a retiree.
"The amendment that we passed essentially reduced the waiting time from 18 months to nine months for a returning retiree, it mandates that individuals 65 years and older remain in their current insurance plan. It mandates that individuals under 65 participate in insurance plans for active employees. It specifies that hiring documents be provided based on what the hiring agency currently uses … it speaks to unionized positions, [and] requires returning retirees to earn annual leave," said Sen. Milton Potter.
The committee also sent on:
– A lease agreement between the V.I. government and the Waste Management Authority to construct and operate a solid waste convenience center in Estate Concordia, VICORP Lands, and Estate Cotton Valley on St. Croix.
– A lease agreement between the V.I. government and Our Lady of Mount Carmel Catholic Church Inc. to provide dormitory facilities and a soup kitchen for those in need on St. John.
– A lease agreement between the V.I government for a dispatch center on St. John.
– A lease agreement between the V.I. government and Island Roads Corporation on St. Thomas.
Sens. Marvin Blyden, Samuel Carrion, Dwayne M. DeGraff, Donna Frett-Gregory, Javan James Sr., and Kurt Vialet were present to vote. Non-committee members Sens. Novelle E. Francis, Jr., Marvin A. Blyden, Genevieve R. Whitaker, Milton E. Potter, and Alma Francis Heyliger were in attendance. Sen. Janelle K. Sarauw was absent.