The V.I. government is preparing to loosen its COVID-19 infection restrictions for cruise ships arriving in the territory.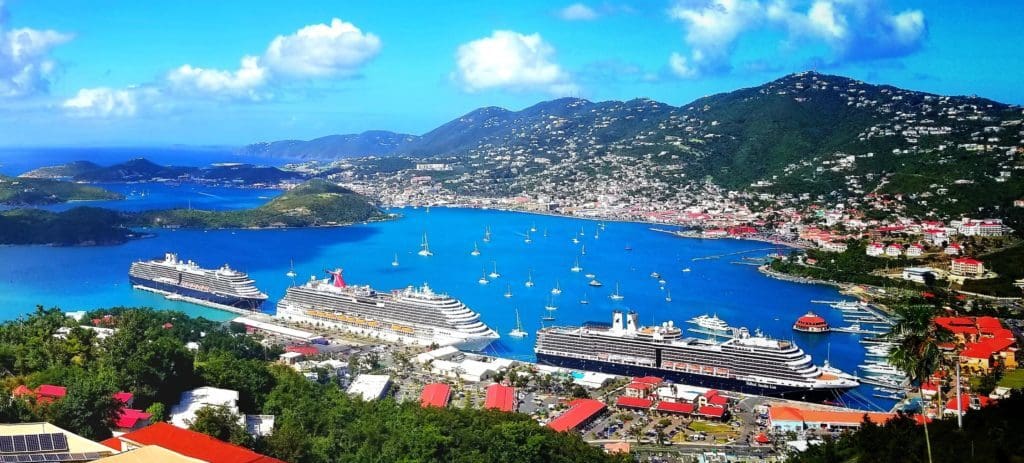 Currently, a ship may not call if it reports an onboard infection rate of 1 percent of its passengers and crew. That threshold will soon change to 3 percent, according to a meeting of the West Indian Company Ltd. board of directors on Friday.
"The Department of Health, Office of the Governor, V.I. Port Authority, and WICO are now finalizing an updated [Memorandum of Understanding] to present to the cruise lines outlining local requirements," WICO President and CEO Anthony Ottley told the board.
"In this updated MOU, cruise ships will be allowed to dock and disembark passengers if there is a maximum of a 3 percent infection rate amongst the passengers and crew members. The cruise lines were requesting a 4 percent infection rate ceiling of the entire ship, and certain destinations are granting those requests," said Ottley.
The policy change, which comes as case numbers have dropped after a worldwide surge attributed to the Omicron variant of the virus, should help to reduce the number of canceled ship calls, said Ottley.
It also coincides with the expiration on Jan. 15 of the Centers for Disease Control's modified Conditional Sailing Order, first issued in October 2020. The CDC has now transitioned to a voluntary program, in coordination with cruise ship operators and other stakeholders, according to its website. Those ships that choose to opt into the program will be required to follow all recommendations and guidance as a condition of their participation, not pick and choose, it said.
"We continue to get itinerary changes as the cruise lines assess their ability to dock at their scheduled itinerary stops. Please keep in mind that this continues to be a very fluid situation, and we anticipate that there will be ongoing schedule changes ahead," said Ottley.
Those ships that do dock are hardly at full capacity. One recently called at just 28 percent full, said Ottley, while on the opposite end of the spectrum, the Carnival Magic had the highest capacity since cruising resumed in the summer of 2021, at 68 percent.
The decline in passenger numbers has impacted WICO's bottom line, said Ottley, who reported at the start of the meeting that WICO generated $4,895,332 for fiscal year 2021 through the end of December and showed a net loss of $3,077,000 for the period ending Aug. 31.
Of the $4.9 million generated, $632,000 was from passenger fees, he said.
"Arrival counts have been on average 40 to 50 percent of capacity," said Ottley. COVID-related cancellations began on Dec. 27 with the Norwegian Epic, he said, and totaled 19 calls as of Jan. 26. Four of those cancellations occurred a week in advance, with no passenger counts submitted. The total passenger count loss for the remaining 15 cancellations was 19,900, he said.
"February so far is holding with no cancellations," as the Omicron surge has leveled off, said Ottley.
And even at less than half capacity, WICO is in no position to turn ships away, he said.
"For now, we're trying to get the percentages because one of the challenges that poses for us, here at WICO, is that we are a three-berth facility. … When we're accustomed to getting ships, pre-pandemic, at 90 percent capacity, or 95 percent capacity, now we may have a loaded dock, but when we have a loaded dock with ships that are just 40 percent capacity, we are actually not doing that well. But when we compare it to those 18 months when we had no ships, of course, we have no choice but to welcome them to our shores," said Ottley.
"What I will tell you is, the cruise line partners are anxious to get back up as close to 100 percent, but of course, we anticipate that probably not occurring until the latter part of 2023/2024, I would think," said Ottley.
He also is buoyed by news that more cruise lines are moving their assets to the Caribbean as markets in the Mediterranean and the Orient remain soft, even though they are arriving as the slow season approaches, said Ottley.
"We hope, with more assets in the Caribbean, that we have more visits during the off-season, but of course, we still have situations just coming off of the Omicron variant that are still kind of up in the air as far as the percentages that are coming and what we can anticipate," he said.
"That's where I see the industry going in the short term. We anticipate we will be doing much better in 2023 coming up, when we do have more calls than we did this past season, and 2024 looks even better than that," said Ottley.
Board members attending Friday's meeting were Tourism Commissioner and Chairman Joseph Boschulte, Vice Chair Jason Charles, Secretary Roosevelt David, Enrique Rodriguez, and Pash Daswani. Rick Carrington was absent.