"Spirit, Artistry, and Craft of Moko Jumbies" will come alive in the courtyard of the Caribbean Museum Center for the Arts on Saturday at 2:30 p.m. and will continue throughout the day until 7 p.m. The Guardians of Culture Moko Jumbies is a cultural icon in our community and will perform during the afternoon to bring awareness to their representation of healing and protection. The program will observe the CDC COVID-19 guidelines with mask-wearing and social distancing.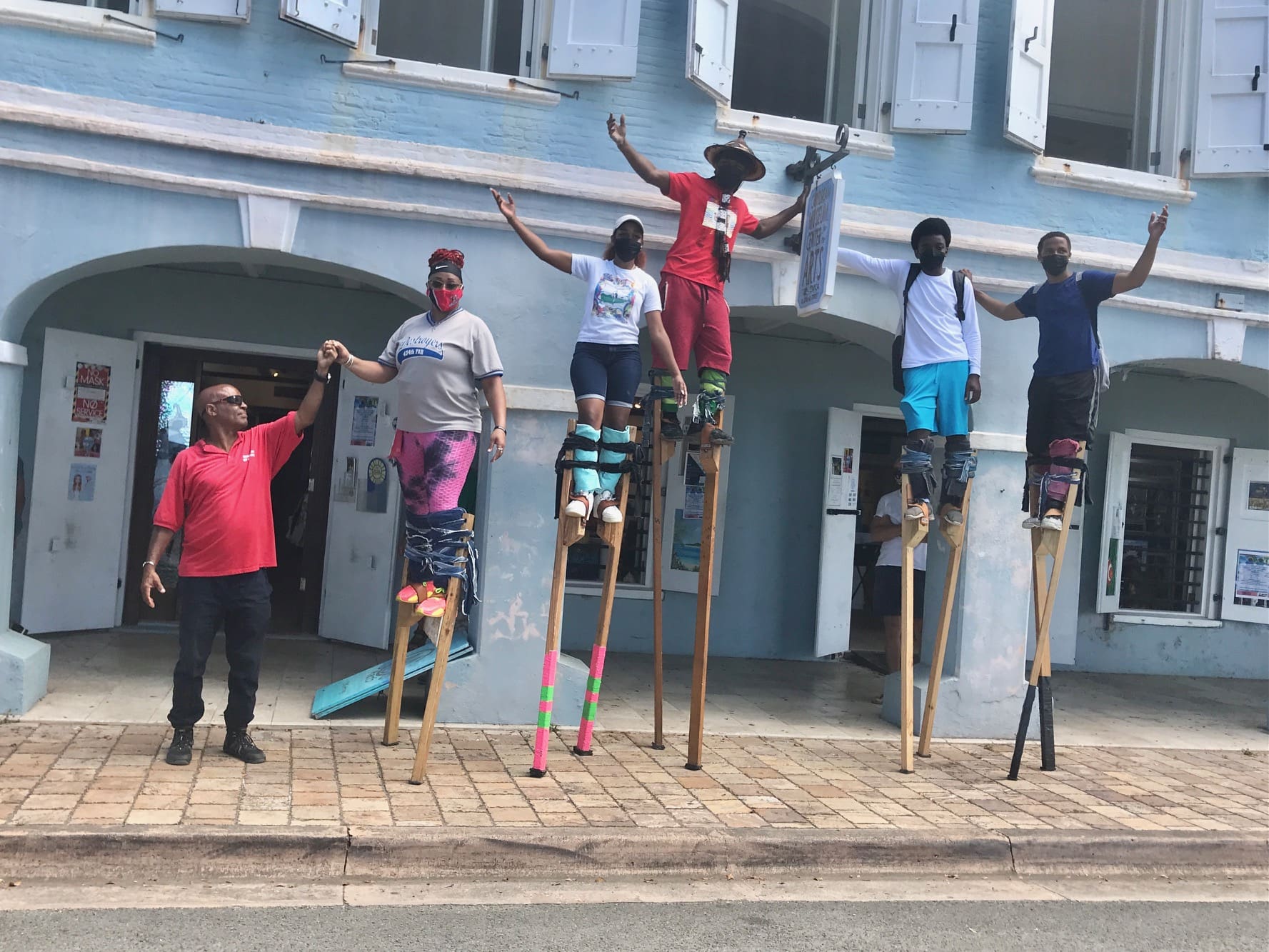 Culture bearer, founder, and artistic director of the Guardians of Culture Moko Jumbies Willard John spoke to the Source about his excitement for the upcoming event. "Right now, my heart…my heart…is beating so fast," he said. "My mission is to promote culture, and I've been doing that for over 42 years," John said. 
"We are called the Guardians of Culture Moko Jumbies. We now have an academy where we teach 50 youngsters who have signed up at our permanent location. We have a shelter that was erected and donated to us. So, we are really rocking and rolling," John said.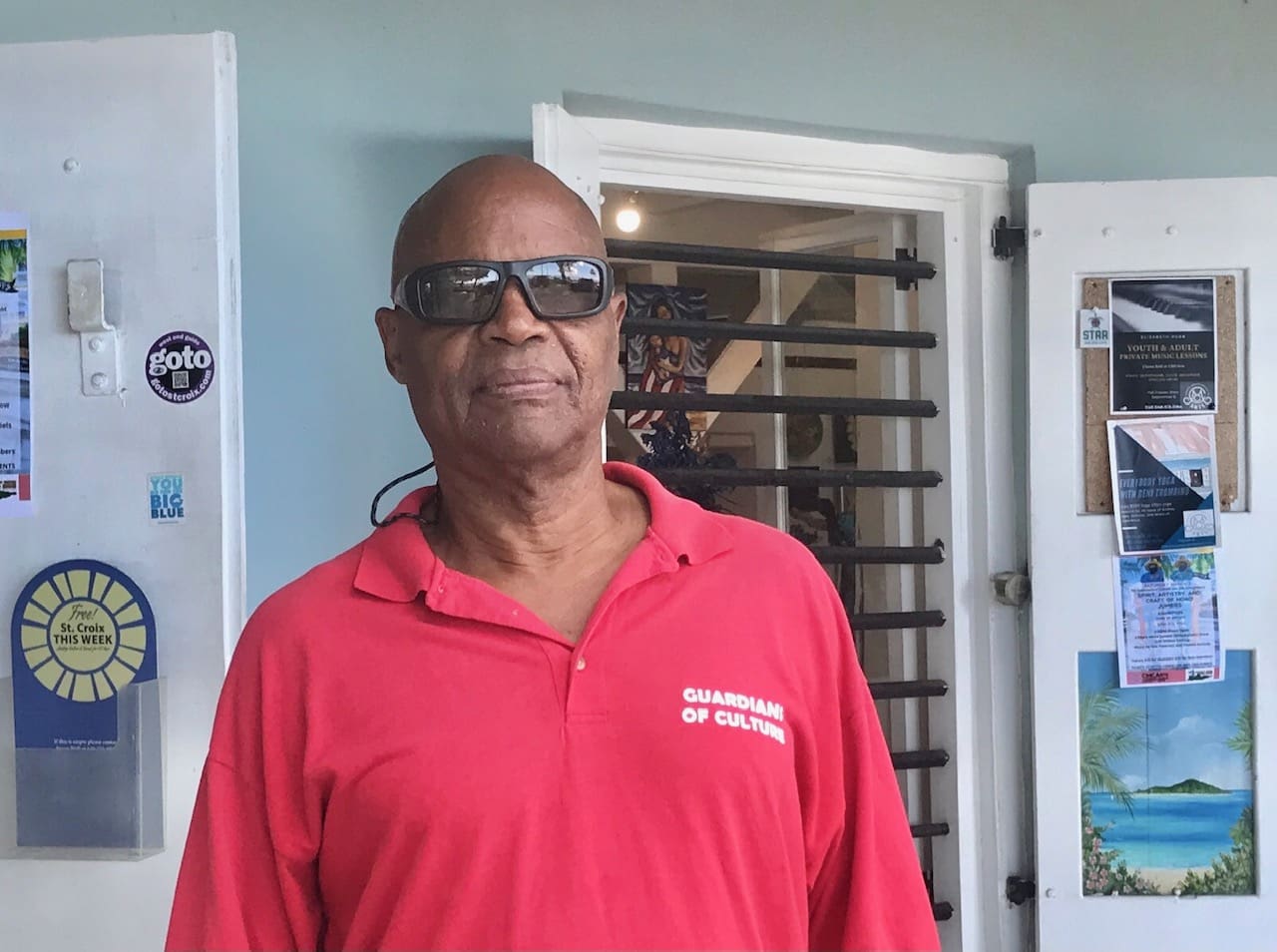 The courtyard was rocking and rolling and filled with Moko Jumbie dancers, male and female. Some were practicing their movements, and others were getting their stilts tied for practice. These young people possessed an air of confidence on those wooden stilts over half their height in size. 
The Source caught up with Yllyse Schjang, who is 15 years old and has been a Moko Jumbie for four years. Her brother and her cousin were her inspiration. Yllyse watched them and knew she could be a Moko Jumbie like them, she said. Asked if being a girl meant it would be harder for her, Yllyse said, "Not at all. I knew it would not make any difference." She danced at a ballpark with her brother and looks forward to Saturday's performance. She's made friends with four other girls in the group, she said.  
John said he wanted to stay active in the community, and he wanted the community to know what "we" are doing. John wanted to find different modalities of promoting and preserving the art of Moko Jumbie. One of the ideas he came up with was to curate an art show.
"So, we're going to have an art show all about Moko Jumbies. We have approximately 26 adult artists and about 20 youngsters. There are five rooms in the upstairs gallery at CMCarts, and one of the larger rooms is dedicated to the youngsters' artwork," John said.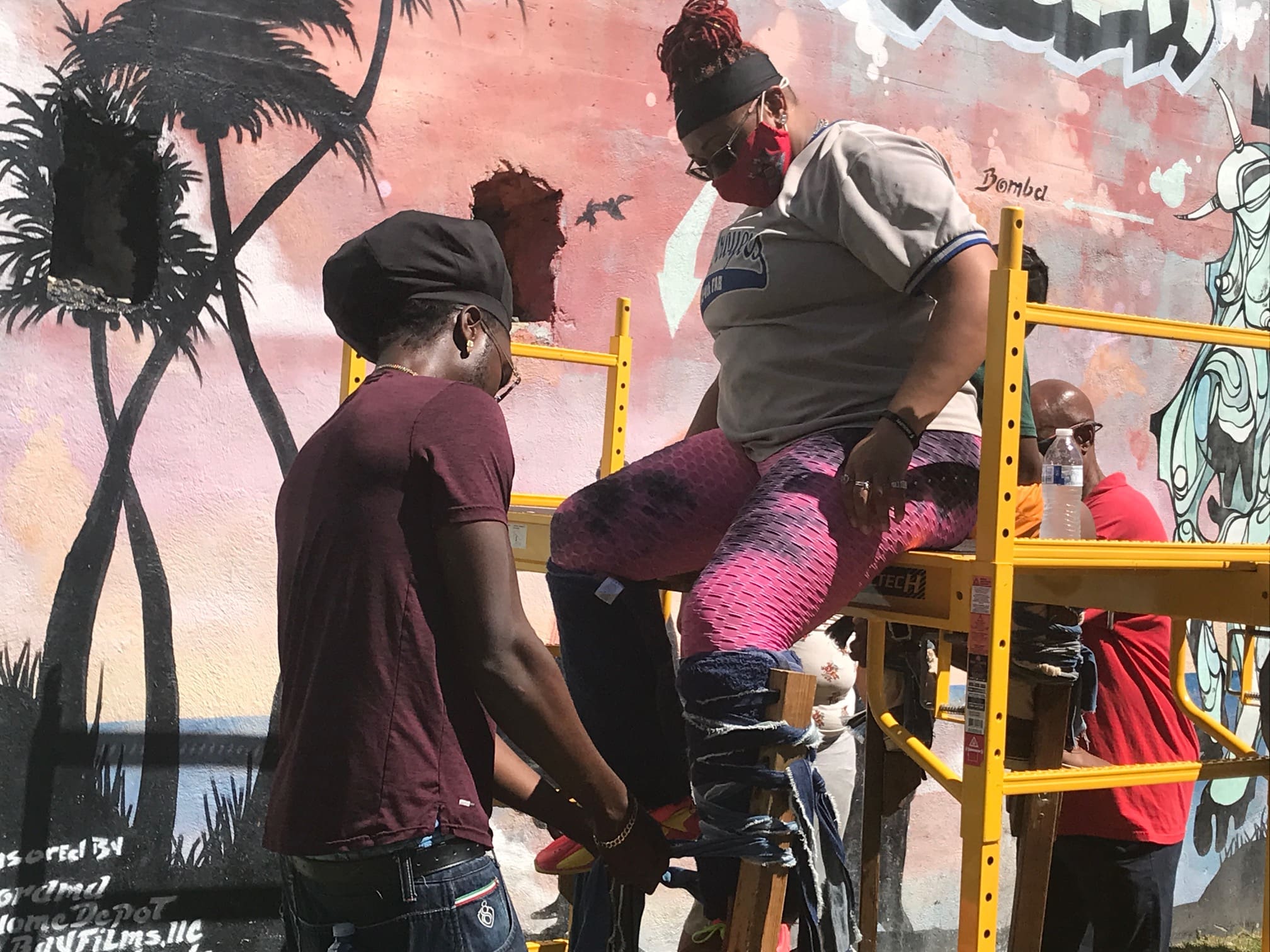 "All modalities – sculptures, oil paintings, acrylic paintings, photographs – whatever the artists conceive of and bring, we'll display, he said. At this point, John said, 95 percent of the artwork is in "Spirit, Artistry, and Craft of the Moko Jumbie, which will display this wonderful art form."
The moko jumbies walked down King Streeet for a couple of blocks and back up Strand in town after their practice. John said he likes to have them stretch afterward. He also likes the idea of the group showing their visibility in Frederiksted town, since they are very rarely seen on the west side of the island.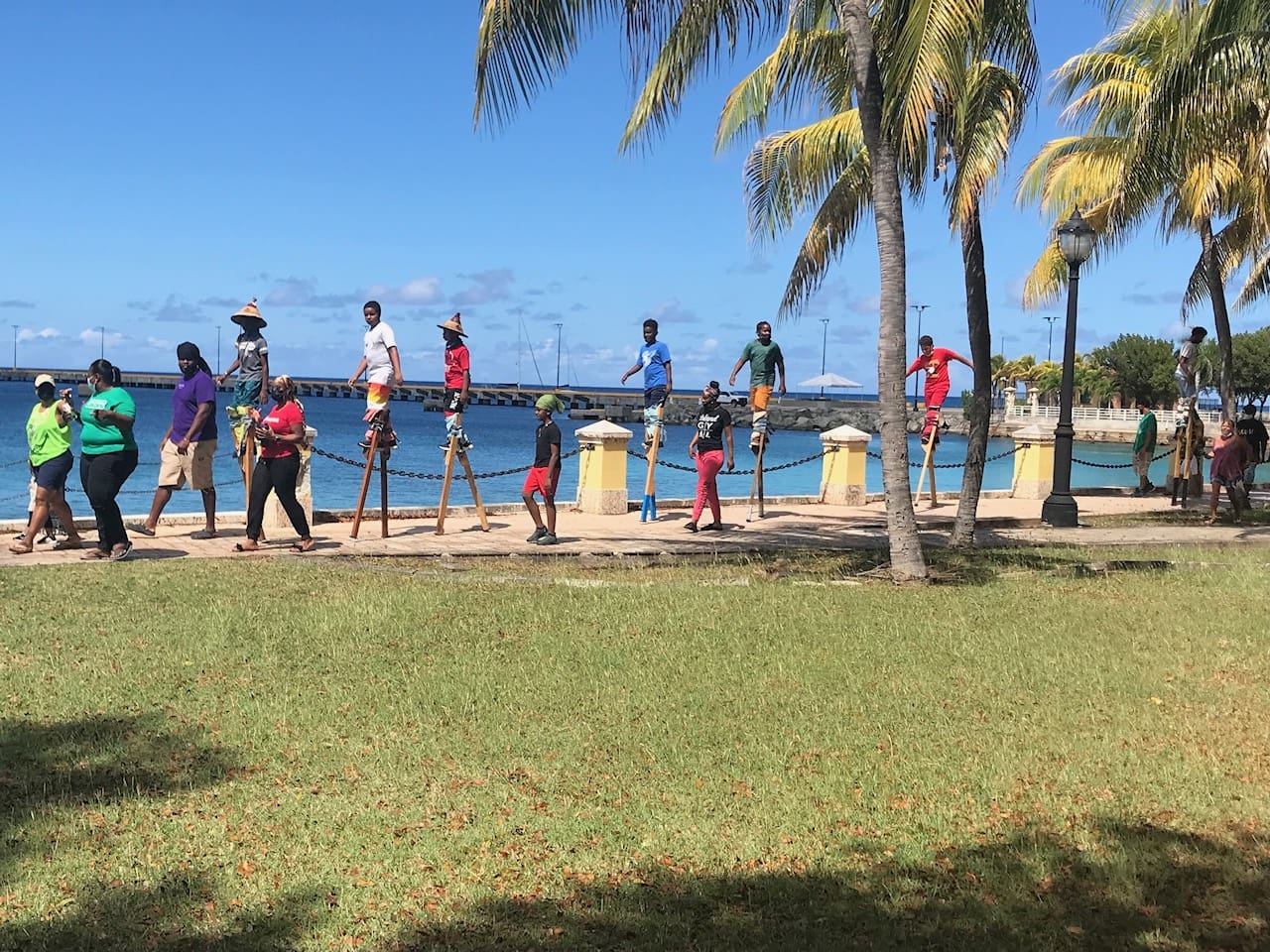 The parents of the young people are as involved as they are. They come out every Saturday to practice and are an inspiration and strong support for their children.
As they were winding down, the Source spoke with one of the parents, Tresa Civil, and her young son, nine-year-old Kirt Thomas. He was a little afraid of the moko jumbies when he was a baby, but when he turned four, he knew he wanted to dance, Civil said. Kirt said, "It feels good being so high up on the stilts." Kirt has been dancing since May 2021. Civil said she is not too busy to come out every Saturday from 9:30 to noon to support her son and the group.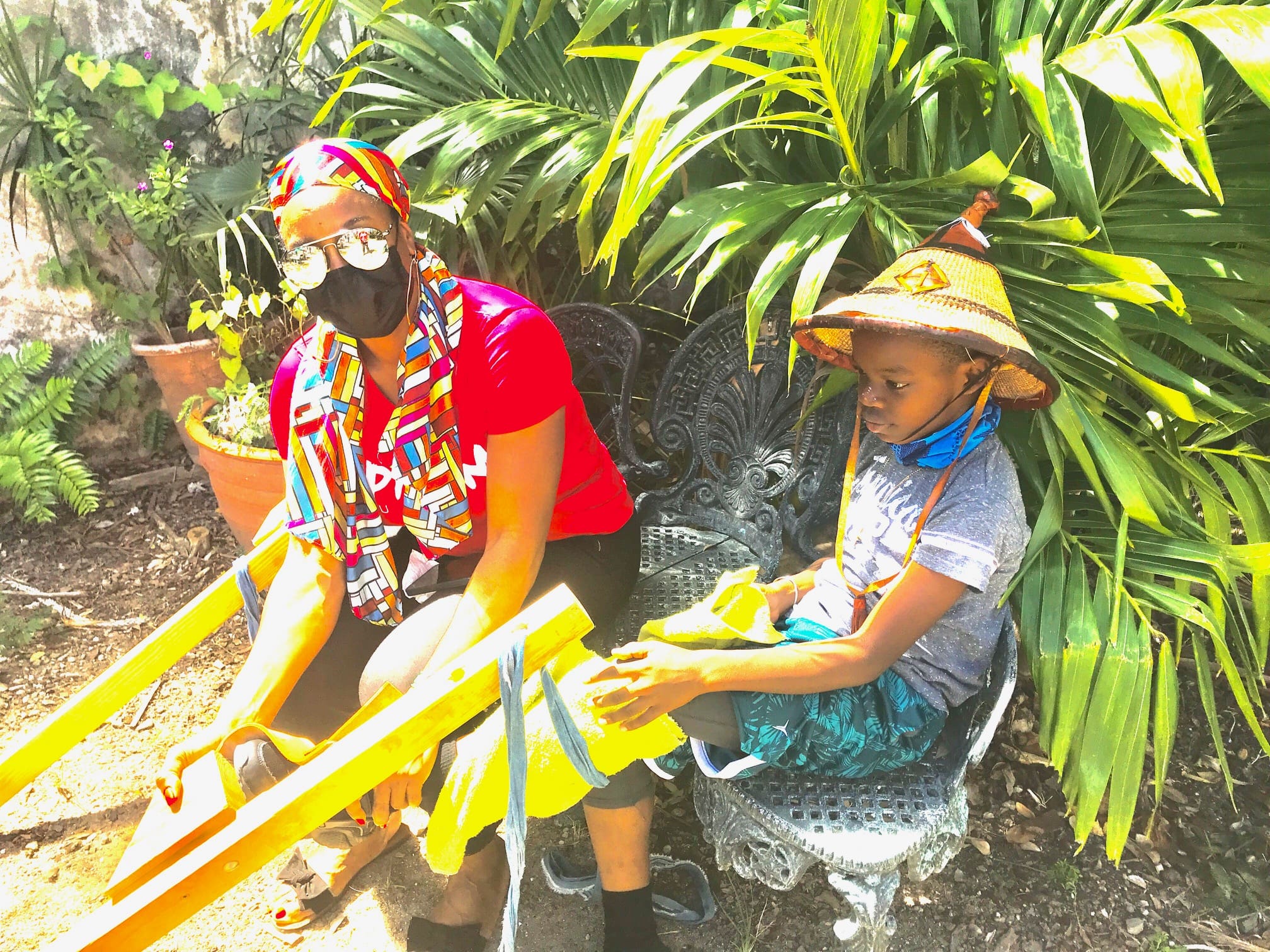 The doors will open at 2:30 p.m., and at 3 p.m. Doc Petersen will entertain with his heartwarming lyrics, John said. There will be an appetizer package for attendees to pick up and partake in while they listen to Doc perform. 
The live show will begin with Mokolution – the evolution of the Moko Jumbie. John will do a narration on the history and development of the Moko Jumbie.
The Moko Jumbie started in Africa. John will tell how they started, where they came from, how they danced, the type of music that was played, and their movements. There will be a demonstration of that period.
As they move along the timeline of the old West Indian, old Caribbean – they will demonstrate what they wore – the dresses and wire masks and crocheted hats. John will narrate what was seen in the early 1900s through the 1950s. He will talk about their movements at that time and what their meaning was in society. John will move on to the modern Moko Jumbie and what we see now. He will give a detailed narration of all three periods.
There are raffle tickets that are in circulation for purchase now and will be available for purchase on the day of the event. A $5 ticket for the first-place winner is $500. Second place wins a private Moko Jumbie performance. Third place winner takes a Moko Jumbie statue.
Delegate to Congress Stacey Plaskett will cut the ribbon at the steps leading to the upstairs gallery at 4:30 p.m.
John encourages the attendees to browse the gallery and make purchases, with the proceeds going to the Guardians of Culture Moko Jumbies and CMCArts. 
For more information: