The man who admitted to scamming four people out of thousands of dollars over the phone was sentenced Monday to 33 months in federal prison. According to court records, defendant Yamini Potter admitted using his phone privileges and those of others while behind bars to contact his victims, despite being ordered to stay away from them.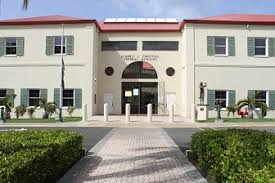 Potter was charged with multiple offenses in an affidavit filed by the F.B.I. on Sept. 21, 2020. Records show that several of the original charges — including criminal contempt and aggravated identity theft — were dropped on the way to reaching a plea agreement with U.S. Attorney Gretchen Shappert in May 2021.
By the time of Monday's sentencing hearing before visiting District Court Judge Timothy Savage, Potter's list of offenses whittled down to one count of wire fraud and one count of obstructing justice. The proceedings were held in District Court on St. Croix and transmitted over the internet into a federal courtroom on St. Thomas.
Savage imposed a sentence of 33 months, with three years supervised release to follow the prison term. Potter was also ordered to obtain work while in prison, to begin paying $120,650 in restitution to the victims. A $200 special assessment was also applied.
As part of the plea deal, the defendant had to admit he violated a court-issued no-contact order issued after the filing of an 80-count criminal complaint in District Court in August 2020. Authorities said at that time, the defendant used a jailhouse phone on to harass and coerce payments from persons identified in records as P.M., M.M., J.H., and P.J. While doing so, Potter impersonated government officials over the phone, including a federal judge and a U.S. magistrate, investigators said.
"Potter violated a court order which prohibited him from contacting certain individuals … It is also believed that the defendant threatened to kill these witnesses during this same time period," said F.B.I. Special Agent Christopher Forvour.
The no-contact order was issued by U.S. Magistrate George Cannon on August 28, 2020. Investigators produced records showing Potter continued to call one victim, identified as P.M., 40 times in continued pursuit of his scheme. When he was handed a copy of the order while in jail on Sept. 3, 2020, Potter used phone accounts belonging to fellow inmates and called P.M. 15 more times.
In previous court filings, P.M. was identified as Dr. Paul Maynard, who died in January 2021. Maynard was convicted for illegal distribution of controlled substances in 2007 and lost his license to practice medicine in the V.I. Investigators said that Maynard's misfortunes multiplied when he tried to have the license reinstated.
That's when Potter made contact, impersonating different government officials, promising to deliver the relief Maynard wanted for a price.