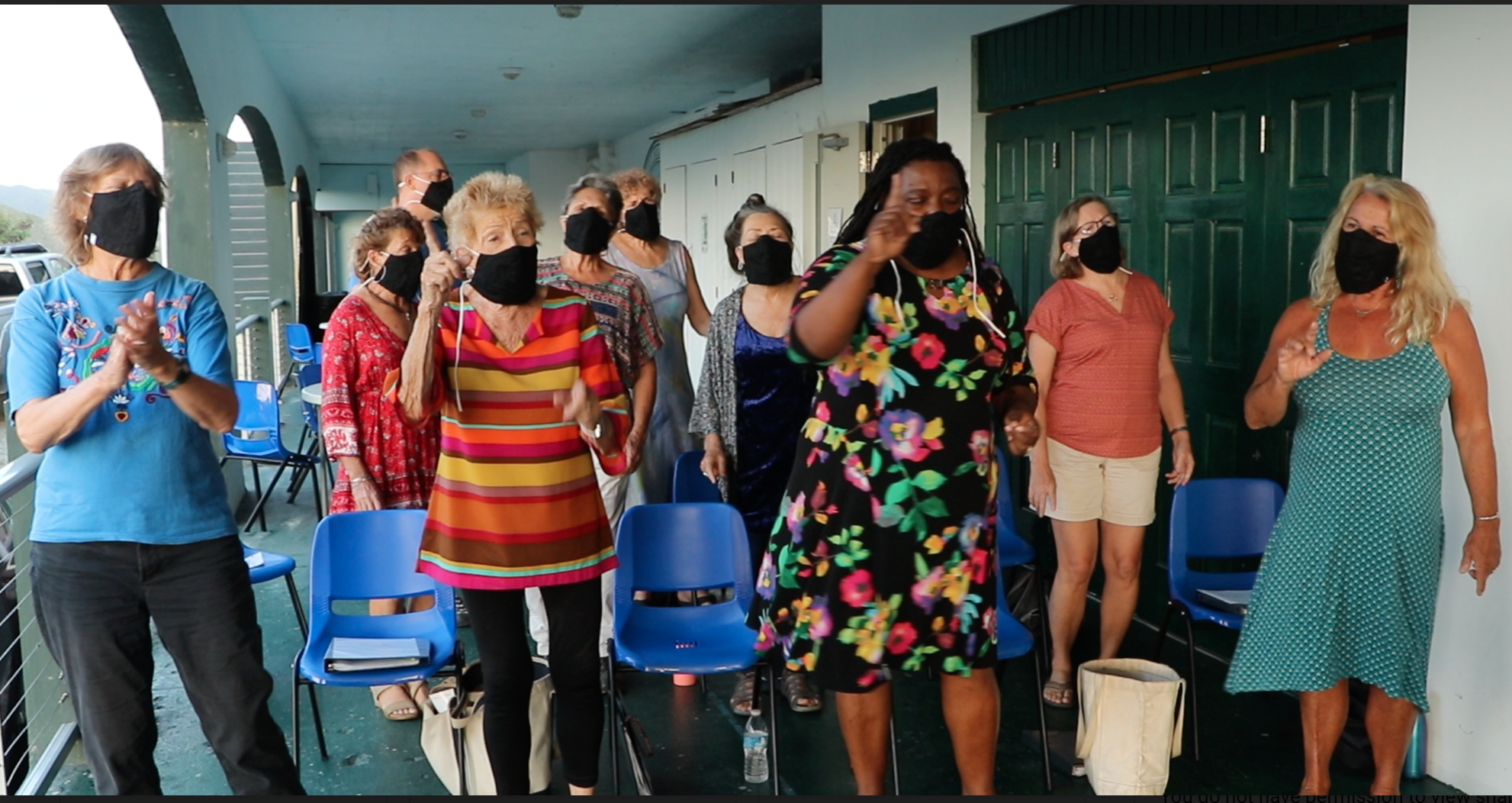 Four years ago following the devastation of hurricanes Irma and Maria, the St. John Recovery Choir sang a concert of Motown and Soul music, and it made the singers (and audience members) feel so good that they begged choir director Kristen Carmichael-Bowers to do it again. This year, she agreed.
On Saturday, April 23 at 7 p.m., the Recovery Choir will present their "Love City Soul" concert featuring songs made famous by Aretha Franklin, Stevie Wonder, Marvin Gay and Tammy Terrell, Sam and Dave, and others.
The difference this year is that the concert will be presented virtually on Zoom, and everyone is welcome to join in. Choir members (who have already recorded their tracks) will be singing along live but muted during the performance, and audience members (who will be muted to everyone else online) are encouraged to get up and sing and dance along with the singers.
Because of the Zoom format, viewers must register in advance, but that's easy. Simply go to the Sing St. John website and click on the box for concert registration. Fill out the form, and you'll receive an email with a link to tune in to the concert Saturday evening on April 23. Admission is free, but donations to defray the technology costs are gratefully accepted.
When she was planning the concert this fall, Carmichael-Bowers was keeping her fingers crossed that the choir would be able to perform live this spring. But then the omicron variant surged just as the choir was getting ready to rehearse in person.
To make sure that the entire production would not get shut down because of COVID, Carmichael-Bowers decided to once again present the concert virtually – as she has since December 2020.
For concert viewers, the advantages are obvious. No one needs to dress up or deal with the hassle of finding a parking space.
And for those who wonder whether there are enough good singers on St. John to bring back those iconic soul and Motown hits, never fear. There's a lot of talent on St. John. Carmichael-Bowers has recruited some singers you might expect, like Eva Chinnery, who regularly performs throughout the island, and others you might not, like former fire chief Winifred Powell, senior center director Abigail Hendricks, and bookkeeper Pam Gaffin.
In March, when many COVID restrictions were lifted, the choir went back to live rehearsals, using special masks designed for singers. Members were so thrilled to be singing with each other again that Carmichael-Bowers decided to give St. John a live taste of the concert offerings.
Recovery Choir members will be performing in Cruz Bay, including Mongoose Junction and Frank Powell Park, on April 19, starting at around 5:30 p.m.
The Recovery Choir is one of seven community music initiatives under the umbrella of Sing St. John, a 501c3 nonprofit corporation that is supported by the Virgin Islands Council on the Arts, the National Endowment for the Arts, the V.I. Lottery, Martha and Dana Robes, and many other local businesses and individuals.