CORRECTION: The previously-published article named U.S. Magistrate Emile Henderson III as the presiding jurist; it was District Court Judge Wilma Lewis. Clarification also points out that Zavon Acoy received a 10-year sentence prior to Monday's restitution hearing.
A 32-year-old man who pleaded guilty to transporting his underage girlfriend across St. Croix to perform sex acts with an older man has been ordered to reimburse the Justice Department for the assistance they rendered to the victim. District Court Judge Wilma Lewis directed defendant Zavon Acoy to repay the department's victim services division $500.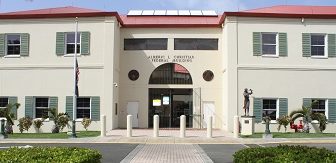 Acoy has been in federal custody since his arrest in November 2018. He pleaded guilty in July 2021 to transporting an individual with intent to engage in criminal sexual activity. He was sentenced to serve a 10-year prison term in February.
Monday was listed on the District Court docket for sentencing, but a restitution hearing was held instead. Restitution is part of the penalty Acoy — who was 27 at the time of the offense reported to police and the Department of Homeland Security in 2017 — must pay as part of his sentencing. Henderson asked prosecutor Everard Potter and defense attorney Yohana Manning to clarify how much Acoy collected from codefendant James Phillip for handing over his then-17-year-old girlfriend.
Authorities were alerted to a problem when the minor went to police in November 2018 and complained that Acoy — her boyfriend — strangled her and then explained the circumstances surrounding the incident.
Potter said there were two occasions where Phillip paid the defendant $250 cash to have sex with the victim. Court records include a statement from the minor that she received no portion of the cash payments.
Manning confirmed the statement, and Lewis ordered Acoy to pay $500.
The money would then be turned over to victim services to compensate agency staffers for the time they spent helping the victim. Manning told the court his client was indigent, having spent the past three-and-a-half years in jail.
The judge then ordered Acoy to pay $20 a month, minimum, until the sum was satisfied.