NCAAW superstar and St. Thomas native Aliyah Boston lives a very simple life. Her daily routine consists of waking up, lifting weights, going to practice, eating lunch, doing homework, and taking a nap.
Boston currently plays Division 1 basketball for the University of South Carolina. In her freshman year, Boston was named "National Freshman of the Year," made the All-America second team, and won the "Lisa Leslie Center of the Year" award. In her sophomore season, Boston was named "National Player of the Year," won the "Naismith Defensive Player of the Year" award, was again the "Lisa Leslie Center of the Year" and made the All-America first team.
In April, Boston led the Gamecocks to the national championship with a decisive 64-49 victory against the University of Connecticut, earning her the "Most Outstanding Player" award for the March Madness tournament. Boston has just about every basketball award there is.
During a recent interview, Boston spoke of the importance of living a normal life and not developing a big ego. Being raised in the U.S. Virgin Islands, she said she also learned to appreciate the little things in life – things as simple as making the trip to the movie theater just to buy popcorn.
She said making the U.S. Virgin Islands proud with her National Championship win was an incredible feeling. Boston also said that due to her circumstances, she felt as though she grew up quickly. Not only was she raised on an island that prioritizes respect and acceptance, but she moved to New England to live with her aunt at the age of 12 so that she could pursue her basketball career.
This kind of change can be drastic for most people, let alone a 12-year-old girl. Boston said there were occasional struggles with being away from her parents – Cleone and Al Boston – but that they have been consistently supportive of her dream.
Boston also recognizes her sister – Alexis Boston – as a big influence. Alexis currently plays basketball for Thomas University in Georgia. "Both of my parents, they sacrificed a lot for my sister and I. … My sister is important because she's the reason that I even started playing basketball," said Boston.
There are many young athletes in the U.S. Virgin Islands that are either looking to move or have moved to the states for a greater number of opportunities because on the small island of St. Thomas, there are very few teams to compete with. Boston said that after moving to the states, she was traveling a lot more frequently, as she went from state to state for games.
For her personally, the adjustment was not very difficult, she said. Boston pinned this on the fact that she was still young and "learning how to grow up." Asked what advice she would give to young athletes in the U.S. Virgin Islands that are looking to make the move, she said, "It's not going to be easy, but it's going to be worth it."
Boston said giving back to her community is extremely important to her. "It's so important because you know, this is where I started and where everything really began. … To be able to give back to the community is just so important to me because I don't want to forget where I came from," she said.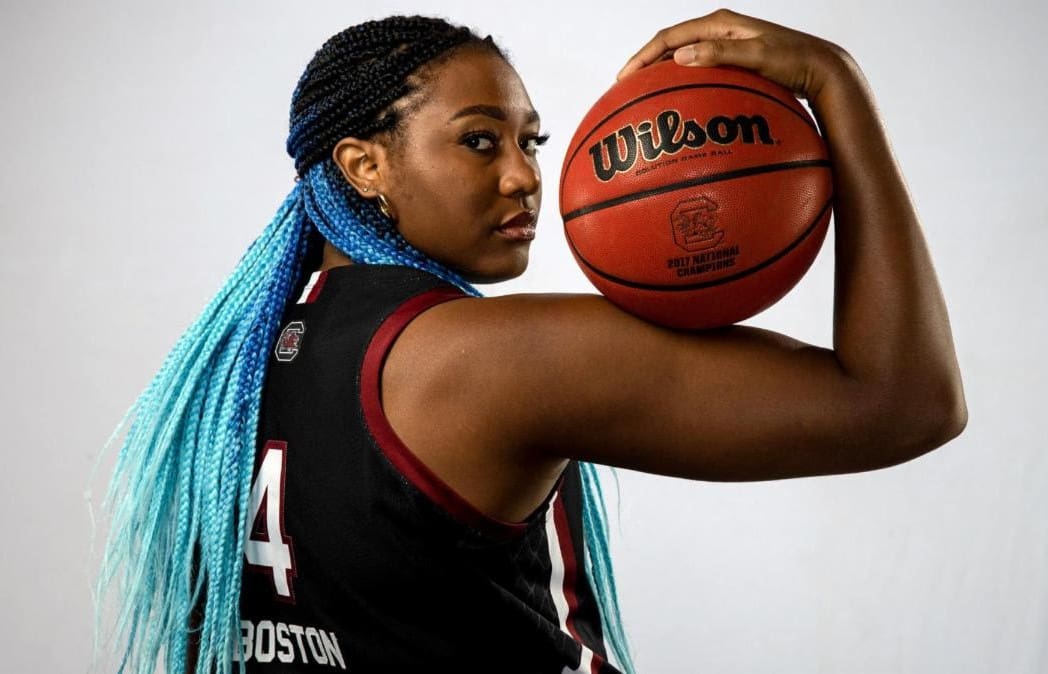 In early June, Boston ran a one-day camp with Under Armour for the female basketball players in the territory. She explained that she wanted to give these girls a camp to go to because it's something she never had while living in the Virgin Islands.
Boston said that encouraging young female athletes is very important to her because she wants them to have the same opportunities as their male counterparts.
She believes that coverage of women's sports by big media outlets will continue to grow and broaden as time passes. While there has been a rapid increase over the last few years in the exposure that female athletes receive, they are still nowhere near the level male sports are covered.