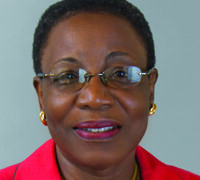 Former Solicitor General and former Attorney General of the Virgin Islands Canon Rosalie Simmonds Ballentine has been selected to serve as vice chair of the Church Pension Fund Board of Trustees.
CPF is a financial services organization that serves the Episcopal Church, managing the pension and health benefits of the church.
Ballentine's election was announced along with that of Canon Kathryn McCormick, who will chair the Board of Trustees and succeeds the Rt. Rev. Thomas J. Brown, who served as chair since 2018. The Rt. Rev. Brian N. Prior (subject to his re-election to the CPF Board) was re-elected vice chair, according to a press release announcing the new appointments.
"Kathryn, Rosalie, and Brian are recognized leaders in the church and on the CPF Board," said Mary Kate Wold, chief executive officer and president of CPF. "I look forward to continuing the important work of the board under their leadership.
"I also want to thank Thomas for his guidance over the past four years, which have been some of the most challenging in our 100-year history. His wisdom and dedication to our church and the CPF Board have been inspirational, and we are grateful for his support."
Ballentine, an attorney in private practice on St. Thomas, is a cradle Episcopalian and has served the Episcopal Church on parish, diocesan, and church-wide levels, the release stated.
She has served as a member of the Standing Commission on Constitution and Canons, as a member and chair of the World Mission Committee on Executive Council, as vice president of Province II, and as chancellor of the Diocese of the Virgin Islands for more than 20 years, according to the release.
Ballentine also chaired the task force studying the Anglican Covenant and was a delegate to the Conference of the Americas. She currently serves as the Episcopal Church's lay representative to the Anglican Consultative Council and is serving her second term on the Church Pension Fund Board of Trustees.
She received a Doctor of Humane Letters from Virginia Theological Seminary, a JD from New York University School of Law, and a BA from Augustana College.
Governance of CPF is provided by a 25-member board of trustees, 24 of whom are elected by the General Convention of the Episcopal Church. CPF's CEO and president is appointed by the CPF Board and serves as the 25th trustee, the release stated.
The CPF Board is responsible for oversight of CPG's strategic direction and makes important policy decisions that affect the products and services that CPG offers the clergy and lay employees of the Episcopal Church and its institutions, working closely with its executive leadership team.
Lay and ordained church leaders, experienced investment managers, business and professional leaders, and attorneys are among the professions represented on the CPF Board. Learn more about the leadership and governance of CPF.