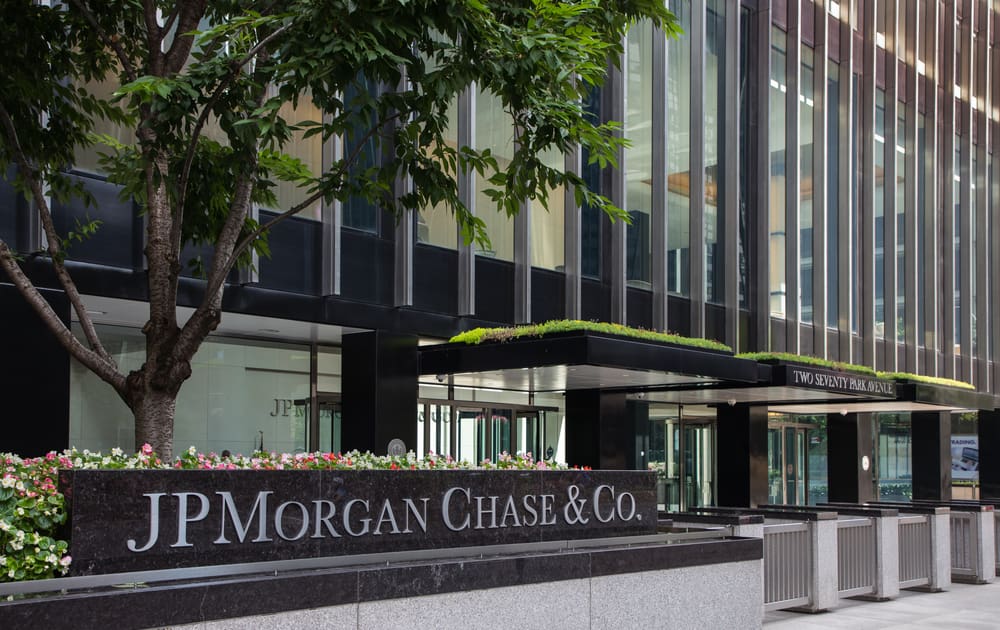 The V.I. Attorney General's Office has filed an amended complaint in its suit against JPMorgan Chase, offering more details about the alleged role one of the bank's former executives played in Jeffrey Epstein's sex trafficking scheme in the U.S. Virgin Islands.
The suit, first filed Dec. 27 in Manhattan federal court, has been consolidated for pretrial purposes with two others brought as class actions in November by an alleged victim of Epstein: Jane Doe 1 v. Deutsche Bank, and Doe 1 v. JPMorgan Chase & Co.
In an amended complaint against JPMorgan filed Jan. 13, Doe asserts that then-CEO of private banking James "Jes" Staley "knowingly and intentionally participated in the Epstein sex-trafficking venture by (among other things) providing the financial underpinnings for Epstein to have ready and reliable access to resources — including cash — to recruit, lure, coerce, and entice young women and girls to cause them to engage in commercial sex acts and other degradations."
Doe — who alleges she was paid $10,000 cash after she was repeatedly raped during a 2007 trip to Epstein's private island estate off St. Thomas — says in her amended complaint that Staley knew "without any doubt" about the wealthy financier's trafficking and abuse of girls.
"Because Staley was generally in charge of Epstein's [Chase] accounts, he also benefited in the receipt of massages, private jet flights with victims or co-conspirators of the operation, and other things of value," Doe's amended complaint says.
It also alleges that Staley continued the relationship after he left JPMorgan in 2013 — the same year the bank terminated Epstein's accounts and entered into a consent order with the Comptroller of the Currency over compliance deficiencies.
Epstein moved his accounts to Deutsche Bank, which in July 2020 entered into a consent order — with a $150 million penalty — with the New York State Department of Financial Services after that body's investigation revealed the bank's failures to monitor Epstein's accounts, according to the V.I. government's amended complaint.
However, "JPMorgan's failures to appropriately monitor Epstein's accounts and comply with federal banking regulations are even more egregious than Deutsche Bank's failures because JPMorgan failed to demonstrate even basic due diligence and continued its relationship with Epstein for over a decade, despite the glaring indications of criminal activity," it alleges.
Doe alleges that Staley's relationship with Epstein continued up until Epstein's death.
A Known Sex Offender  
Epstein, 66, was found dead by apparent suicide in August 2019 in the New York City jail cell where he was being held on federal human trafficking charges after his arrest that July over allegations that dated to the early 2000s, officials said at the time.
The federal investigation began after the Miami Herald in 2018 uncovered details of Epstein's 2008 Florida plea deal on charges of procuring a 14-year-old girl for prostitution. He served almost 13 months in custody — much of it on work-release for 12 hours a day, six days a week at the offices of a foundation he had created — though federal officials had identified 36 girls, some as young as 14, whom Epstein had allegedly sexually abused. As part of the deal he was required to register as a sex offender, which he did in the U.S. Virgin Islands.
At the time of his death his USVI estate was valued at more than $577 million, according to court records in the V.I. government's civil suit against his estate. His primary residence was Little St. James, the private island off St. Thomas where for years he trafficked in girls and young women and ran a complex web of shell companies registered in the USVI that enabled his crimes, those documents allege.
In November, then V.I. Attorney General Denise George announced the government had settled its suit against the estate for $105 million — believed to be the largest monetary settlement in the history of the territory. On the heels of that victory, she filed suit against JPMorgan on Dec. 27, only to be fired by Gov. Albert Bryan Jr. four days later, on Dec. 31.
The amended complaint was filed by Acting Attorney General Carol Thomas-Jacobs on Jan. 10 and says that Staley exchanged approximately 1,200 emails with Epstein from his JPMorgan email account between 2008 and 2013.
"These communications show a close personal relationship and 'profound' friendship between the two men and even suggest that Staley may have been involved in Epstein's sex-trafficking operation. They also reveal that Staley corresponded with Epstein while Epstein was incarcerated and visited Epstein's Virgin Islands residence on multiple occasions," it reads.
None of the emails between Epstein and Staley were flagged in connection with risk reviews of Epstein's accounts, which numbered at least 50 and involved large cash transactions, the amended complaint alleges.
"Moreover, JP Morgan allowed Staley to remain a decision-maker on Epstein's accounts. JPMorgan even tasked Staley to discuss the human trafficking allegations with Epstein," it says.
Significant Cash Payments, Withdrawals
Between 2003 and 2013, Epstein and/or his associates used Epstein's accounts to make numerous payments to individual women and related companies, including numerous women with Eastern European surnames who were publicly and internally identified as Epstein recruiters and/or victims, according to the amended complaint.
"For example, Epstein paid more than $600,000 to Jane Doe 1, a woman who — according to news reports contained in JPMorgan's due diligence reports — Epstein purchased at the age of 14. Like other women who received payments from Epstein, Jane Doe 1 listed Epstein's apartments on 66th Street in New York City as her address, which should have been a red flag to JP Morgan," it states.
Epstein and/or his associates also made significant cash withdrawals and 95 foreign remittances with no known payee, the amended complaint alleges. For example, Hyperion Air, Inc. — the Epstein-controlled company that owned Epstein's private jet — issued over $547,000 in checks payable to cash purportedly for "fuel expenses when traveling to foreign countries," it said.
"Additionally, between January 2012 and June 2013, Hyperion converted more than $120,000 into foreign currency. Many of these cash withdrawals either exceeded the $10,000 reporting threshold or were seemingly structured to avoid triggering the reporting requirement. This is particularly significant since it is well known that Epstein paid his victims in cash," the amended complaint states.
At the time of Epstein's death, Staley was the CEO of Barclays; however, he stepped down from that position in November 2021 after British financial regulators concluded an investigation into his characterization of his relationship with Epstein, it says.
Rich Ties That Bind
The V.I. government's amended complaint against JPMorgan, while still heavily redacted, also offers more detail about the alleged impetus for the relationship, namely the additional business that Epstein could bring the bank thanks to his ties to other ultrawealthy clients.
"In addition to his own holdings with JPMorgan, Epstein helped, or promised to help, Staley recruit ultrawealthy clients to JPMorgan," according to the amended complaint.
For example, in 2004 "Epstein introduced Staley to Glenn Dubin, the owner of Highbridge Capital Management — one of the country's largest hedge funds. This laid the groundwork for JPMorgan's acquisition of Highbridge — a move that helped catapult Staley's career," it states.
In 2011, Epstein and Staley "had extensive discussions regarding the creation of a 'very HIGH profile' donor advised fund ('DAF'), which is an investment account established to support charitable organizations, headed by the [PORTION OF COMPLAINT REDACTED]. Epstein pitched the [PORTION OF COMPLAINT REDACTED] DAF as an 'exclusive club' with a minimum $100 million donation where JP Morgan would act as the Fiduciary," according to the amended complaint.
All of this was happening while "JPMorgan knew — including at the highest level of the bank — that Epstein was an extremely high-risk client. Between 2005 and 2013, there were myriad reports that Epstein sexually abused women and girls. In 2008, Epstein pled guilty to sexual offenses and registered as a sex offender," it states.
"JP Morgan also engaged in a course of conduct aimed at fraudulently concealing its illegal conduct, including by failing to timely comply with federal banking regulations in order to profit from Epstein's wealth and connections," according to the amended complaint.
"The Government of the Virgin Islands did not know, and could not have known, that Epstein used JPMorgan to facilitate his trafficking enterprise or that JPMorgan turned a blind eye to unusual cash transactions and wires and failed to carry out or follow up on basic due diligence and to timely comply with federal banking regulations, as required by the law," it states.
Epstein companies and non-profit organizations that had accounts with JPMorgan included the 2013 Butterfly Trust; Coatue Enterprises LLC; the C.O.U.Q. Foundation; Enhanced Education; Financial Trust Company, Inc.; HBRK Associates, Inc.; Hyperion Air, Inc; JEGE, Inc.; JEGE, LLC; NES, LLC; Plan D, LLC; Southern Financial, LLC; and Southern Trust Company, according to the suit.
"Epstein's lawyer, Darren K. Indyke, and accountant, Richard Kahn, now the Co-Executors of Epstein's Estate, authorized or directed many of the transactions in JPMorgan accounts held by Epstein or related entities," it states.
The Southern Trust Company was central to the V.I. government's civil suit against the Epstein estate.
Under the territory's Economic Development Commission, Southern Trust received a 10-year package of economic incentives starting in 2013 that included a 90 percent exemption from income taxes and 100 percent exemptions from gross receipts, excise, and withholding taxes in the Virgin Islands. However, it was little more than a shell company for Epstein's sex-trafficking scheme, then-Attorney General George alleged in a second amended complaint filed in the government's suit against the estate just hours before a settlement was announced Nov. 30.
As part of the settlement the estate will refund some $80 million it reaped from those tax benefits.
Banks Deny Responsibility
The V.I. government's suit alleges JPMorgan violated the Trafficking Victims Protection Act, the Virgin Islands Criminally Influenced and Corrupt Organizations Act, and the Virgin Islands Consumer Fraud and Deceptive Business Practices Act.
Thomas-Jacobs is seeking penalties and damages to the V.I. government and for the bank to turn over its profits from its business with Epstein and his companies.
Both JPMorgan Chase and Deutsche Bank have filed motions seeking to have the Doe cases dismissed "for failure to state a claim for relief."
The banks have argued that while they believe Doe and others like her are entitled to justice, they did not have a duty to non-customers to protect them from customers' wrongful acts and that the lawsuits are directed at the wrong party.
JPMorgan Chase had not responded to the V.I. government's suit as of Friday.