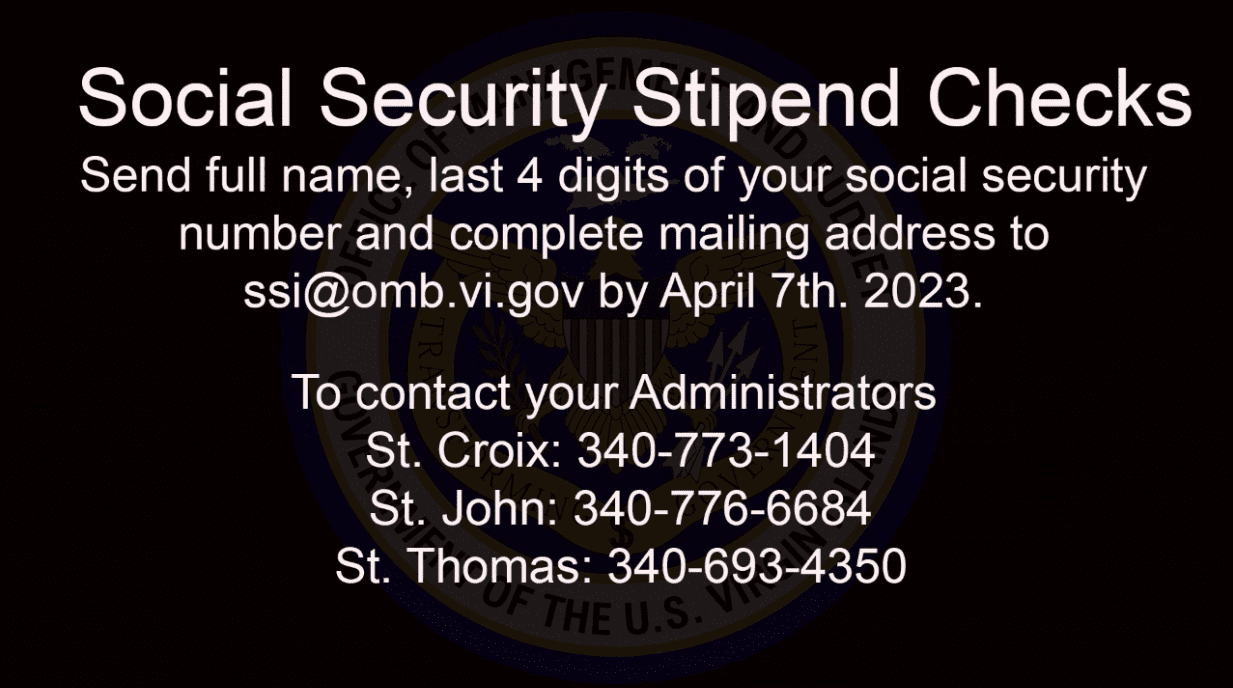 Government House Communications Director Richard Motta announced a new process for Social Security recipients to receive stipend checks — issued by the V.I. government in November — at the administration's weekly media briefing Monday.
Because some addresses were missing or incomplete, those who haven't received a check and whose name is on a list in the V.I. Daily News should email ssi@omb.vi.gov with their name, mailing address and last four digits of their Social Security number by April 7. After April 7, the checks will be voided.
People without an email can call their island administrator on St. Croix at 340-773-1404, on St. Thomas at 340-693-4350, and on St. John at 340-776-6684.
Through the American Rescue Plan Act, each of 22,000 Social Security beneficiaries was to receive $500 to alleviate the impact of the COVID-19 pandemic, Gov. Albert Bryan Jr. announced the first week in November.
On Nov. 9, hundreds of senior citizens stood in lines, in the sun, outside Viya on St. Croix and Schneider Regional Medical Center on St. Thomas and waited for hours. The distribution process by the Office of Management and Budget was deficient and was suspended before the end of the day.
Later, an announcement was made that the checks would be disbursed using a drive-through procedure at Sunshine Mall on St. Croix. On St. Thomas, OMB would continue distributing checks at SRMC and on St. John, seniors could collect funds at the island administrator's office. OMB also distributed checks by mail after seniors emailed their information.
In January, Bryan acknowledged there were still many Social Security recipients who had not received the stipend, mainly because names were missing from the 2020 Social Security list. At that time, Bryan said checks should be picked up at OMB.
Also, during Monday's press briefing, Dr. Esther Ellis, the territory's epidemiologist, said the cases of COVID are "turning downward." Currently, there are 16 infections in the territory, with eight on St. Thomas, seven on St. Croix and one on St. John. Three people are hospitalized on St. Thomas.
Free COVID testing is still suspended but vaccinations continue to be available on all three islands. On St. Croix, the vaccine is available on the second floor of the Caribe Home Center, Monday through Thursday, from 9 a.m. to 3 p.m. On St. Thomas, shots are given from 9 a.m. to noon, Monday through Thursday at the Schneider Regional Medical Center. St. John residents can access the vaccine at the Port Authority lot on Wednesdays from 1 to 4 p.m.
"If you tested negative on a home test and still feel sick, seek a test through a provider or laboratory. Anyone testing positive, upon confirmation at a provider or laboratory, qualifies for anti-viral medication that can lessen the severity of the illness, possibly shorten its duration and avert hospitalization," Ellis said.
Ellis also talked about a pilot program through the V.I. Department of Health for several schools to track influenza-like illnesses. The schools are Claude O. Markoe, Good Hope Country Day School, Gifft Hill, Julius E. Sprauve, Lockhart Elementary and the V.I. Montessori School and Peter Gruber International Academy. The program offers free Flu-A, Flu-B, RSV and COVID-19 testing with parental permission. Parents will be able to access the results within 24 to 48 hours through a link to mobile phones or emails.
DOH also is working with schools to gather information about respiratory, gastrointestinal and other illnesses using school absenteeism data. Ultimately, the data will be used to pinpoint prevention and treatments, according to Ellis.
Also, DOH distributed 17,000 free home kits to students' homes.
The epidemiologist announced that there have been no cases of M pox, or monkeypox, found in the territory as of March.