The Good Samaritan Foundation of Haiti has been providing long-term aid to rural Haiti for the past 20 years. Quality education, food security, sustainable agricultural programs, and the microloan project, among others, have nourished the welfare of the Haitian community.
GSF was founded in 2007 by Michael Gardner and president and co-founder Jean Phelix Joseph with the dream of creating a free school on the remote island of ile a Vache, Haiti.The small island with a population of 15,000 lies off the southern coast of the mainland of Haiti. 
The school GSF established in the village of La Hatte serves 350 students, employs full-time teachers, and provides a nutritious meal to each student daily.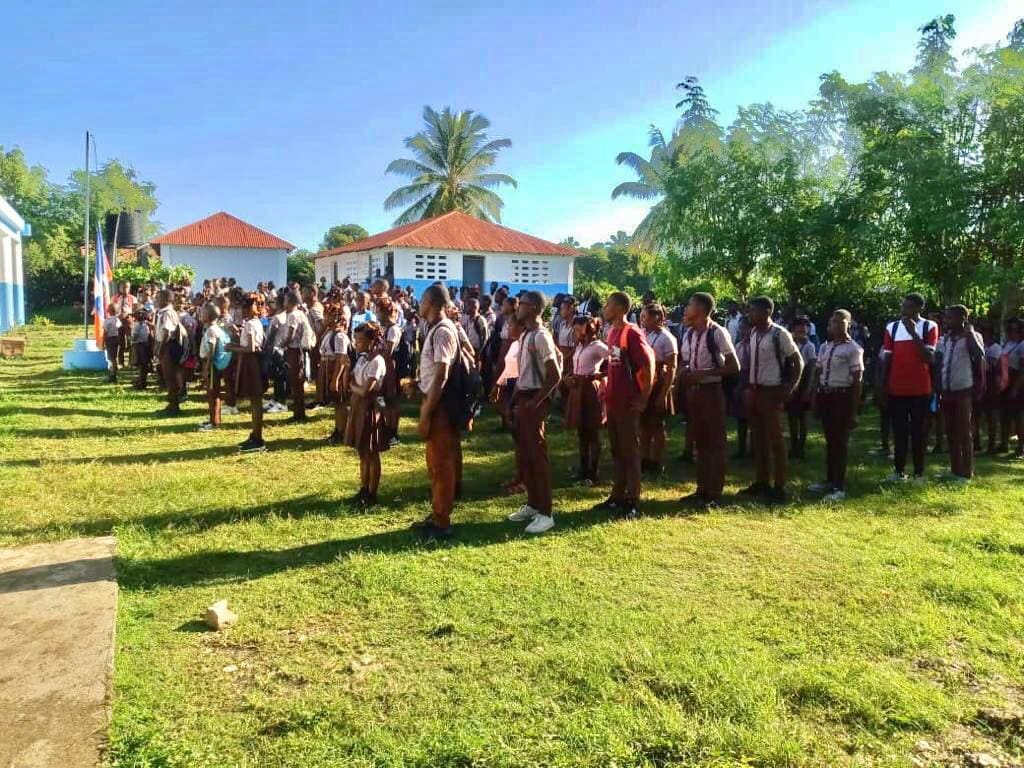 A second school near Petit Goave serves an additional 325 students. GSF's vision is to provide Haitian children with the skills and opportunities necessary to live healthy, productive lives in their own communities.
Joseph was born on Hatte, ile a Vache, finished his studies in Haitian law, and is the Secretary of the Committee General for the Development of ile a Vache. He manages GSF day-to-day operations and is responsible for all reports and banking, overseeing the running of the school and other programs.  
Gardner, also known as Michael Beans, or just Beams, began his journey from the Great Lakes of Michigan to the Caribbean as an apprentice treasure hunter, turning the wooden hulls of shipwrecked vessels into beautiful handmade furniture for resale to the nautical collectors market. 
Gardner's humanitarian endeavors over the years have been a vocation that led to the establishment and operation of GSF. He is recognized many times by Rotary Clubs, both on Tortola and stateside. He is a Paul Harris Rotary Fellow. Gardner is a folk singer who performs and fundraises at Leverick Bay on Virgin Gorda every year from December to May.
Executive Administrator Mandy Thody grew up in England and South Africa. She spent many years sailing and living on St. John and St. Croix. She is well-known in the artist community as a painter and sculptor. 
Thody gained experience working for organizations all over Haiti before and after the earthquake, adopted a school (IMECT) that had collapsed completely in the earthquake, rebuilt it, and has run it since 2010 with donations from friends and fellow artists in the U.S. Virgin Islands. She is online daily, working directly with the staff in all GSF programs in Haiti, plus working on the budgets and periodic reports.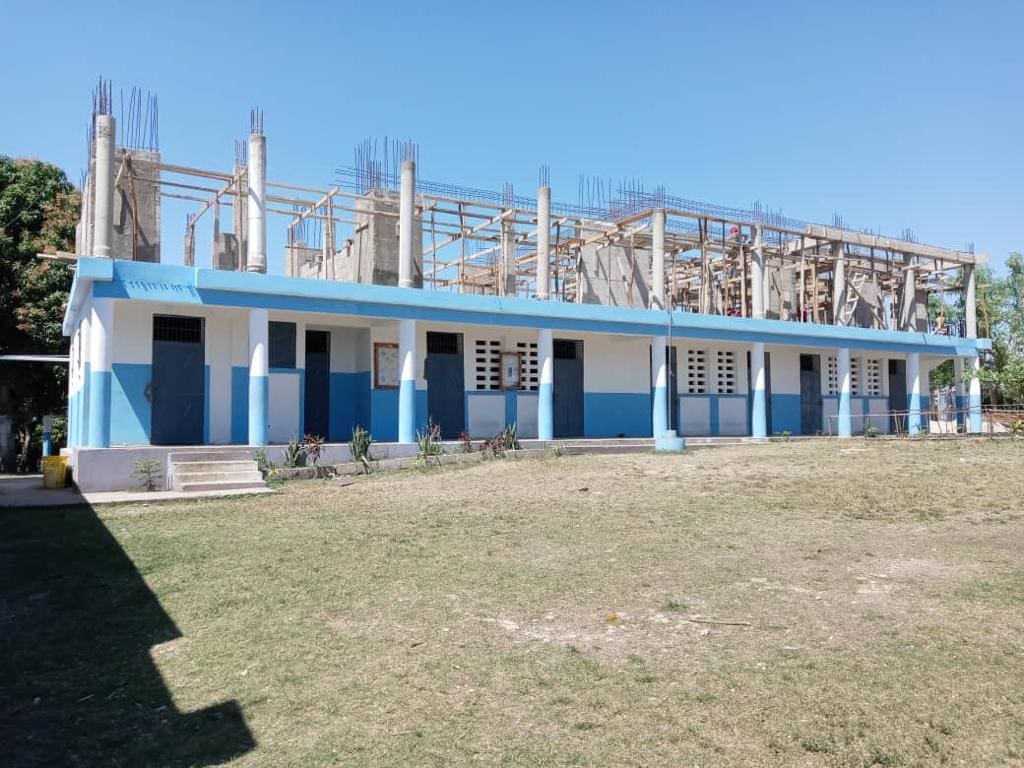 David Hensley is an assistant for the GSF and is based on St. Croix. He assists Thody with administrative and financial tasks and provides agricultural advice to the GSF Agriculture Team in Haiti.
Hensley works as a researcher in agronomy and soil science at the University of the Virgin Islands School of Agriculture, where he is also an instructor in agroecology.
In 2014, Thody expanded and streamlined GSF and combined it with her former group, 100% for Haiti. She speaks French and Creole and makes frequent trips to GSF projects, starts new initiatives and develops programs. Under Thody's leadership, GSF has become one of the most respected and fastest-growing development groups working in the areas where the organization operates.
According to the GSF website, the organization is committed to local community agriculture, thus eliminating malnutrition in their students and improving the diets of people in their communities. Their agricultural program began in 2015 and has continued with six growing food fields and two hen houses. They are growing the foundations for a sustainable community on the island of ile a Vache.
"The two schools are our flagship education programs with almost 600 students, a daily lunch program, and many extracurricular educational activities. Our community support programs for people of all ages help these communities achieve economic stability," Thody said.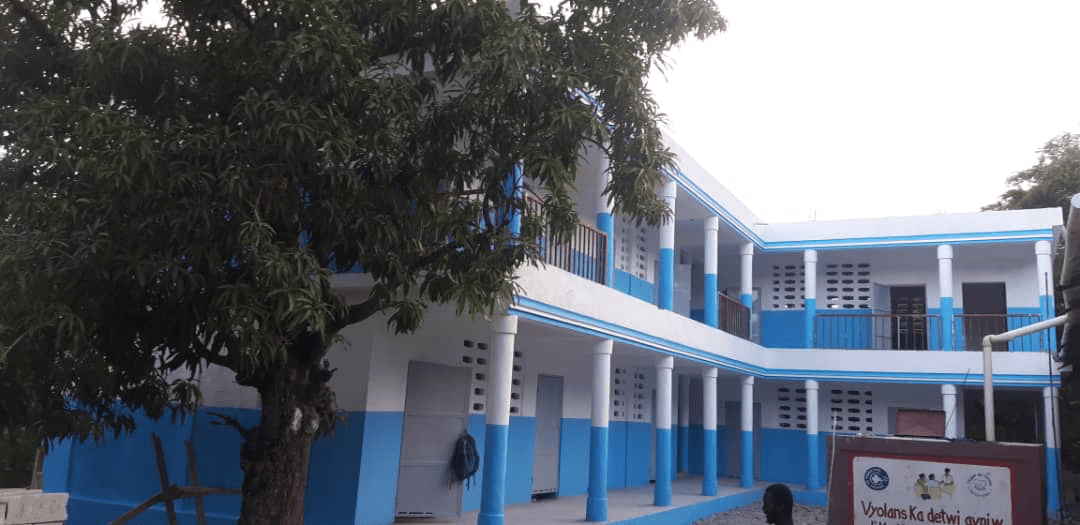 Our program for Malnutrition for young mothers, pregnant women, and babies is the "Canary in a Coalmine," serving as a warning for the famine that Haiti has begun to experience. We have 25 mothers and 50 children under supervision in a clinic on the mainland. They will be coming to do a larger clinic at our school in about three weeks. They will see the most vulnerable first – small children, sick people, elderly people, and those with nutritional issues, Thody said.
"Until now, Thody said, "we had six to 10 years of absolutely zero malnutrition in our area." We've always worked on that and were always very proud of that. We've helped feed all the vulnerable, aged, handicapped people and the children."
Thody explained because of the increasing danger of travel, she has not been to Haiti for 3 ½ years. She runs the organization from her residence in Galicia, Spain, and from St. Croix.
The last missionary aeroplane organization pulled out from Haiti in late February. Even the missionaries with private planes, who are pretty much daredevils, are not flying anymore, she said. Major airline flights are still going to Haiti. One of the most dangerous parts of the country is right outside the airport. It's not worth the risk, Thody added. 
"We are incredibly lucky. The dedication of the staff of GSF is what keeps everything going so well.  It's running better than any other organization I know of," Thody said.
The GSF Micro Credit program is the only remaining organization of its kind in southern Haiti. It runs like clockwork, Thoday said. Up to 600 loans are given to people in the community all the time. 
"We started only with women's groups. Now we have two groups of fishermen and other men who do related work like boat repair. This program enables people to have micro businesses and live a normal life," Thody said. It pays for their children's school fees and uniforms and other extras. 
A core group of women will get together in a different village and join the Micro Credit. "We do training in basic literacy and mathematical skills, running a business skills, and an understanding of how the Micro Credit works. When we have sufficient funds, we set them up with a new group. Each village is in a separate group. The fishermen are in a separate Micro Credit group that is island-wide rather than one village." 
Thody said, "The success rate is phenomenal." There is commitment within the group and the secretary of the group keeps them on track. The women get advice and support from each other. 
The interest from the loan does not come out. It goes back in and pays the salary of the secretary and the banking fees. And also pays for one or two new members each year, Thody said.
With inflation escalating in Haiti, Thody pointed out that food and medicine are the basic needs. It has become practically impossible to ship in goods of any kind, and have them reach our area. Monetary donations are greatly appreciated via the website, Facebook page and PayPal. 
David Hensley is on St. Croix and he makes frequent visits to deposit funds locally that are wired to Haiti. Everything is done with complete transparency. 
The recent premiere Caribbean screening of Madan Sara at the Caribbean Museum for the Arts was a fundraiser for GSF, with thanks again to the museum, Street Team Productions and Lulaine Childs. 
For a visual look at the program, click here.
For more information, visit goodsamaritanfoundationofhaiti.com.