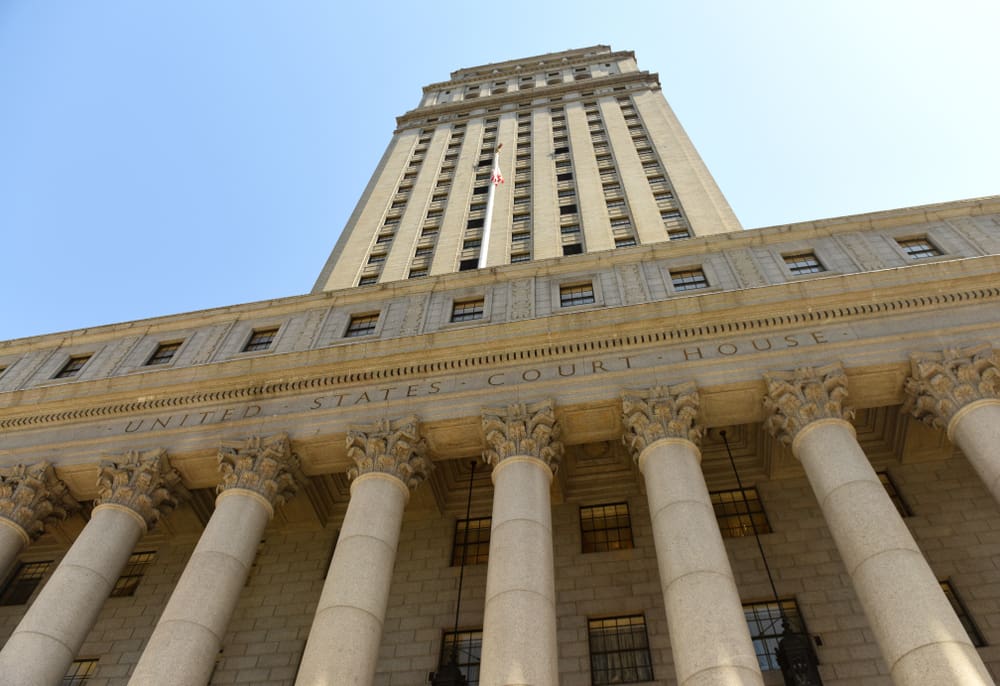 JPMorgan Chase may depose former V.I. Attorneys General Vincent Frazer, Carol Thomas-Jacobs, and Denise George as it defends against the V.I. government's lawsuit alleging the bank violated the federal Trafficking Victims Protection Act in its dealings with the late disgraced financier Jeffrey Epstein, who was a client from about 1998 to 2013.
Judge Jed Rakoff of Manhattan federal court, where the case is being heard, issued the order Thursday after JPMorgan filed a heavily redacted letter brief complaining that witnesses the government provided for so-called 30(b)(6) depositions were not adequately prepared to answer questions on prearranged topics.
"Four days before the close of fact discovery, and following months of negotiation regarding topics, the USVI Government presented two witnesses to give 30(b)(6) testimony across six topics. It soon became apparent from questioning the witnesses that USVI had failed to take even the most basic steps to prepare its designees," JPMorgan wrote in its brief to the judge.
"They could not provide answers to simple questions and acknowledged that they were unprepared. Recognizing its failure, USVI has offered the partial remedy of designating a replacement witness on only a subset of the topics and offered to pay costs of only the videographer and court reporter for that redeposition but not attorney's fees," according to the brief.
A 30(b)(6) witness deposition differs from a regular deposition in that it requires the cooperation of both parties. The side doing the questioning makes clear what they want to know and provides a list of topics ahead of time, and the other party is responsible for ensuring their witness is adequately prepared.
In this case, it appears from JPMorgan's brief to the judge that it was questioning employees of the V.I. Justice Department who were charged with monitoring the territory's sex offenders, including Epstein, who pleaded guilty to procuring a minor for prostitution in Florida in 2008 and was registered as Tier 1 offender in the USVI.
"Having failed to prepare its designee by not gathering information from the relevant individuals with knowledge, and because there is no guarantee that re-deposing another sex offender monitoring employee will yield any different of a result with respect to knowledge possessed by these former employees, the appropriate remedy here is further depositions of the individuals who the USVI's designee testified possess the relevant information," JPMorgan wrote in its brief.
"We welcome the opportunity for the former attorneys general to explain the rules and statutes they applied and the limits on their authority," V.I. Attorney General's Office spokesperson Venetia Velazquez said Friday. "Law enforcement in the USVI would have been in a much stronger position to take action on Jeffrey Epstein had JPMorgan Chase executives shared the detailed information they had on Jeffrey Epstein's activities with the proper authorities as required by federal law to identify financial signs of human trafficking."
The V.I. Attorney General's Office filed suit against JPMorgan in December, claiming it violated the Trafficking Victims Protection Act in its dealings with Epstein, a multimillionaire who had some 50 accounts with the bank.
Last week it released a trove of newly unsealed exhibits alleging that JPMorgan's top brass continued to court Epstein for his money and ties to some of the world's wealthiest individuals and failed to alert authorities about suspicious cash transactions even as the bank's compliance arm warned that he was a growing liability as a felon under investigation for sex crimes.
While he had luxury vacation homes in Manhattan, New Mexico and Paris, Epstein's primary residence was Little St. James, his private island estate off St. Thomas where for years he trafficked in girls and young women and ran a complex web of shell companies registered in the USVI that enabled his crimes, court documents have alleged.
Epstein, 66, was found dead by apparent suicide in August 2019 while in detention in New York on federal human trafficking charges. He had pleaded not guilty.
JPMorgan asserts "that any damages suffered by USVI should be barred or reduced in accordance with the doctrines of comparative and contributory negligence or fault," given the territory's 20-year history "of enabling Epstein's criminal activity" by awarding his companies EDC benefits, accepting his political and charitable donations, and making sure "that no one asked too many questions about his transport and keeping of young girls on his island."
According to exhibits filed by JPMorgan, Epstein received more than $300 million in EDC tax incentives over roughly 20 years, among other benefits.
On Thursday, Rakoff ruled that the USVI must present an adequately prepared witness to discuss two topics listed by JPMorgan. One concerns the relief the government sought in its lawsuit against Epstein's estate, which was settled in November for $105 million, a description of damages claimed, and how it plans to use the funds. The other topic concerns the government's knowledge of former First Lady Cecile de Jongh's long employment with Epstein's Southern Trust Company, which received EDC benefits while her husband was governor.
Rakoff also ruled that JPMorgan may depose Frazer, Thomas-Jacobs and George concerning Epstein's registration as a sex offender and any monitoring that occurred as a result of that registration.
Frazer was attorney general during the administration of Gov. John de Jongh Jr. and granted Epstein wide latitude under the rules of the territory's sex offender registry when pressed by Epstein's lawyers to do so, according to documents and exhibits in the case.
George brought the suit against Epstein's estate and after it settled in November, subsequently sued JPMorgan on Dec. 27. She was fired four days later by Gov. Albert Bryan Jr., who has said he was blindsided by her actions.
Bryan was head of the EDC board when Epstein's Southern Trust Company was granted benefits in 2013 and was deposed by JPMorgan on June 6.
Thomas-Jacobs was acting attorney general before George's appointment in 2019 and again upon George's departure in December. She was confirmed to a Superior Court judgeship by the V.I. Legislature in April.
Rakoff denied JPMorgan's request to question the former attorneys general on two other topics, including about any investigations, audits or reviews of the government's failure to identify or stop Epstein's alleged sex trafficking, and any investigations or other steps by the Economic Development Authority to monitor Epstein or his companies prior to Dec. 1, 2020.
The judge also denied JPMorgan's request that the government cover its attorney fees for the new depositions. The V.I. Attorney General's Office filed a brief opposing the bank's requests but it remains under seal.
Rakoff ordered that all depositions should take place by July 14. Unless a settlement is reached, the case is scheduled to go to trial on Oct. 23.