Some 250 students in schools on St. Thomas-St. John recently danced their way to good health in the hit stage production "My Plate! The New Food Guide Musical" that promotes healthy nutrition and exercise at schools across the country.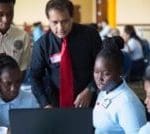 Scotiabank International has invested $2,000,000 in Junior Achievement's (JA) project Road to Success, which is one of the largest organizations in the world devoted to preparing youth to be successful in today's global economy.
Nine students have completed the second Business Design Grants Program (BDGP) at UVI, which is the first step on the road to victory in the annual 13D Entrepreneurship competition. They will now compete for $60,000 in cash to launch their viable business proposals.
UVI Little Theatre will present six performances of "Strong Currents" – a tribute to Austin "Tom" Clarke on whose novels the play is based. It is written and directed by David Edgecombe.
The University of the Virgin Islands (UVI) is celebrating its Emerald Anniversary with a revolutionary philanthropic initiative: "55 for 55: The Great Alumni Challenge!"
The Virgin Islands' top men and women will compete in the St. Croix Central High School (CHS) Varsity Basketball Tournament on Feb. 16 - 19.
Renee Charleswell, Ph.D., director of the State Office of Special Education, informs parents and guardians of children with disabilities, between the ages of three through 21, of the Annual Parental Survey to be conducted territory–wide beginning Feb. 21.
The Virgin Islands Board of Education Governing Board will convene in a regular board meeting from 3:30-7 p.m. Feb. 17, in the VIBE office...
The Caribbean Writer has announced its call for submissions for Volume 32. It is seeking works that explore the many variations of the theme:...
Report cards will be distributed to Charlotte Amalie High School students at the end of the school day on Tuesday, Feb. 14.