The Center for Marine and Environmental Science (CMES) at UVI has assumed responsibility for the two branching coral nurseries on St. Thomas.
There are no fireflies here in the Virgin Islands, but there is the incredible Salt River Bioluminescent Bay on St. Croix.
Join researchers on Earth Day, April 22, at UVI's Center for Marine and Environmental Studies to learn about coral gardening and help build a "coral tree."
Join UVI Master of Marine and Environmental Science graduate students for an evening of "Corals & Cocktails" on Thursday, April 20, at Iggies Beach Bar.
During April, UVI alumni, students, faculty and staff will be showcasing their Buccaneer spirit with events in the territory, on campus and online.
This tournament has been successfully used to showcase the best high school basketball players in the U.S. and British Virgin Islands since its inception.
"In the spirit of the Alfred Heath Lecture Series and in the essence of the Centennial Celebration, we are highlighting notable Virgin Islands families and their history."
The following is a compilation of events for April at the University of the Virgin Islands on both St. Thomas and St Croix campuses.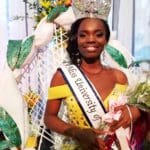 Angelique Flemming was crowned Miss University of the Virgin Islands 2017-2018 at the 37th Annual Miss UVI Ambassadorial Competition held on Saturday, April 8
The UVICELL Center and Archibald Energy Group (AEG) LLC, an energy-consulting firm, will be offering a 40-hour solar training program.