This tournament has been successfully used to showcase the best high school basketball players in the U.S. and British Virgin Islands since its inception.
The 15th Annual Against the Tide in the Virgin Islands: Swim for Breast Cancer was held on Saturday, April 8. The following are the results.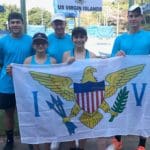 The 2017 Junior Davis Cup and Junior Fed Cup just ended in El Salvador, and once again Virgin Islands boys made a strong showing. This was the first year V.I. girls competed.
There are basically three serviceable tracks in the V.I., and of the three, none are usable for training or competition for the 2017 season.
Twelve schools participated in the 2017 Rotary Sunrise Kids Triathlon on Sunday, April 2.
Several classes were too close to call going into the final day of racing at the 44th St. Thomas International Regatta Sunday. Leads shifted back and forth throughout the three days of racing.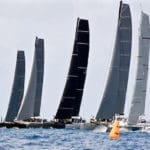 The St. Thomas International Regatta got underway Thursday with the Round the Rocks Race, as 23 boats took their start on a 21-nautical mile course that circumnavigated the U.S. Virgin Island of St. John counter clockwise.
The VI History Month "Historic Walkabout" (the step-street walk/run) scheduled for Saturday, March 25, has been postponed.
Denmark-Virgin Islands Transfer Marathons concluded the St. Croix part of the marathon series last Sunday, March 12. There were some spectacular runs.
The Division of Special Education is seeking children and adults with intellectual disabilities to participate in the USVI Special Olympics Area Games set for March 25 on St. Croix and May 6 on St. Thomas.