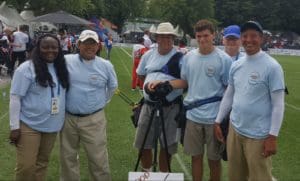 The Virgin Islands Archery Federation sent four athletes to the Netherlands to compete in the 2019 World Archery Championships, where some of them scored personal bests.
The event is a biennial tournament that is the largest nation-representing archery competition in existence, with over 600 athletes in attendance from more than 50 nations.
The best performing Virgin Islander was Nicholas D'Amour, who scored a personal best 640. That score is higher than the Olympic qualifying standard and is equal to the winning score in the 2008 Olympics.
"Nicholas shot an outstanding tournament, and his qualifying score puts the Virgin Islands in an excellent position to pick up a slot in the next Olympic qualifier," said the team's coach Angelo Ruiz.
Bruce Arnold also scored a personal best, recording a score of 615.
"That D'Amour and Arnold were able to score personal bests at a competition of this caliber is an excellent indicator that VIAF archers possess the mental toughness required to compete along with the very best archers in the world," Ruiz said.
Anne Abernathy, a five-time Olympian, and William Coles rounded out the V.I. team that competed in the competition.
All four Virgin Islanders competed in Olympic Recurve archery, a challenging discipline that requires an athlete to hold the full weight of the bow in their fingers without the aid of a mechanical release or load-bearing pulleys, and is the only type of archery allowed in the Olympic Games.
It was the first time since 2015 that the Virgin Islands has sent a team to the World Championships, and the first time ever the V.I. has been able to have a full men's team compete.
It is a positive start in the Olympic qualifying cycle for the Virgin Islands, with next event for Anne Abernathy, Bruce Arnold and Nicholas D'Amour to be the Continental Qualifier in Monterey, Mexico from March 23-29, 2020.
D'Amour will also compete in the University Games in Naples, Italy from July 3-14.