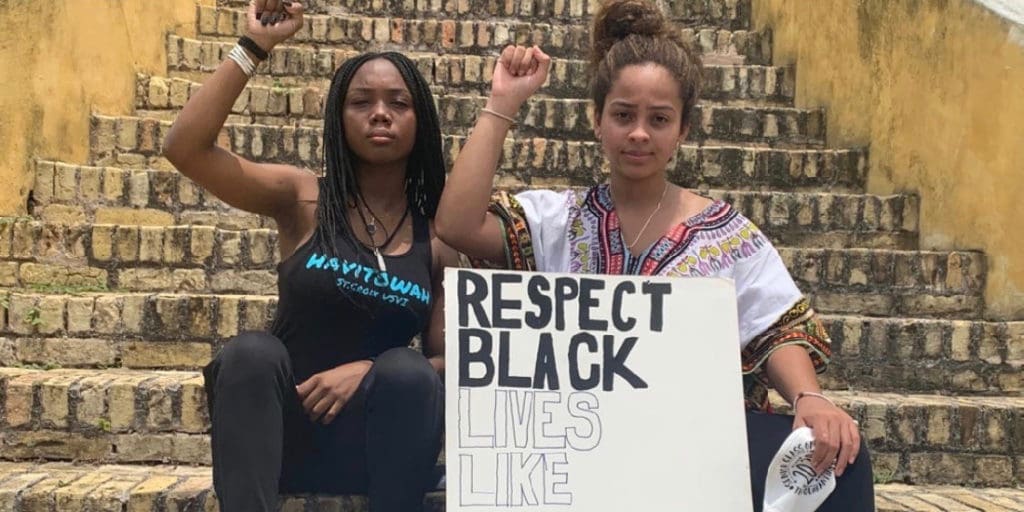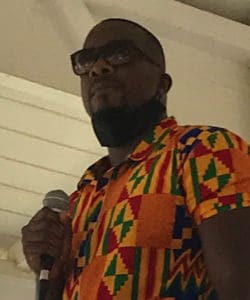 Groups of Black Lives Matter supporters filled the lawn surrounding the bandstand Saturday morning wearing T-shirts and carrying signs to honor and celebrate the life of George Floyd, and the many other Black people who have lost their lives to police brutality.
Co-organizers and recent graduates of Good Hope Country Day School Savanna Capdeville and Dominique Elizee brought their peers together and arranged the event to protest the inequities happening all over America and to give the Virgin Islands community the opportunity to come together and join in the peaceful protest.
Capdeville opened the event by telling the crowd, "Today we are standing in solidarity with our sisters and brothers all across America. It is not enough to empathize, we must speak out against injustices and face uncomfortable truths, demand changes in policies and practices and not give up until every Black person in this country is treated with the same respect and dignity promised to all Americans."
"Racial inequalities are found across every system and they are so internalized that society works hard to maintain them at every level," she said. "These inequities feed one perception and impact people whether we want to see this truth or not," Capdeville continued.
Capdeville's classmate and team organizer Layla Bradshaw was introduced as a powerful activist and writer who fights for justice online and in the classroom. She spoke about the systemic racism that affects the Black community, and she supports those in the states who advocate for a complete overhauling of the police and judicial system.
There were nine minutes of silence to honor the life of Floyd.
St. Croix Central High School English teacher Joseph Bess reached out to the groups sitting under trees and around the wide expanse of the lawn.
"If you are on the side, if you are in the back, if you do not have a health impediment, move near your people in the sun. Your people did not have a choice but to stay in the sun. You cannot be comfortable in your protest," he said.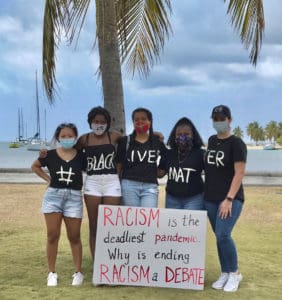 "Let us honor the men and women who had no choice but to sit in the sun and work in the fields. George Floyd was not comfortable toward the end of his life," Bess said.
As Bess continued to tell the crowds not to be comfortable in their protest, they moved from their places and came out into the sun.
Bess compared Floyd asking for help from the police officer who knelt on his neck to the people of color who have had a knee on their neck, holding them down for 400 years.
He said Black and brown people have been asking for help – those that are purposefully placed into poverty, the public schools in inner city neighborhoods who have a lack of resources and the disproportionate number of single-parent households.
"George Floyd is the symbolic truth that for centuries Black people have called out for help."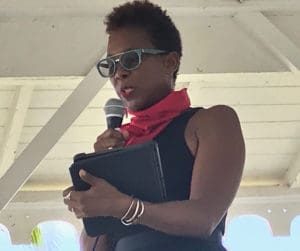 LaVaughn Belle, the co-creator of the "I Am Queen Mary" statue, spoke about the spaces where they sat and the surrounding areas. Belle called attention to the African people who were brought against their will to our shores and enslaved.
"I see the thousands who came across this field limping, skin full of sores as they laid in their own urine and blood, hair matted, eyes squinting, wondering how they survived the most hellish journey of their lives and for what purpose were they brought here."
Belle pointed out the evidence of their journey – showed the area of the slave auctions, the whipping post, and she spoke of the dungeons in the fort.
She said communities have begun taking down the statues of oppression.
"These systems and structures took centuries to build, and to unravel them may take centuries more. We are the imagined possibility of those who walked right here across this land and our imagination is our most powerful tool, the most powerful testament to our humanity," she said.
"As we stand in solidarity to the burning down of all oppressive systems, we stand with a hopeful vision of what we will build in its place."
Belle's nine-year-old daughter Ochin Diaz performed the song, "I'm Alive," prompting community activist Tahirah Abubakr to say, "It's a good thing that people are coming together making their voices be heard. We haven't come up with a plan," she said. "We need to sit down and move forward globally and locally."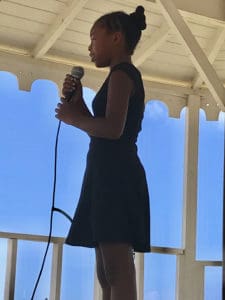 "We can talk about dismantling our racism, but we must dismantle our inner racism," she said.
Abubakr said she believes our elder wisdom is broken down from our community, and we must weave that into place, back into our culture, she said.
She encouraged everyone to stand up and place their hand over their heart and follow her in song:
When I say yes to the beat in me, I can set my spirit free.
When I say yes to the beat in me. I can set my spirit free.
I can hear my heart beat.
I can hear my heart beat.
Beating to the rhythm of the freedom song.
Beating to the rhythm of the freedom song.
Elizee said she felt a little lost when she witnessed all the protests going on in the states.
"I wanted to be out there protesting. When Savanna reached out to me, I was so down. So ready to do this," she said.
Capdeville spoke about her initial feelings of moving forward with a BLM Solidarity event.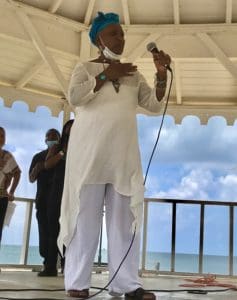 "The movement stateside was so big, and St. Croix could not be silent," she said. "I spoke to Dominique about joining me to get it off the ground. She was in. We started planning within a week and a half. We got the National Park Service permit, speakers and performers. It was amazing, yet I was nervous. GHCDS teachers Suenita Banwaree, Lea Wilson and Sonja Sundaram were powerful."
Capdeville thinks about the reality of the BLM event: This was organized by young Black women, which she said was incredible.
"I really hope this isn't the end. This is a huge issue. We should keep going. 'Black Lives Matter Always.'"
Speakers and performers were:
Layla Bradshaw
Sayeeda Carter
Tahirah Abubakr
Alice Jaffurs
Sergeant Malik Carlos
Kai Neilsen
Joseph Bess
Niarus Walker
Anthony Mardenborough Jr.
Dr. Jay Williams
LaVaughn Belle
Ochin Diaz
Dominique Elizee
Kelsey Bhola
Foxy Wallace
Seanise Jeffers
Iyah Feinix Blaze
The organizers thanked the National Park Service, Melanin Magic, Facebook live viewers, KDM, Daily News and the Source.