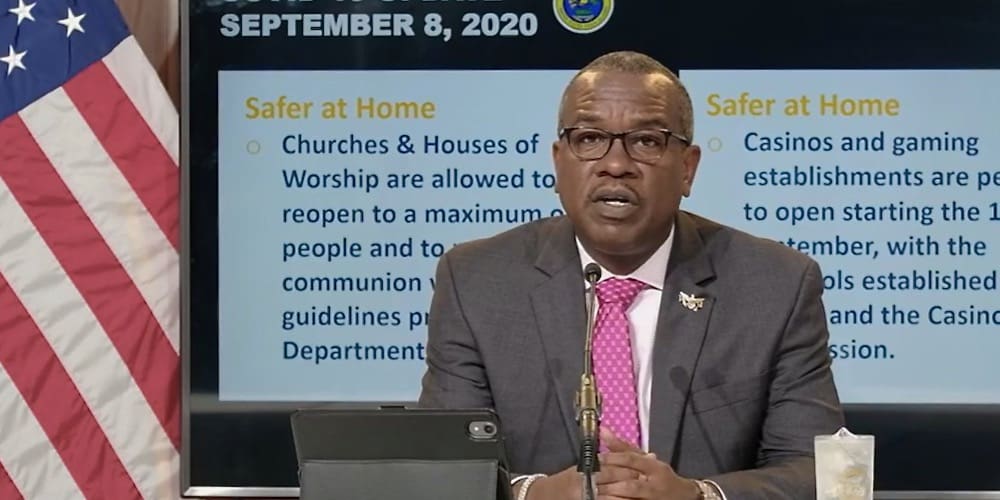 The U.S. Virgin Islands returned to the "safer at home" protocols on Tuesday, easing restrictions on non-essential businesses, restaurants, beaches, churches, private and parochial schools, but keeping in place restrictions on bars and hotel check-ins for leisure travelers.
"Safer at Home" supplants the more restrictive "Stay-at-Home" protocols that had been in effect.
The V.I. also added new testing requirements for visitors, Gov. Albert Bryan Jr. said Tuesday in a news conference updating the territory's status.
According to Bryan, the government is working to have testing available at airports within the next month. He announced visitors and residents traveling back home will be required to produce a negative COVID-19 test before being allowed to enter. Without a test, travelers will have to self-quarantine for 14 days, he said.
Meanwhile, non-essential businesses are allowed to open, along with restaurants for dine-in service, though they cannot serve alcohol at bar counters, cannot have more than six people per table, must have seating six feet apart, must require employees to wear face coverings at all times and must require patrons to wear face coverings when not seated at a table.
Speaking at Tuesday's news conference, Bryan said even going to the bathroom while dining out poses a risk and patrons should wear their masks after leaving the table and when heading back to eat.
Under "Safer at Home," Bryan said:
– Churches and houses of worship may reopen with a maximum of 50 people in attendance and will be allowed to serve communion according to V.I. Health Department guidelines.
– Casinos and gaming establishments may reopen beginning Sept. 19 under protocols established by the Health Department and the Casino Commission.
– Private school campuses are allowed to reopen in accordance with Health Department guidelines.
– Beaches will close at 4 p.m. on weekends and holidays to prevent gatherings and congregating.
New hotel and Airbnb check-ins are also prohibited until Sept. 19, though locals seeking a "staycation" are allowed to book a room, as long as they can present valid V.I. identification.
"We are moving toward this new phase because our locally-owned small businesses cannot sustain a continued indefinite closure," Bryan said. "I have to remind the public that since I last addressed you that we have lost four more Virgin Islanders to this virus. It remains deadly and it remains serious. Although we are now in week three of the moratorium on leisure guests, the virus is still being transmitted through person-to-person contact. This continues to be the most prevalent mode of transmission for the virus. We must all commit to doing our part to keep each other safe."
Also speaking Tuesday, Territorial Epidemiologist Dr. Esther Ellis reminded residents that infection most commonly occurs after being exposed to someone with the virus, and by not wearing a mask while around them. Symptoms can present between three to five days after, for up to 14 days; a COVID-positive patient would also not be considered "recovered" until 10 days after infection, or if they have been fever-free for 24 hours, whichever is the longest.
Based on two cases recorded over the past two months – one in Korea and the other in the United States – reinfection is possible at least four months after recovery. While a vaccine is expected in late 2020, scientists are still debating whether multiple doses will be needed or if a yearly vaccine, like the flu, will be better.
Until then, the best approach is to follow public health and safety guidelines, Ellis said, adding that while the territory is seeing an overall decrease in positive cases, there have been higher rates in construction industry workers.
Currently, 17,459 individuals have been tested for the virus, 16,253 of which are negative and 1,191 are positive. There have been 18 deaths to date, including one over the weekend who Bryan said has been on a ventilator since July. Currently, there are two COVID-19 patients at St. Croix's Gov. Juan F. Luis Hospital and seven at Schneider Regional Medical Center on St. Thomas.
Tuesday, Bryan said all restrictions are "fluid" and subject to change based on the conditions "we are facing day by day."
"What we do have is a simple recipe to success that we have repeated over and over again: wash your hands, wear masks when out and have to interact with other human beings, social distance as much as possible and stay at home if you feel sick. In fact, stay at home as much as you can," he said.