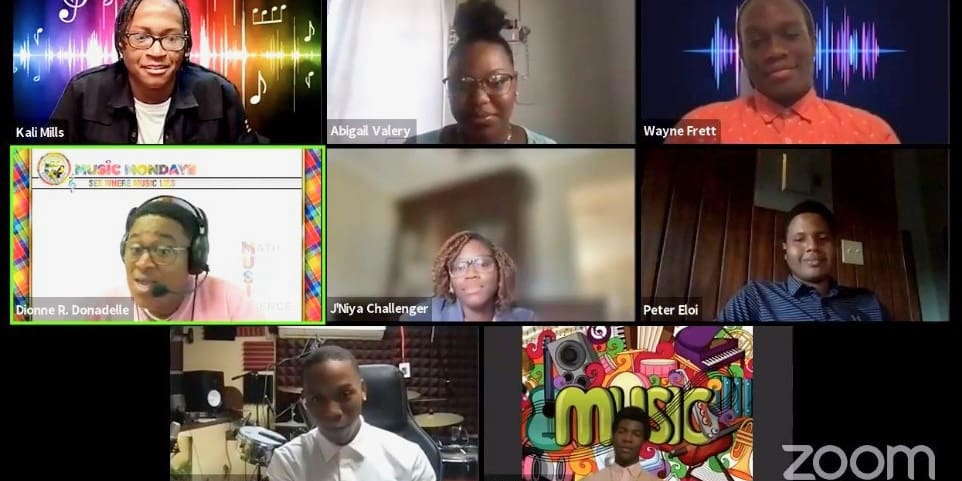 Community members tuned in to the Virgin Islands Department of Education's Facebook page on Monday to view the next generation of students pursuing careers in music.
Seven students were highlighted from St. Thomas/St. John and St. Croix districts. Each student talked about their ambitions, opportunities they have had as a result of being involved with music and areas they feel can use improvement within the territory's music department.
Kali Mills, a student at Charlotte Amalie High School, plans to pursue music education at the University of the Virgin Islands.
"[I am] trying to become an instructor and educator to share my experiences in music," he said.
His goal is to "influence young ones to participate in music throughout the communities."
Abigail Valery is a student at St. Croix Educational Complex High School. She also chooses to major in music education at either Temple University in Pennsylvania or Adelphi University in New York. She started high school wanting to be a biology major, "but then I did figure out after 10th grade in band camp that I wanted to do a career in music," she said.
"We have seen a decline in the interests of our special subjects and I wanted everyone to know music and the arts will always be important," said Dionne Donadelle, the territorial director of music education and programs and host of Music Mondays live.
One of the questions posed to the students by Donadelle was if they always wanted to pursue a career in music.
Mills replied, "To be quite honest I didn't like music growing up … now I feel music is one of those things that is really impactful."
"I like that," replied Donadelle.
J'Niya Challenger answered, "I had no choice. I was exposed to music at such a young age." She noted that her family's ties to music strongly influenced her to pursue a music career. She is a student at CAHS and started her music track when she transitioned to public school in the fourth grade.
Challenger will pursue a major in music production with a focus in business and writing at Middle Tennessee State University in the fall.
J'Vonte Smith is a student at St. Croix Educational Complex. He has an interest in making beats and will be attending George Mason University in Virginia.
"Ever since the hurricane I got into making music since I had nothing to do. I made a couple of beats and ever since then I had a love for producing music."
Each of the students is an instrumentalist and plays a variety of instruments, from woodwinds to strings, brass and percussion.
Wayne Frett is a student at Ivanna Eudora Kean High School. He started with the piano and then expanded his musical talents. When he got to middle school, Frett said, "no more piano, I want to pay the flute. In seventh grade, I started doubling on the flute and then the saxophone."
Frett applied to Full Sail, Berkeley College and Miami University but has not selected which school he would like to attend.
Peter Eloi is also a student at Kean. He will pursue a minor in general music at Ottawa University in Kansas. Eloi is a guitarist and developed his talent by learning to play different string instruments.
"In my eighth grade year I wanted to join concert band, but you can't really play guitar in concert band so I picked up bass," said Eloi.
Monday's live presentation was relaxed, and the students, as well as Donadelle, shared many laughs and smiles as they compared the various instruments.
When asked about instruments they would like to learn, Mills chimed in and said it would be "between the bass guitar or the harp. I just want to actually have an experience with it, to hold it and play it myself."
Donadelle responded jokingly, saying, "I am going to find some money to buy you this harp."
Tyereeq Perez, a student at CAHS, wants to major in music performance. He applied to both the University of the Virgin Islands and Jacksonville State University. When he plays his instruments, he says "I feel so relaxed and have a good time."
When asked if he feels prepared for college and beyond, Perez said, "My high school career has prepared me. It taught me a lot [like] how to read [music] better. I still have more to learn, but I can learn on my journey."
Later in the live Donadelle asked, "Should music be taken off the elective list and be with the academics?"
Perez said, "I thought about this a lot. I feel that Education doesn't really feel music is one of the top things to think about. Music comes last to them."
Valery replied, "I totally agree. It needs to be a major course because music benefits have been overlooked for years. I know how to manage my time better." To the Department of Education, she said, "Give us the funding that we need in order to have a prosperous music department. Music is a big part of our culture and something we need to be learning."
About 50 minutes into the presentation, the live feed ended abruptly due to a technical error and resumed a few minutes after.
In the end, the students gave huge shoutouts to their teachers, family and friends for the support they have provided them over the years.
Updates on Music Mondays are available online on the Department of Education's Facebook page.