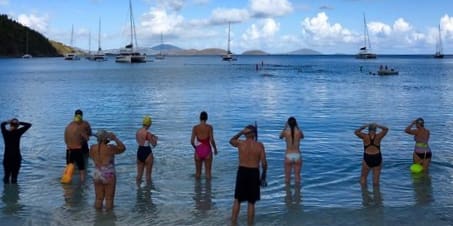 Hundreds of athletes will make their way to St. John to swim along the island's north shore in a racing competition on May 30, the 18th annual Beach 2 Beach Power Swim.
Friends of the Virgin Islands National Park, the group which organizes the annual event, says COVID-19 pandemic precautions will be in place.
As of May 6, 248 competitors have registered to swim one of the three courses – short, medium or long – starting at Maho Bay Beach. Tonia Lovejoy, acting executive director of the Friends, said that registration is limited to 300 swimmers this year to promote social distancing. In a typical year, race registration is set for 350.
Also, in deference to COVID-19 protections, competitors will not assemble in one spot for the traditional posting of race times and presentation of awards. Instead, Lovejoy said, postings and prizes will take place at each of the three racecourse endings – Cinnamon Bay for the short course, Trunk Bay for the mid-range and Hawksnest Beach for long-course swimmers.
"We're doing it as a COVID-safe event," she said. "It should be a very festive occasion."
Close to 150 volunteers have signed up to assist in the event. Two practice swims have already taken place. A practice swim for the long course is scheduled for May 16.
Members of Team River Runner are among the registered racers. For the past several years, wounded combat veterans of the U.S. Armed Forces have traveled to St. John for the Power Swim as part of their River Runner recovery program.
"They have three. Two of them are doing the short and one of them is doing the long," said Events and Membership Coordinator Jennifer Stone.
Friends of the V.I. National Park is a nonprofit organization set up to help the park on St. John sustain conservation programs and activities, such as the Learn to Swim program for learners of all ages. Beach 2 Beach has been hailed in the past as one of the group's most profitable fundraisers.
Last year, the Power Swim became a virtual competition, with swimmers logging their time and distance in the water and supporters donating funds in support of their efforts. The effort brought in $30,000, Lovejoy said.
"We asked people to send videos of what they did on social media, and they did it," the director said.
She added with a hint of pride that this year's proceeds will go, in part, to pay youth instructors to conduct the Learn to Swim water safety classes. Classes are scheduled to start on May 29.
Because of low COVID-19 infection rates and a structured testing policy for visitors to the Virgin Islands, healthy numbers of tourists have appeared through the 2020-2021 season.
The first event staged under pandemic protocols came in February when the Friends and National Park interpreters put on the annual Folklife Festival.
Editor's note: An earlier version of this story incorrectly stated that race participants must be vaccinated or provide a negative COVID-19 test. These are not required, however, social distancing guidelines will be followed.