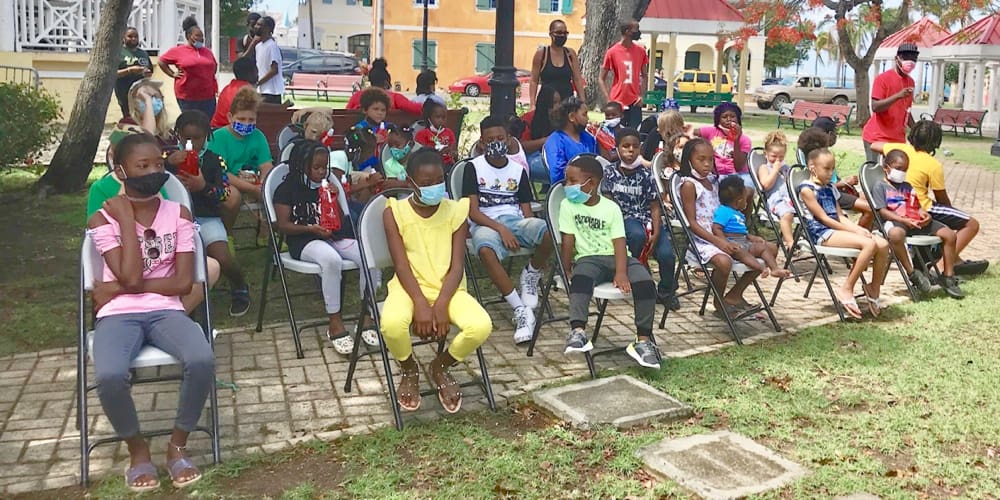 Story Time Hour on Wheels was launched Friday at Fort Frederik, with local author Winifred Loving reading from her book, "My Name is Freedom."
The title was apropos being read on the first federal holiday celebrating Juneteenth, also known as Freedom Day.
The Division of Libraries, Archives and Museums will continue Story Time Hour at 10 a.m. every Friday, with the Bookmobile parked in front of Fort Frederik and a guest reader doing the honors as storyteller.
Loving, the president of the St. Croix Children's Museum, read to an audience of 39 attentive and interactive children. She also read from her book, "Jitney Love."
Loving told the audience that she had decided after almost 30 years of teaching at Pearle B. Larsen Elementary School, she would begin writing books during her retirement.
"I wanted to write books about people who look like me," she said.
When she was growing up there were no storybooks with characters that resembled her, so she decided she would create her own.
Loving encouraged the children to write their own stories, create a school, design clothing or a T-shirt or write a song and sing it to their parents.
"Find whatever your purpose is and do it," she said.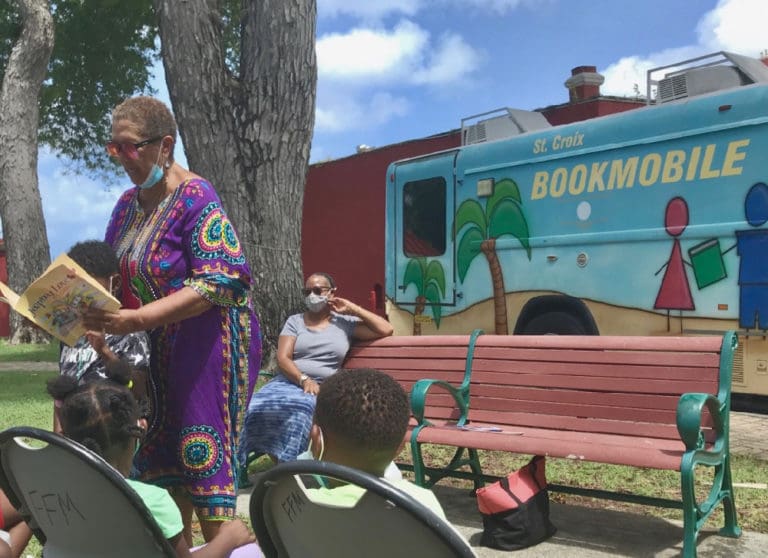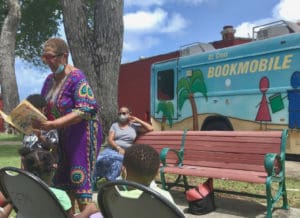 Fallmer Camp Director Anthony Mardenborough Jr. took Loving's encouragement as a charge for the children in his camp. For the academic section of the camp, students are assigned to write their own stories and present them at the next Bookmobile event, he said.
Amy DeSorbo, director of Libraries, Archives and Museums, expressed delight in seeing so many children and parents on the Juneteenth holiday. She thanked members of her staff, who were eligible for the holiday off from work, who came in to continue with the launching of the new Bookmobile initiative.
"While we are working on getting our physical libraries open, the Department of Planning and Natural Resources is bringing the library to our community," DeSorbo said.
According to the DPNR news release, this initiative will foster and promote community involvement and serve as a catalyst for youngsters to develop a love for reading at a young age.
The children were invited to apply for library cards at the conclusion of the story hour. Of the 39 attendees, five had library cards and 34 applied for cards. They will also have the opportunity to borrow books and return them when the Bookmobile returns at the same spot every two weeks.
DeSorbo thanked DPNR Commissioner Jean-Pierre Oriol for "this wonderful Bookmobile initiative," and thanked her DLAM staff, again, "who love and care about our communities and came in to work on their holiday off."
"Thursday, June 24, the Bookmobile will be parked right outside Government House and the children will be inside for storytelling by our First Lady," DeSorbo said. "Children can return their books in two weeks, July 2, at Fort Frederik. At that time, Congresswoman Stacey Plaskett will be reading at story hour."