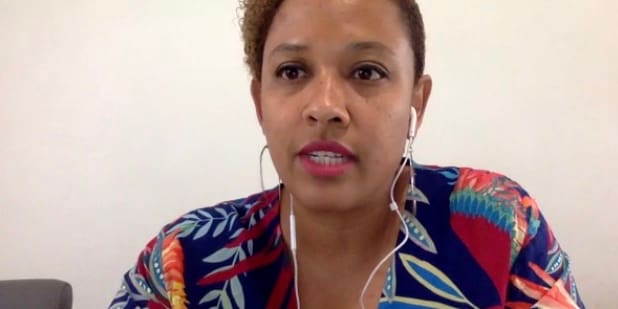 A quartet of inquisitive Virgin Islands women dug into the meaning of queendom in the territory, connecting the importance of that meaning to queens, debutantes, and virgins in Virgin Islands womanhood, using the Caribbean Genealogy Library's St. Thomas Graphics Collection.
During a presentation Saturday at the Caribbean Genealogy Library, members of the Virgin Islands Study Collective – Dr. Hadiya Sewer, Dr. Tami Navarro, Tiphanie Yanique and La Vaughn Belle – analyzed the beauty and power of Virgin Islands women along with how Virgin Islands women balanced local ideals, ideals of tourists, and American ideals of femininity.
They began by connecting the significance of the day the event was held – June 19 – to the newly recognized federal holiday being celebrated for the first time that day – Juneteenth. Similar to the way the freedom of the slaves in Texas was not made available to them in 1863, Yanique said, Virgin Islands history is often not easily accessible to Virgin Islanders due to records being sealed and stored in various locations worldwide.
"They [enslaved African Americans] were already free but their freedom was hidden from them, which is a similar connection to how we understand the archives to often be hidden from us," Yanique said. "So doing this work on June 19 is both very symbolic and metaphoric to us as a way to unearth something that has been hidden."
They used the Caribbean Genealogy Library's STT Graphic Collection to make connections to the Virgin Islands' past.
Caribbean women used their beauty to escape slavery, and there were more free black women than men in the Caribbean or anywhere else that had chattel slavery.
According to Yanique, because of their use of their aesthetic charm, women of color were not to adorn themselves with jewelry because white women felt it gave them power through their beauty.
"Black women's beauty was an incredible threat," said Yanique. "Black women gained this power by what I call aesthetic code-switching. They learned the fashion and dances of York, in order to move in those societies, [and] make business deals. So knowing that men made deals in brothels in the Caribbean, Caribbean women would own the brothels. Knowing that men made deals in the hotels and restaurants in the Caribbean, Caribbean women would own the hotels and restaurants."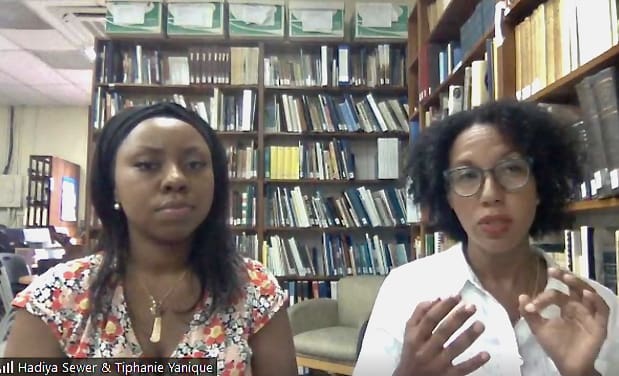 She compared that to the present use of debutante balls and pageants to empower Virgin Islands women and noted that debutante balls are completed by young ladies to prepare them to become a queen.
"Debutante balls in the Virgin Islands are spaces for black young women to assert power and confirm future leadership … [But] the cotillion or debutante ball is a European tradition, usually of young girls of aristocratic birth, being presented to the community as available to date."
Yanique displayed a program for a ball for the Alpha Chi Chapter of Eta Phi Beta Sorority Inc. and compared the significance of each participant's image on the cover to the significance of various styles of ancestral black beauty.
Belle is a visual artist and utilized her own work as well as pieces from the STT Graphics Collection to find information hidden in colonial archives through reenactment and reconfiguration.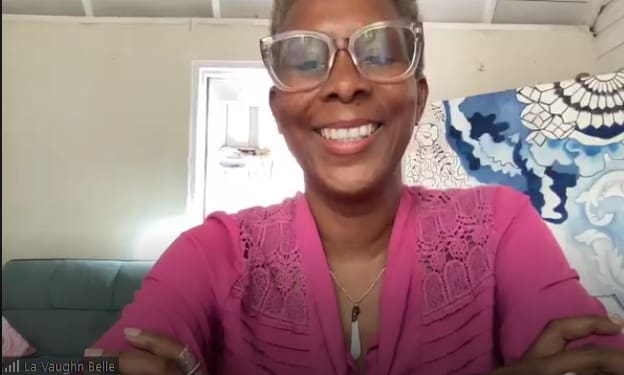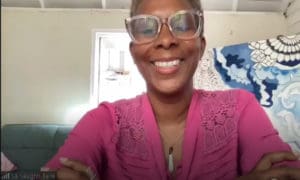 Belle displayed a playbill entitled "Queen Coziah" and related it to the "I Am Queen Mary" monument project she and Jeanette Ehiers launched in Copenhagen, Denmark on March 31, 2018, to highlight the revolutionary concept of Virgin Islands' queendom.
"Our queens are very different from the ones that we learn about in the storybooks. Our queens are made. Whether they be queens of pageants, carnivals, labor revolts, or slave rebellions, through your own fashioning, determination, your own work and imagination, you can lead yourself into a realm and become the kind of queen that is impossible to dethrone and impervious to invasion."
Belle also highlighted the concept of virginity as it relates to Virgin Islands women. She described it as an embodiment of power and gender and compared it to the names Christopher Columbus gave various islands in the Caribbean.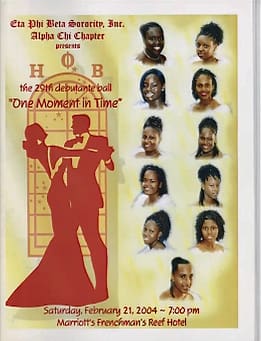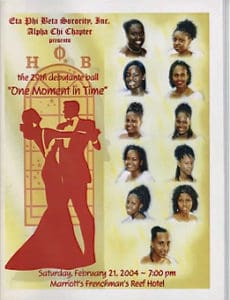 "When we're thinking about ourselves as Virgin Islanders, it is important to know that the concept of virginity is a social construction … there is no concrete agreed-upon definition of virginity … In the context of the Caribbean, virginity has become a visual metaphor to express a narrative of a vast wilderness or unbroken forest or a pristine paradise … a space where others [non-natives] can exact their imagination, their dreams, their desires," said Belle. "Colonial metaphors of virginity highlight the landscape as a body to be consumed yet somehow remaining a permanent virgin, much like Mary, the mother of Jesus. A body in which the intercourses that lead to pregnancy and birth have all been erased."
She compared the picturesque tropical images of tour guide booklets as the need to frame the Virgin Islands as a consumable entity for the tourism economy.
Sewer also spoke about the relationship between nature, colonization, and the Virgin Islands woman's body.
"The Virgin Islands is often called 'America's paradise' and this notes colonial possession," Sewer said. "In the Virgin Islands context, colonialism, a process that we largely understand to be equitable or problematic, is somewhat accepted or normalized under the guise that we gained freedom and mobility."
She displayed an image of a magazine clipping from the STT Graphics Collection that highlighted the National Park on St. John and described the text as making the island a "luxury, small island tourist boom economy" with a "virgin landscape."
"The land is described as pristine, as not inhabited … when people are mentioned they are the indigenous pre-colonial people of the past rather than today's living and breathing Virgin Islanders," said Sewer.
She notes that this description of the island as a virgin paradise upholds the colonial idea that the island is only maintained to serve the tourism industry.
Navarro displayed a magazine image of a black woman and a white woman seated under a palm tree at the beach and unraveled the duality of the image and the lives that those women might live.
For Virgin Islanders, Navarro said, "Understanding the material inequalities, the realities that shaped people's lives … [and] in spite of that, being well aware and steep in that history, we continue to find spaces of possibility, spaces of movement, spaces of joy, which is profound and revolutionary."
Afterwards, the presenters held an open discussion amongst themselves and audience members.
Funding for the presentation was provided through the Community Foundation of the Virgin Islands by a grant from the National Endowment for the Humanities under the CARES Act.
More information about the presentation or the Caribbean Genealogical Library is available online.